The Devastating Death Of Hollywood Hillbillies' Delores Hughes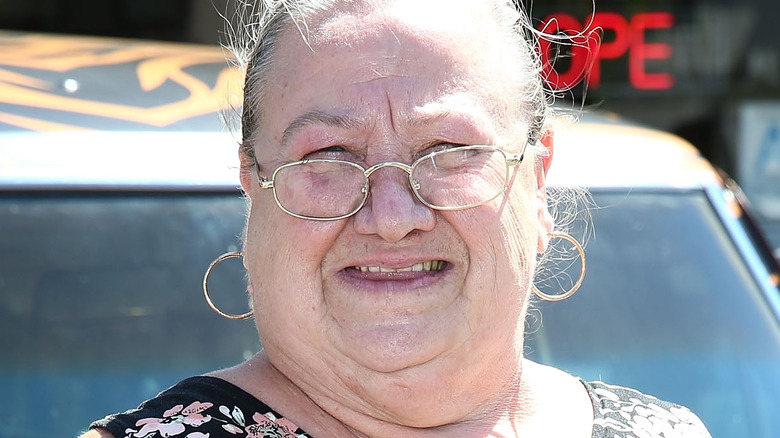 Imeh Akpanudosen/Getty Images
We may receive a commission on purchases made from links.
Delores Hughes, the reality TV show matriarch who became the breakout star of "Hollywood Hillbillies," has died at the age of 76 of heart failure.
The death of Mema, as she's known, was reported to TMZ by her manager, David Weintraub. He told the outlet, "Mema was the greatest, most outspoken 'tell-it-like-it-is' personalities the world had ever seen on TV. I know that she will still be bossing all of us around from heaven."
Hughes died at a hospital in Grayson, Georgia, which is her hometown (per Deadline). She's well-known to fans of the Reelz television show that she starred in with her family, including grandson Michael Kittrell, Michael's aunt Dee Dee Peters, and his uncle "Big" John Cox. The series lasted just 23 episodes from 2014 to 2015 and focused on the clan moving from Georgia to Los Angeles to experience the bright lights of Hollywood.
In a Facebook post from Thursday, her family wrote, "We are heartbroken to confirm the passing of the Amazing, Beautiful, Kind Soul of Delores 'Mema' Hughes. Mema passed yesterday 11-9-2022 surrounded by her loving family!"
Hughes put her family on the map but never understood Hollywood
During the course of the show, fans enjoyed Hughes' sharp tongue and down-to-earth sassiness (as evidenced by her diatribes on "the high-falutin'." "I'm just a plain old ordinary country woman that's worked hard, took care of her mother 'til she died, raised her kid. I can skin a d*mn rabbit, I know how to cut a d*mn deer and not cut the gut sack, I know how to clean fish and have a passel full of dogs," she said on the show.
Hughes became such a well-loved part of "Hollywood Hillbillies" that in 2020, she released a memoir titled "Mema Says: From Country Porch to Hollywood Hillbillies." As part of the promotion for the book, she did an interview with TV Showcase in which she discussed her possible return to TV, saying that she was shocked by Hollywood's interest in her. "But, you never know where you will see me and my family next! But as I've always said about everything, if it comes it comes, if it don't it don't! I'm OK either way, really!" she said.
A service is being held for Hughes in Lawrenceville, Georgia on Tuesday, November 15 (per Legacy.com). She is survived by the family people came to know through "Hollywood Hillbillies," who in their online statement noted that Mema was always bragging about them and that she never really understood why so many people loved her. "She definitely didn't understand Hollywood! But one thing about, she was a PURE COMEDIAN GENIUS without trying," the statement said.