Wakanda Forever's Midnight Angels Suits Have Fans Seeing The Predator (But In A Bad Way)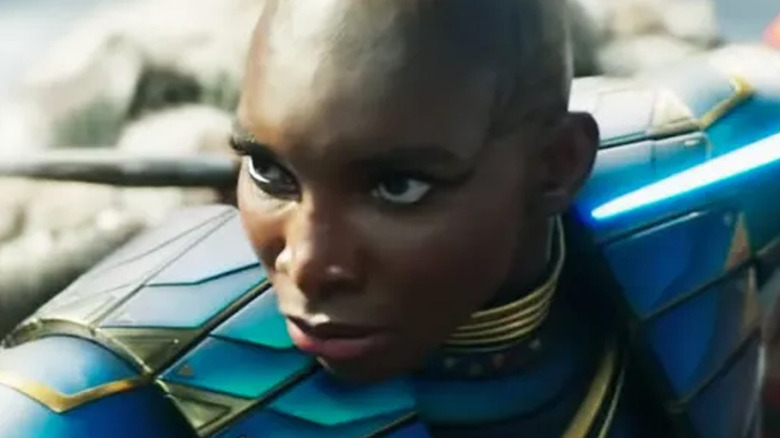 Marvel Studios/Disney
Contains minor spoilers for "Black Panther: Wakanda Forever"
For new viewers going into "Black Panther: Wakanda Forever" blind, the matter of T'Challa (Chadwick Boseman)'s successor as its titular hero looms large over the early events of the film. That said, the first "Black Panther" introduces a large cast of heroes like Nakia (Lupita Nyong'o) and M'Baku (Winston Duke), and the continuations of their stories are integral to "Wakanda Forever" too.
In "Black Panther," Okoye (Danai Gurira) is the head of the Dora Milaje, a team of powerful warriors. "Wakanda Forever" then shakes up her role in the Dora Milaje, briefly sending her away from the team she once led, before Shuri (Letitia Wright) urges her to return. When Okoye rejoins the Dora Milaje, Shuri provides her, in addition to Aneka (Michaela Coel) and Ayo (Florence Kasumba), with new combat suits. To viewers familiar with Marvel comics, the three Dora Milaje members donning these suits constitutes an Easter egg in "Wakanda Forever," introducing the Midnight Angels to the Marvel Cinematic Universe.
While Okoye's future is something of an unanswered question at the end of "Wakanda Forever," her status as a Midnight Angel looks to be a permanent addition to her character. For some fans, however, this might not be an altogether good thing, as numerous users online have compared the Midnight Angel suits unflatteringly to the Predator from the "Predator" film franchise.
Fans think Okoye's criticisms of the Midnight Angels suits are well warranted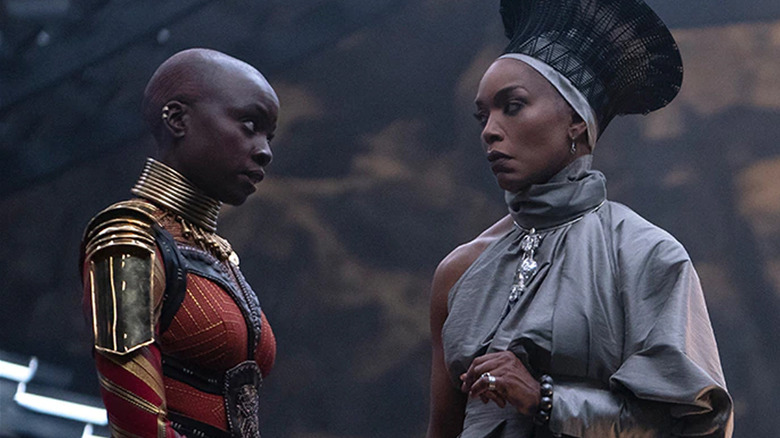 Marvel Studios/Disney
For much of "Wakanda Forever," Shuri attempts to outfit Okoye with an updated suit of armor, but she notably pushes back, preferring the getup to which she's accustomed. However, when Okoye rejoins the Dora Milaje, she acquiesces primarily for the opportunity to wield a new spear. As it turns out, a thread about "Wakanda Forever" on the primary movie discussion subreddit is replete with comments by users agreeing with Okoye's criticisms of the Midnight Angels suit earlier in the film, some of whom compared its appearance unflatteringly to that of the Predator.
User amish_novelty, for example, argued that Shuri should have taken Okoye's initial reluctance to wear her new armor to heart before finalizing its design. In a reply to this comment, user Tisroc compared the suit's appearance of the "Predator" films' titular Predator. User Unabated_Blade specifically likened the Midnight Angels armor to the Predator Killer suit from the 2018 "Predator" film.
On a similar note, user Dawesfan simply wrote, "Okoye was right, that suit is hideous." User amish_novelty — whose other criticism sparked some Predator comparisons — then replied, "I kept thinking of a Blue Beetle Predator whenever it popped up on screen."
Predator comparisons began even before Wakanda Forever's premiere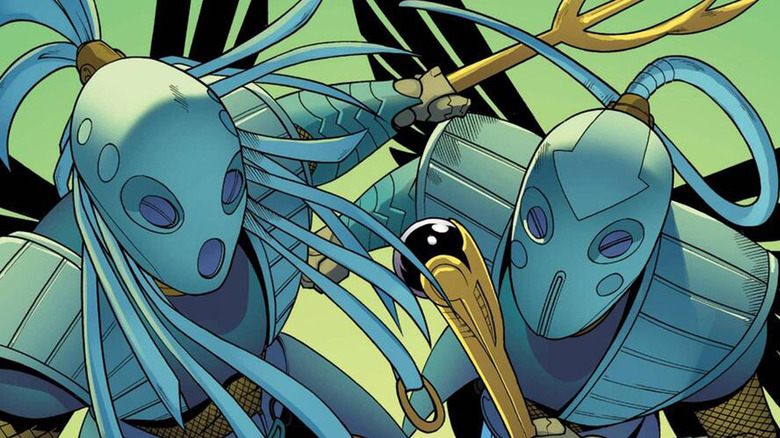 Marvel Comics
On September 11, 2022, Disney displayed some costumes from "Wakanda Forever" at its annual D23 Expo, including a suit of Midnight Angels armor. Even then, roughly a month before the film's wide release, fans began comparing its appearance to the iconic Predator's look.
Twitter user @lame_luka, for instance, shared that the suit reminded them of the Predator on the day images of it circulated online. A Tweet by the popular MCU Twitter account @MCU_Direct showcasing the armor on that same date likewise received replies from five separate users all making the same Predator comparison. That said, at this point in time, much of the negativity about the suit's design had yet to manifest.
Nevertheless, some users on Twitter likewise criticized the Midnight Angels outfits after viewing "Wakanda Forever." User @Flaming__Angel, for example, specifically criticized its headpiece — its most Predator-like component — while user @SamuelLumas wrote that they found the Midnight Angels' appearance to be the film's sole weak point.
"Wakanda Forever" only just barely introduces the Midnight Angels, leaving plenty of room for their return in a future MCU project. It's entirely possible, then, that at the time of their return, Marvel could revise their Predator-esque appearance. On the other hand, and perhaps even more likely, viewers at large may simply grow accustomed to the way the Midnight Angels look after seeing them in action again, whenever their next outing may be.