Black Panther Poised To Pounce Past Deadpool's Record-Setting Opening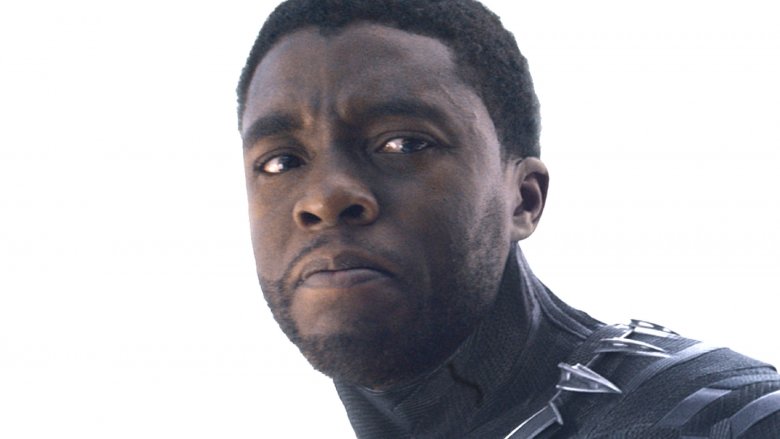 Another Civil War is breaking out.
Deadpool sliced off its own little piece of history when it made its debut in February 2016, posting an all-time top performance for the month of February with its Presidents Day weekend release. Now a new superhero is poised to snatch the crown from the mercenary, as Black Panther prepares to potentially smash the record, and make history.
According to The Hollywood Reporter, in a write-up citing tracking numbers from the National Research Group, Black Panther is set to earn more than $165 million domestically over the course of the long four-day weekend, which would mark the movie as the all-time top earner for that month, and that particular weekend.
If it all goes down like tracking predicts, the performance would trounce Deadpool's $152.2 million take. Apparently, some industry commentators find that lofty projection too low.
As with all analyses that purport to predict the future, it's worth pointing out that tracking is not necessarily reliable, amounting to not much more in practice than a data-driven good guess. Variety's Justin Kroll, a reliable entertainment reporter, has emphasized in the recent past that "tracking is bulls–t", and studios are frequently caught off guard by over-optimistic expectations. With that said, there's plenty of anecdotal evidence pointing to Black Panther being a real sensation, and you probably don't need us to tell you that. 
Among the points indicating a Wakandan tidal wave this weekend, the movie has already set at least one record for advance ticket sales (in the superhero genre, for Fandango), critics love it, and the tracking predictions have only gotten higher and higher over the course of the last month, rising from $125 million to the current number in the last two weeks. If the movie hits with domestic audiences in a manner commensurate with its pre-release buzz, then this opening weekend record is in the bag and then some.
It's the foreign prospects for Black Panther that are much more of an open question, since the enthusiasm for the movie that has grown in the United States isn't necessarily mirrored in China, Russia, or Japan. According to a Thursday Deadline report, the movie has already notched up $23.2 million in 17 markets, putting its performance over Doctor Strange, Ant-Man, and Guardians of the Galaxy — an encouraging sign for the movie's domestic prospects and international legs.
Assisting Black Panther's prospects, the movie has almost no competition when it comes to the target audience on the weekend of release. Only two new movies are opening opposite the picture: the claymation family film Early Man, and the faith-based Samson. Neither movie is tracking for more than a $5 million debut.