The Full-Length Incredibles 2 Trailer Is Finally Here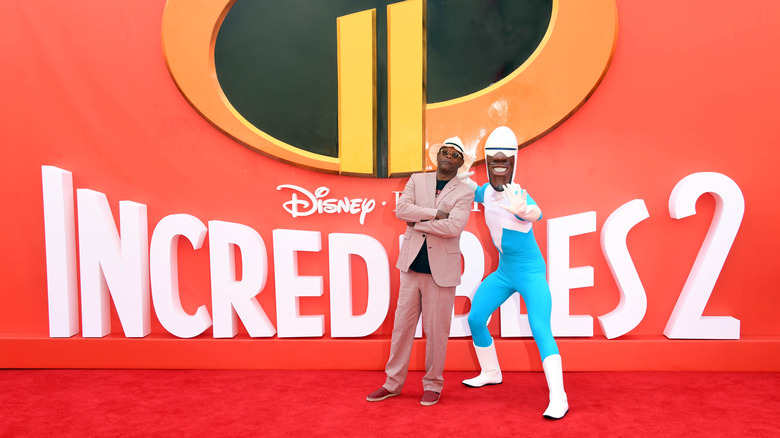 Stuart C. Wilson/Getty Images
It's time to suit up. 
During the PyeongChang 2018 Olympic Winter Games on Wednesday (February 14), Disney/Pixar dropped the first official trailer for its long-awaited (we're talking 14 years in the making) animated sequel pic Incredibles 2. 
The footage starts off with Bob Parr/Mr. Incredible (voiced by Craig T. Nelson) literally bouncing into action, which prompts Dashiell "Dash" Parr (Huck Milner) to insist over dinner that he and his siblings "wanna fight bad guys" — despite Helen Parr/Elastigirl (Holly Hunter) affirming that "superheroes are illegal." Her declaration is challenged, however, when Lucius Best/Frozone (Samuel L. Jackson) approaches Bob and Helen about an ambassador he knows, one who aims to bring superheroes back into the spotlight — and who wants Elastigirl to be the face of the charge. 
As Helen zooms off on a sleek red motorcycle, Bob is left to take care of Dash, the moody middle child Violet (Sarah Vowell), and the youngest Parr family member, Jack-Jack, whose intense powers are starting to develop. Between making sure Jack-Jack doesn't laser-blast the house down and trying to help Dash with his complicated math homework, Bob has his work cut out for him.
Take a look at the trailer in the video above.
This reveal comes at the tail end of a string of teases Disney/Pixar has sprinkled across social media over the past few days. The studio focused this mini-marketing on three posters that built up to the Parr family slipping into their iconic red, black, and gold costumes once more: One depicted the crew's dirty suits bunched up in a laundry basket; the second was a close-up shot of the super-suits covered in suds, tumbling away in a washing machine; and the final poster showed Bob steam-ironing out the costumes' wrinkles to ensure everyone looks extra spiffy to take down the bad guys when the time comes.
Prior to unveiling the full-length trailer, Disney/Pixar also released a short teaser that hinted at Jack-Jack's growing powers. The promotional footage was tied to the Olympics as well, with Jack-Jack seen slicing a curling stone in two by shooting bright lasers out of his eyes.
Directed by Brad Bird, Incredibles 2 features Bird as Edna Mode, Jonathan Banks as Rick Dicker, Bob Odenkirk as Winston Deavor, Catherine Keener as Evelyn Deavor, Sophia Bush as Voyd, Isabella Rossellini as The Ambassador, and John Ratzenberger as The Underminer. 
Here's the official plot synopsis for the film: "Everyone's favorite family of superheroes is back in Incredibles 2 — but this time Helen is in the spotlight, leaving Bob at home with Violet and Dash to navigate the day-to-day heroics of 'normal" life. It's a tough transition for everyone, made tougher by the fact that the family is still unaware of baby Jack-Jack's emerging superpowers. When a new villain hatches a brilliant and dangerous plot, the family and Frozone must find a way to work together again — which is easier said than done, even when they're all Incredible."
Catch Incredibles 2 in theaters on June 15.