Johnathan Hillstrand Once Used A Cereal Box Toy As A Good Luck Charm On Deadliest Catch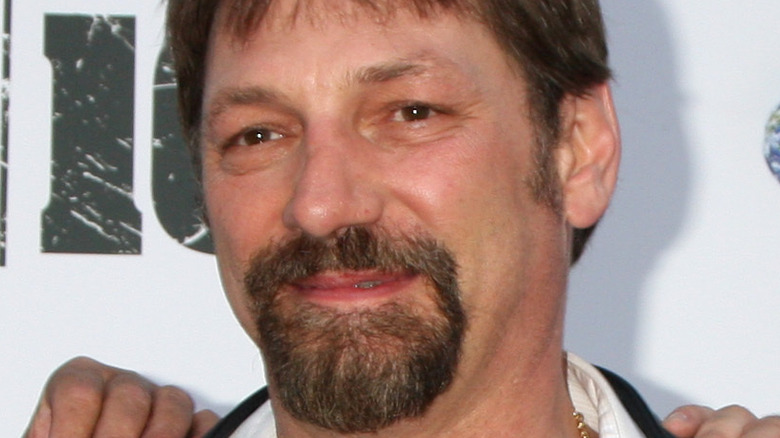 Kathy Hutchins/Shutterstock
Over the years, Captain Johnathan Hillstrand has established himself as perhaps the most eccentric captain on "Deadliest Catch" — most notably through the frequent pranks he pulls on his fellow captains. Highlights from his time on "Deadliest Catch" include attaching an entire pickup truck to the buoy line of Captain Phil Harris' ship and raising a skull and crossbones flag above his boat while attacking the F/V Northwestern with paintball guns and fireworks.
Although these pranks might seem a bit unorthodox to some fans, it's important to recognize that humor is crucial to the cast of "Deadliest Catch" as it helps to break up the monotony of fishing and alleviate the tension of life on the open ocean. Indeed, when you consider the dangers that these crab fishermen face every single day, it's easy to understand why Hillstrand tries to keep his crew laughing and smiling.
As such, it should come as no surprise to learn that the funniest captain on "Deadliest Catch" also has a hilarious "lucky charm" he keeps on his boat — one that literally came from a box of Lucky Charms cereal.
Johnathan Hillstrand keeps a Cookie Monster toy on board
During a 2014 interview on "Larry King Now" that featured both Johnathan Hillstrand and "Wild" Bill Wichrowski, Larry King asked the two captains whether or not they kept lucky charms on their ships. Hillstrand laughed and admitted that he's actually had the same good-luck charm aboard his ship for 30 years — and that it came from a cereal box. "We have this little Cookie Monster that we got out of a Lucky Charms box," Hillstrand said. "We still have him. He's like 30 years old." Larry King quipped that this small Cookie Monster toy was like Hillstrand's mascot, to which Hillstrand agreed immediately. 
Despite the supposed importance of this Cookie Monster lucky charm, it has yet to be featured in an episode of "Deadliest Catch," and it's currently unclear whether or not this toy is still aboard Hillstrand's boat. As such, fans should keep their eyes out for this hilarious little charm the next time they see Hillstrand's F/V Time Bandit on-screen.