The Piece Of Chicago P.D. Stunt Equipment That Causes Tracy Spiridakos To Get Welts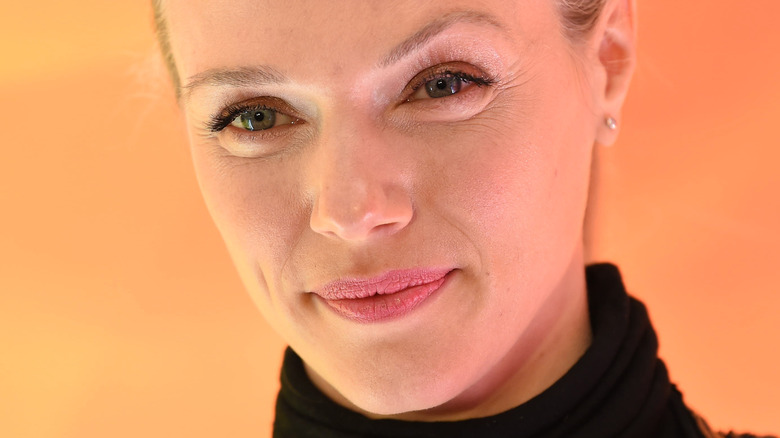 Dimitrios Kambouris/Getty Images
Tracy Spiridakos has played several personas throughout her career (via IMDb). Among her many accomplishments, her most significant role has arguably been as detective Hayley Upton on "Chicago P.D.," where she has appeared in over 100 episodes and other titles within the Dick Wolf-created "One Chicago" shared universe. Out of everything she has had to do in the franchise and after all the experience she has gained over the years, there is still one piece of equipment that continues to be a pain to work with for the actress.
There are arguably many reasons "Chicago P.D." has earned excellent audience scores on Rotten Tomatoes and continues to be one of the most-watched series so many years later (via Variety). One could assert that the logic behind it is that each episode is packed with plenty of compelling drama and hard-hitting action sequences. While the pulse-pounding thrills probably have a lot to do with why people continue to tune in, the show's extreme lengths to give viewers an experience unlike anything else have proven to be a bit irritating for some, including Spiridakos.
Fans have most assuredly witnessed Hayley Upton get into some wild situations throughout her tour of duty. While Spiridakos's acting skills make it all look easy, she would probably be the first to tell anyone that isn't the case. Or, at least her co-stars might, which is what happened when it was revealed which tool has been the most challenging for the actress to work with on "Chicago P.D."
Tracy Spiridakos finds herself on the wrong end of the battering ram too often
Marina Squercati, Amy Morton, and Tracy Spiridakos were answering questions about their time in the "One Chicago" franchise (via YouTube). When asked what the most challenging equipment to learn was, Spiridakos didn't have an answer, but Squerciati did mention her costar's struggle with one crucial policing tool. "Tracy continually gets butted with the battering ram."  
"That does happen to me, actually a lot," Spiridakos said. "I have welts on my leg." Spiridakos's struggles with the battering ram are among the many hard-hitting ordeals that come with playing Hayley Upton. And Spiridakos isn't alone, sharing the arduous efforts with her talented stunt double Kelli Victoria Scarangello (via IMDb). 
Later in the interview, they revealed that one of their favorite stunts involved Scarangello getting hit by a car. The entire thing looked and sounded so genuine everyone was concerned, but the stunt woman was absolutely fine. Scarangello and Spiridakos aren't afraid to go to great depths for Hayley Upton as they have endured plenty for the role, including some memorable underwater action, whether in a tank in Los Angeles or a frosty December Chicago river (via Variety). 
There is no denying that playing a personality in "One Chicago" is no easy endeavor. It appears that cold underwater temperatures and battering ram welts are just part of the everyday workload for Spiridakos and Scarangello on the NBC series "Chicago P.D."