Luke Evans Needs Some Christmas Spirit In The Trailer For Scrooge: A Christmas Carol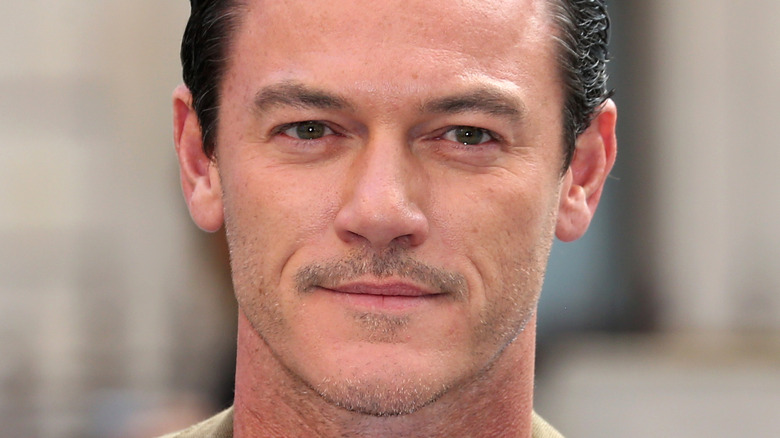 Fred Duval/Shutterstock
It's almost Thanksgiving, which means it's time for the trailers to come out for all the new Christmas movies that are being released this season. Although some people enjoy watching the same classic Christmas movies each year, others like to check out what types of new holiday movies filmmakers come up with. 
In addition to brand-new stories, a new adaptation of a beloved Christmas tale is coming to Netflix this December. Charles Dickens' 1843 novel "A Christmas Carol" has already been adapted for the screen numerous times, in both live-action and animated versions. There have even been crossover "A Christmas Carol" adaptations made, where characters from a different franchise play characters from "A Christmas Carol," such as "Mickey's Christmas Carol" from 1983 and "The Muppet Christmas Carol" from 1992. 
As with any good source story, a new spin is added to "A Christmas Carol" each time it is adapted. Netflix is releasing the new animated film, "Scrooge: A Christmas Carol," on December 2, and in the trailer, Luke Evans brings the grumpy icon to life. 
Luke Evans makes a convincing Scrooge
Netflix has released the trailer for "Scrooge: A Christmas Carol," and Luke Evans, who voices Ebenezer Scrooge, certainly acts like a giant humbug. In the trailer, everyone else in London is shown rejoicing because it is the best time of the year: Christmas. Amidst all this, Scrooge is first shown shoving two small children aside so that he can walk in between them. Merry Christmas, indeed.
Scrooge is then shown informing his employee, Bob Cratchit (Johnny Flynn), that the ink he is using to do his job will be deducted from his pay (a slight twist on the classic story, where Scrooge scolds Cratchit for using too much coal to heat the office, not too much ink). After he trudges angrily through the snow and makes it home to his big, empty house where he lives alone, however, he is visited by the ghost of his deceased business partner, Jacob Marley (Jonathan Pryce), who tells Scrooge about the additional three spirits who will visit him throughout the night.
Evans definitely makes a good Scrooge, and based on the trailer, he is in need of some serious Christmas spirit (no pun intended). Hopefully, the three spirits who visit him will be able to accomplish their job as usual.