First Look At The Toys For Solo: A Star Wars Story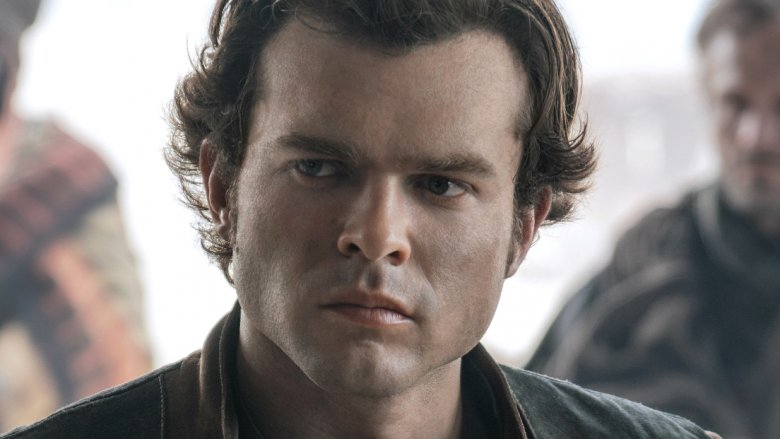 Starwars.com
It's not officially a Star Wars movie until stores are stocked with new action figures. That's science.
Three months before Solo: A Star Wars Story hits theaters, we're getting our first look at some of the toys that will be released. While there will certainly be more, the initial batch of images show some key story points: like the early version of the Millennium Falcon we'll see in the movie.
Entertainment Weekly has a preview of the Hasbro action figures that are the standard in Star Wars fandom. There'll be the regular 3.75-inch figurines that we're used to, but also toys that connect to the Force Link 2.0 — a wristwatch-like speaker that creates sounds straight from the movie. The first image below is the Han Solo figure that comes with the Force Link 2.0 starter pack, but we've also got photos of the more traditional toys depicting Chewbacca and Emilia Clarke's Qi'ra. 
The Millennium Falcon playset features the version of the iconic ship at this particular point in Star Wars history when Lando Calrissian was the owner. According to The Star Wars Show, the look was inspired by the original trilogy's legendary concept artist Ralph McQuarrie, and it shows the Falcon with its full nose section in tact. As EW points out, it looks like the nose pulls out into a separate, smaller ship similar to The Ghost starship from the animated Star Wars Rebels.
Meanwhile, The Hollywood Reporter has a glimpse of LEGO's massive Kessel Run Millennium Falcon set. With a piece count of 1,414, this Falcon comes with Solo, Lando, Qi'ra, a Kessel droid, and two other characters that are still secret. It retails for $169.99.
There are no images of the inside of the craft, but the blurb teases some details. "Pull amazing maneuvers from the cockpit. Jump in the laser turrets and fire back at pursuing craft. Then check the hyperdrive and get ready to jump to safety! After all that excitement, kick back with Han and his friends with a drink from the bar, while you let Chewbacca win at Dejarik. Then it's off to bed for a well-earned snooze in the bunk aboard the fastest ship in the galaxy!"
Check out the toys below and gear up for Solo: A Star Wars Story, which lands in theaters on May 25.