Captain Marvel, Chaos Walking Scribes To Write Black Cat/Silver Sable Movie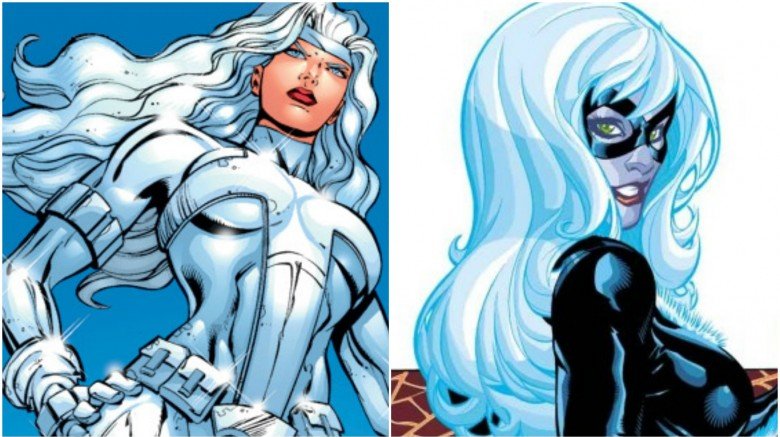 Marvel Entertainment
Who better to bring two iconic Marvel characters to life than two revered geek screenwriters?
The Hollywood Reporter has confirmed that Chaos Walking scribe Lindsey Beer and Captain Marvel writer Geneva Robertson-Dworet have been tapped to pen Silver & Black, Sony Pictures' upcoming film that centers around Silver Sable and Black Cat. 
Beer and Robertson-Dworet are jumping into the project after Thor: Ragnarok screenwriter Chris Yost and Westworld series co-creator Lisa Joy penned previous drafts of the script. The Secret Life of Bees writer-helmer Gina Prince-Bythewood directs Silver & Black, and had also wrote an earlier version of the story. 
Also known as Silver Sablinova and Felicia Hardy, respectively, Silver Sable and Black Cat exist in the Spider-Man comics universe. Tom DeFalco and Ron Frenz created the mercenary Silver Sable, who heads up a company that tracks down war criminals, back in 1985. Black Cat, on the other hand, is the daughter of the world-renowned cat burglar Walter Hardy, and trained herself in multiple different fighting styles and acrobatics in order to follow in his footsteps. She uses her subconscious ability to alter probability fields to generate bad luck for those who cross her path. Created by Marv Wolfman and Dave Cockrum in 1979, Black Cat made her first appearance in The Amazing Spider-Man #194. 
No word yet on which actresses will portray each leading lady, but some speculate that there's a small chance Felicity Jones, who briefly appeared as Felicia Hardy in The Amazing Spider-Man 2, will reprise her role. 
In addition to writing Chaos Walking, Beer has been a part of writers rooms for Godzilla vs. Kong and Quentin Tarantino's new Star Trek, and is attached to pen Barbie and Dungeons & Dragons. Robertson-Dworet flexed her writing skills on the impending Alicia Vikander-starring Tomb Raider, and will also work on Dungeons & Dragons alongside Beer. 
Silver & Black is set for a February 8, 2019 release.