Parks And Rec's Jim O'Heir Originally Auditioned For The Part Of Ron Swanson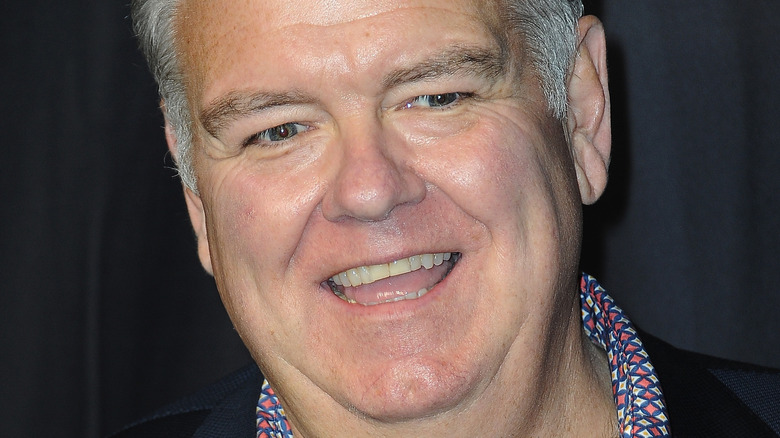 Albert L. Ortega/Getty Images
In "Parks and Recreation," Jim O'Heir plays Garry Gergich, also known as Jerry, Larry, and Terry. Garry is the office's go-to person to roast, which is made more humorous because he doesn't really deserve it (even though he farts a lot and is sometimes clumsy or makes mistakes). Garry is kind and talented, but whenever he does something well, the group still trashes him, even if they praise others who did a worse job. For example, one "Parks and Recreation" scene that went too far is when the group ridiculed and destroyed Garry's incredible mural design, which was by far the best out of anyone's.
Other times, they ignore Garry, forget he is there, or call him the wrong name (whether accidentally or on purpose). However, Garry also has a loving, beautiful family with whom he spends most of his time, so he doesn't mind too much that his co-workers constantly make fun of him.
In many ways, Garry is the polar opposite of Ron Swanson, played by Nick Offerman. Whereas Garry is kind and gentle, Ron is stand-offish, blunt, and can be rude. While Garry gets ignored or bullied most of the time, Ron receives way more attention than he wants, preferring to hide in his office rather than attend meetings. Garry is a family man, but Ron likes to spend his time alone in the woods (and if someone else is with him, he prefers that they don't talk).
Because of how different their characters are, viewers may be surprised that Jim O'Heir originally auditioned to play Ron Swanson, not Garry Gergich, on "Parks and Recreation."
A lot of people auditioned for Ron Swanson, including Jim O'Heir
In an interview with Team Coco, when asked how he first got started on the show, O'Heir said, "I auditioned for Ron Swanson, like everybody else in L.A. ... There was heat around this because it was the untitled Amy Poehler project."
Many people auditioned because of the chance to work with Poehler and also because it wasn't just a pilot, but the show had gone straight to series. However, O'Heir said he never in a million years expected to actually land the role. However, he still wanted to impress the show's creators in case there was ever a guest role available down the line. "When you go in, you don't know what else they're working on." And he remembers leaving the audition thinking he did exactly what he needed to do.
O'Heir continued, "So I went in, I did my Ron Swanson version," but when prompted to go into further depth about his version of Ron, O'Heir said he couldn't remember. However, "the thought of anyone other than Nick Offerman [playing Ron Swanson]–I can't even–my head can't go there."
A few weeks after the initial audition, they called O'Heir, asking if he'd like to read for the role of Garry. When he was offered the part, they originally weren't sure how long Garry's character would last on the show, but regardless it was "a no-brainer" for O'Heir to take the part. When he learned the role would become long-term and regular, he was overjoyed.