Chris Farley's Death Left An Impact On Matthew Perry's Life And Jennifer Aniston's Friends Dressing Room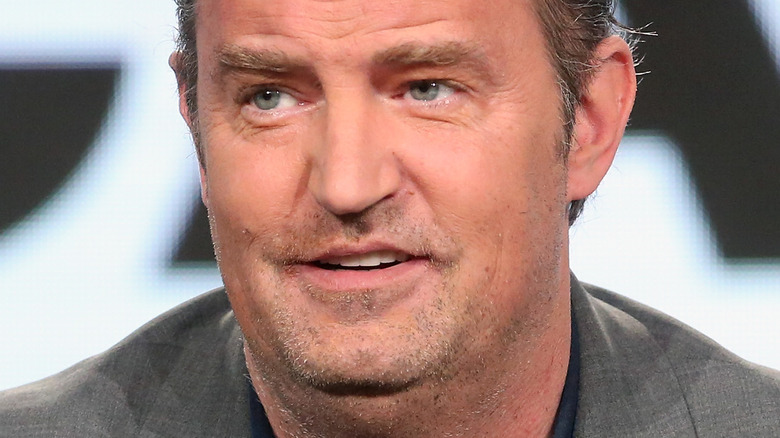 Frederick M. Brown/Getty Images
In December 1997, the world lost Chris Farley, who had been one of the most significant comedic forces of his era. For five years, beginning in 1990, he was a staple on NBC's "Saturday Night Live," on which he gave each skit –- from a dancing lunch lady to motivational speaker Matt Foley –- his signature over-the-top energy. This was in addition to his lengthy filmography, which includes "Tommy Boy," "Wayne's World," and "Almost Heroes," just to name a few.
Regarding the latter, "Almost Heroes" sees Farley star alongside "Friends" actor Matthew Perry. When the film was released in May 1998, Perry was at the height of his career thanks to his portrayal of Chandler Bing. The film focuses on two explorers, Bartholomew Hunt (Farley) and Leslie Edwards (Perry), as they attempt to beat Lewis and Clark to the Pacific Ocean in 1804.
Sadly, Farley never got to see the release of "Almost Heroes." For several years, the comedian and actor struggled with severe drug and alcohol addiction. Five months before the release of his and Perry's film, he overdosed on morphine and cocaine at the age of 33, as reported by Esquire.
The entertainment industry mourned Farley's death, especially his old "Saturday Night Live" buddies, Chris Rock, Adam Sandler, and David Spade. Rock told Esquire, "[W]e shared an office at 'Saturday Night Live.' We called it a dorm. We're friends to this day. I love those guys." As for Perry, he took the news of his friend's death so hard that he left a permanent mark of his grief in Jennifer Aniston's dressing room.
Matthew Perry punched a hole through Jennifer Aniston's wall after Chris Farley's death
The release of "Almost Heroes" should have been a fun time. It is, after all, an outlandish buddy comedy that doesn't take itself too seriously. However, Matthew Perry was forced to promote the flick only two weeks after the death of Chris Farley, the news of which he did not take well. At the time, Perry was filming on the set of "Friends" and couldn't hold in his emotions. "I punched a hole through Jennifer Aniston's dressing room wall when I found out," said Perry in his new memoir "Friends, Lovers, and the Big Terrible Thing" (via Variety).
This action couldn't have been a starker contrast from Perry's silly and sarcastic on-screen personas. But Perry was in the throes of his own secret addiction. In his book, Perry revealed that he was "high the entire time" that he was promoting "Almost Heroes" and publicly commenting on his late friend's demise from drugs and alcohol.
Aniston eventually recognized that Perry had a problem and confronted him. He told Diane Sawyer during a recent interview, "She was the one that reached out the most. I'm really grateful to her for that."
Perry struggled to get clean for most of his adult life and, as revealed during an interview with The New York Times, he spent about $9 million on his journey to sobriety. After countless relapses and intense health scares, including his colon bursting a few years ago (via People), Perry is 18 months sober. He can now share his story –- and Farley's –- in the hope of saving others from a devastating fate.
If you or anyone you know needs help with addiction issues, help is available. Visit the Substance Abuse and Mental Health Services Administration website or contact SAMHSA's National Helpline at 1-800-662-HELP (4357).