The Classic Films That Inspired Solo: A Star Wars Story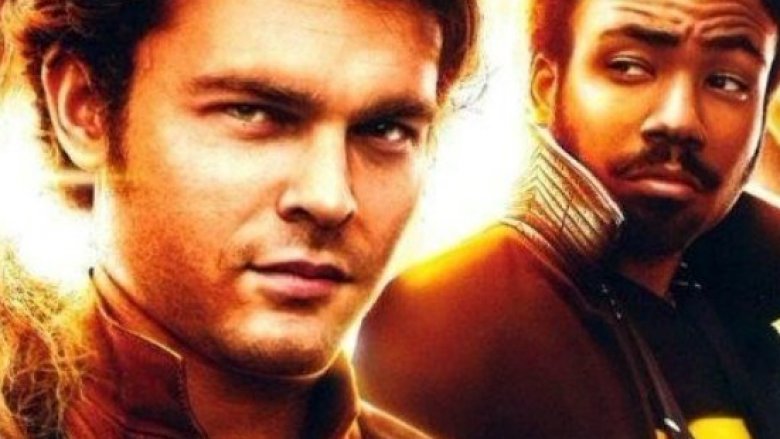 Solo: A Star Wars Story may be a standalone film, but it isn't without its inspirations. 
Speaking in an interview with Entertainment Weekly, screenwriters Lawrence Kasdan and Jon Kasdan opened up about how they formed the forthcoming pic's narrative and from where they drew insight for their creative vision. Just as franchise creator George Lucas had been influenced by Flash Gordon for his original films, the father-son duo had their fair share of go-to inspirations.
Lawrence Kasdan — who penned The Empire Strikes Back, Return of the Jedi, and The Force Awakens — mentioned Michael Mann's 1995 heist saga Heat helped shape the relationship between Alden Ehrenreich's Han Solo and Woody Harrelson's Tobias Beckett, the criminal mentor to the scrappy smuggler. 
"We talked about the relationship between Val Kilmer and Robert De Niro in Heat, where there's a sort of older, wiser criminal, and then someone who's learning the ropes from them. We wanted this movie to have that flavor and that swagger," he explained. "No one is reliable. There's always a chance of betrayal. And I wanted to take what is essentially a street-smart, but very innocent, young man and figure out how [we could] start him on the journey to being the character who comes into the cantina."
Jon Kasdan, the writer of 2012's Dylan O'Brien-led romantic drama The First Time, spoke about the gunslinger/apprentice dynamic of Clint Eastwood's 1992 Western Unforgiven as doing something similar. "There's a feeling in Unforgiven between the kid and Clint that hits the kind of relationship we were interested in," he stated, though he noted that Unforgiven is "obviously a much darker movie than [Solo] is."
Even 1950's Treasure Island starring Robert Newton and Bobby Driscoll and the 1882 novel of the same name sparked the Kasdans' interests and helped establish the groundwork for Han and Beckett's connection. 
"One of the things that Larry and I talked about right at the beginning of [when] we started working together on this was what kind of stories we wanted to riff off," Jon said. "One we immediately reread was Robert Louis Stevenson's Treasure Island because we wanted it to be a boy's adventure story, but one in which he encounters characters of dubious intent, and that everyone he would encounter would sort of inform his maturation as an adult."
Jon likened Beckett to the pirate Long John Silver in that he's an outlaw on the lookout for one last prize, and Han to the young Jim Hawkins who helps him achieve his goal. "We were talking a lot about Long John Silver and his relationship with the kid in Treasure Island," he said. 
He also explained that Solo: A Star Wars Story will be "more off-kilter" than its series predecessors, comparing it to the Coen Brothers' iconic film The Big Lebowski: "[Solo] has that flavor of a crime world that has weirdness and surprise and people stumbling into things — and other people very intentionally getting into [trouble]. The Big Lebowski is a great example because Solo has a more off-kilter tone than you've ever seen in [Star Wars]."
When it comes to another major Solo character, Paul Bettany's villainous Dryden Vos, the Kasdans turned to his performance in Gangster No. 1. Jon explained, "Gangster No. 1 is a wild movie, and Paul is great in it. It's a combination of class and swagger and real danger, which I think is a fun thing, and he absolutely inhabits it."
He added, "[Vos is] way deeper in the world than anyone else that we meet in the movie, but again, Woody's character is a career criminal, too. They're just in slightly different places, much like a movie like Layer Cake, where you see a [Michael Gambon]-type of character who's a little more advanced. Within the criminal underworld, there's no hierarchy. There are some that are in power, and there's some that are scrambling to stay alive."
With so many strong influences behind it, Solo: A Star Wars Story is sure to surprise us all when it arrives on May 25.