12 Great Shows Like The Sinner You Should Watch Next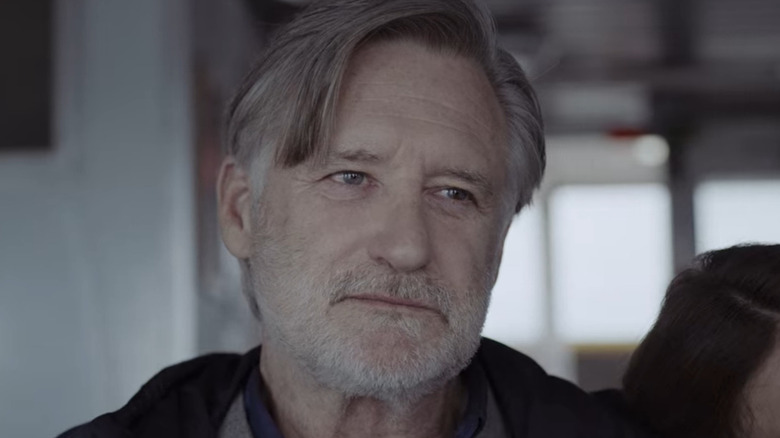 USA Network
USA Network's "The Sinner" wrapped after four seasons and was one of the more philosophical police procedurals on TV. In central protagonist detective Harry Ambrose's (Bill Pullman) last hurrah, he turns himself over to an investigation that was often far greater than he could handle, as he struggles with his own demons while trying to crack a case that would send shockwaves through an entire community. In each season, Ambrose stands out among the murder mystery genre's countless hardened detectives due to his detached, thoughtful approach to solving crimes, paired with an ability to tap into empathy and opens himself up to unorthodox methods in search of the truth. Though the mysteries Ambrose solves are high stakes, he is often forced to accept that he can't be sure if society is any safer from his interference, making him painfully relatable in his moral uncertainty.
"The Sinner" certainly closed out its run on a high note. Still, the tortured existentialist at the heart of this thriller has left a Harry Ambrose-shaped hole in the hearts of many fans. Though there are plenty of cop shows in the world, finding one with just the right mix of hesitancy, hopefulness, and action is no easy feat. Ambrose might be a tough act to follow, but there are a handful of series out there delivering similar messages for fans missing a trip through one detective's devastatingly lonely life and the cast of characters he meets along the way.
Mare of Easttown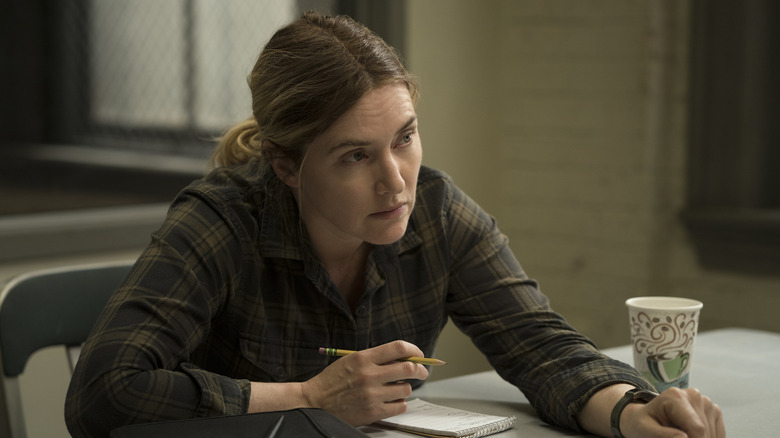 Michael K. Short/HBO
HBO's "Mare of Easttown" puts detective Mare Sheehan (Kate Winslet) in the uncomfortable position of having to solve a high-stakes crime while her life seems to be falling apart. A teen girl is found dead, and it seems that the perpetrator may very well be someone Mare knew. While trying to solve the case, she struggles with personal problems ranging from a long-standing resentment of her mother to alcoholism to getting back on the dating scene. Though she makes several mistakes in the investigation, Mare's impeccable insight and ability to read others are what cracks the case once we reach the show's ending.
In only seven hour-ish long episodes, "Mare of Easttown" builds a complex small-town world in which characters sometimes hold grudges but are often forced to forgive one another due to the certainty that they'll all be running into each other at the grocery store. The sense of history, for better and worse, between the flawed central cast makes for a compelling watch that is sometimes even more interesting than the murder at the heart of the story. Harry Ambrose and Mare have a lot in common, particularly their difficulty in letting others in even when they desperately need the company. One major difference is that Mare has a family, and her tight-knit (if argumentative) group makes for great TV.
Perry Mason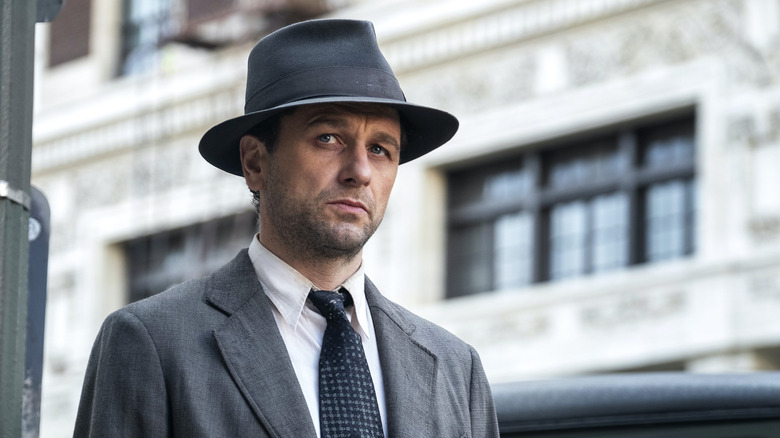 Merrick Morton/HBO
Kicking off as a blockbuster book series by writer Erle Stanley Gardner in the early '30s that ran through to the '70s, "Perry Mason" went on to be the subject of films and radio serials before becoming best known to pop culture fans today for the nine-season TV series starring Raymond Burr in the title role. After years of starts and stops on a modern-day reboot, HBO reimagined Perry Mason and brought him back to the small screen in 2020 in a grim, eight-episode series set in the '30s. Tapping into a historical precedent to rebuild a time rife with political corruption, open bigotry, and horrifying crimes for audiences of today, "Perry Mason" was a hit with the critics once more, with IndieWire even calling it "one of the most beautiful series ever made."
"The Sinner" sees Harry Ambrose take on cases that involved complicated social structures and challenged the social order of entire communities, which is why fans would be doing themselves a favor to check out the "Perry Mason" reboot. Ambrose's outlook is spacey and introspective, while Mason is always ready with a quip, but the underlying theme of each man is that they are both suffering from serious PTSD in a world that is seldom ready to grapple with the trauma it inflicts on its people, and sadly that remains true whether it's the '30s or the '20s.
Sacred Games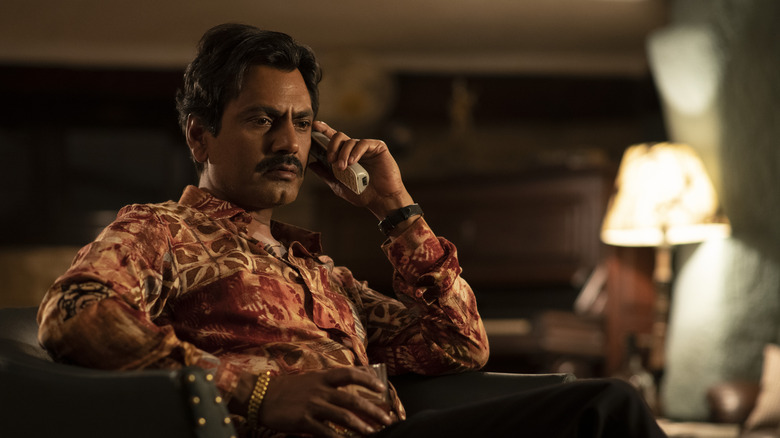 Tejinder Singh Khamkh/Netflix
Based on the sprawling 900-page book by Vikram Chandra, "Sacred Games" was India's first Netflix original – and what a debut it was. The two-season series starred Saif Ali Khan in the role of inspector Sartaj Singh and Nawazuddin Siddiqui as the gangster Ganesh Gaitonde. Gaitonde, who has been missing for 16 years, calls Singh one day out of the blue, telling the troubled police officer that he must save the city of Mumbai in 25 days. Naturally, Singh's interest is piqued, but the journey over the first season sees him delve deep into the criminal underworld and he is frequently at odds with a law enforcement system he no longer respects.
Season 2 looks further into Gaitonde's fascinating backstory while Singh grapples with his conflicted religious beliefs after discovering an ashram that his father once belonged to wanted to bring peace to earth through apocalyptic means. Echoing the honest but loving gaze of Mumbai (then Bombay) that the original book held, and also packing in some blockbuster-worthy action and plenty of tension, this is a must-see for thriller fans. The dialogue is the strongest element of the series, with several lines guaranteed to stick with you. Viewers of "The Sinner" that found themselves fascinated by the back and forth between Ambrose and fellow amateur philosopher-turned-killer Jamie Burns (Matt Bomer), will love the clashing worlds of Singh and Gaitonde.
The Equalizer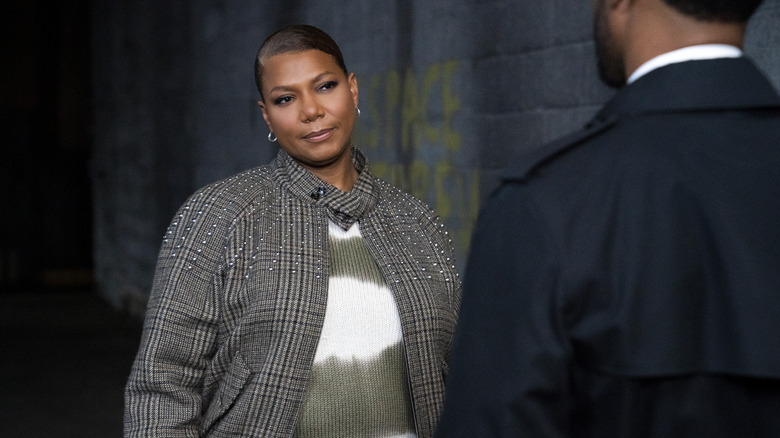 Michael Greenberg/CBS
The CBS series "The Equalizer" is another franchise that has appeared in a few different forms, with the original TV series screening on the same network during the '80s. It follows the adventures of Robert McCall, a retired intelligence officer with a mysterious past. This was backed up by two feature films starring Denzel Washington in 2014 and 2018, only to be rebooted once more with Queen Latifah in the lead role of Robyn McCall. These are all a lot of fun, but the TV reboot is not to be missed for fans of "The Sinner" largely because of the compelling dynamic between Robyn and her daughter Delilah (Laya DeLeon Hayes), as well as Robyn's empathetic and insightful approach to helping others.
In Season 1, McCall becomes disillusioned with her career and the path that leads her to ultimately begin working as a solo agent (with plenty of assistance from her network, of course). In comparison, by the fourth season of "The Sinner," Ambrose is very much retired, and his presence becomes much more that of an observer or even, at times, a vigilante. Likewise, McCall doesn't always succeed in helping people, but a secret desire to redeem herself for the things she's done and seen drives her character from one lurid case to the next. "The Equalizer" has a way of delivering emotional punches right when you least expect them, and the top-notch performances by Queen Latifah, Tory Kittles, Adam Goldberg, and others are not to be missed.
Luther
BBC's "Luther" features Idris Elba as John Luther, a dedicated (if obsessive) investigator dealing with violent crimes that he finds difficult to disconnect from. Indeed, the first episode sees him returning to duty after a traumatic arrest following the pursuit of a serial murderer. Much of the show looks at the dynamic between Luther and the elusive killer Alice Morgan (Ruth Wilson), with Luther unable to break off the strange connection they share. They help one another and ultimately become romantically involved, though, as one might suspect, it doesn't end especially well. Luther's job sees him take on cases that range from talking down a sniper suffering from PTSD to hunting down vigilantes.
One thing that connects "The Sinner" and "Luther" is Ambrose and Luther's mutual inability to turn off the more violent and extreme elements of the cases they work on, leading to moments where their past traumas and current pain can begin to blend with the case until it becomes difficult to see where they end and the mystery begins. Likewise, the core dynamic of a remorseless killer in a paradoxically charismatic game of back-and-forth with the detective that will ultimately bring them down is something that is echoed, if not exactly duplicated, with Ambrose and Jamie. Yet, "Luther" is in a field all its own, and its five-season run will satisfy the binging needs of those looking to follow "The Sinner" up with something just as bleakly compelling.
Sharp Objects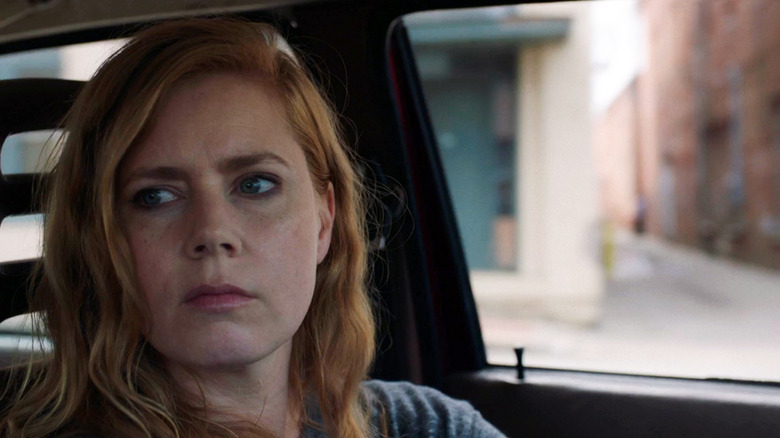 HBO
Before author Gillian Flynn penned "Gone Girl," and thus subsequently unleashed one of the most widely referenced thriller antagonists in recent memory with Amy Dunne via the 2014 film adaptation, she produced her debut novel "Sharp Objects" in 2006. Featuring an equally compelling lead in Camille Preaker (Amy Adams), this HBO miniseries centers on a troubled crime reporter who returns to her hometown at the behest of her editor after spending significant time in an institution due to chronic self-harm and alcoholism. Back in her childhood home, long-brewing tensions with her mother Adora (Patricia Clarkson) are at the forefront as Camille attempts to solve the murder of one young girl and the disappearance of another.
With the grim subject matter at hand, unresolved feelings around the death of the middle Preaker sister, Marian, are never far from the surface. Teaming up with a Kansas City detective sent in to investigate the deaths, everything she knows about her hometown, her family, and herself is called into question in a case where nothing is quite what it seems. Camille's painful childhood flashbacks and her wildly vacillating control over her own demons will remind "The Sinner" viewers of Ambrose, though the series careens in a very different direction by its conclusion. Even among investigators suffering from laden trauma, Camille's story is especially brutal, making it difficult not to sympathize with her even in her worst moments.
Giri/Haji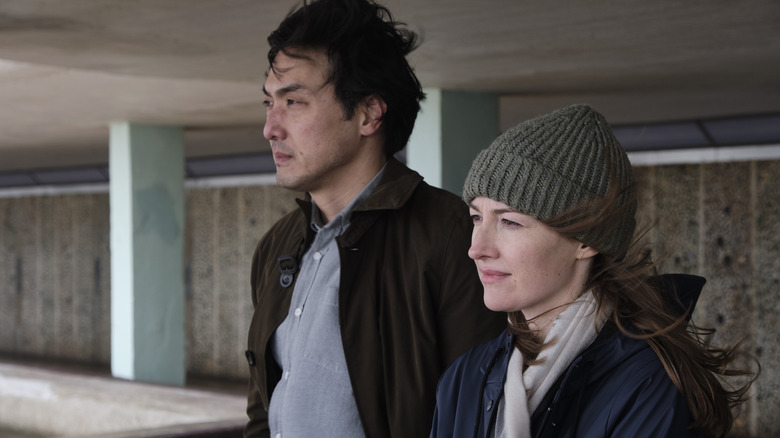 BBC Two
Though the BBC Two production "Giri/Haji" was short-lived at only eight episodes, it packs quite a punch. Tokyo detective Kenzo Mori (Takehiro Hira) travels to London in hopes of finding his missing brother, Yuto, who was presumed dead for many years but is suddenly revealed to be very likely still alive. In Tokyo, Yuto is a wanted man having been accused of murdering the nephew of a Yakuza member, with his continued existence threatening the possibility of an all-out gang war in Japan. A unique cast of characters springs up around Mori as the story gets deeper and more involved, implicating countless people and building the mystery around Yuto's motives.
The title "Giri/Haji" translates to "Duty/Shame," which might give a small peek into the themes this fast-paced thriller dives into. The script is multilingual, with characters regularly switching from Japanese to English and back again within scenes as Mori, likewise, is forced to balance the search for Yuto against his responsibilities to his family at home. Mori is a detective doing everything he can to balance impossible expectations from all sides, both concerned for his brother and afraid of him. The action, intrigue, and surprising humor of "Giri/Haji" make it a perfect binge thanks to the impeccable flow from one episode to the next, nailing the tension while constantly dropping new clues along the way.
Twin Peaks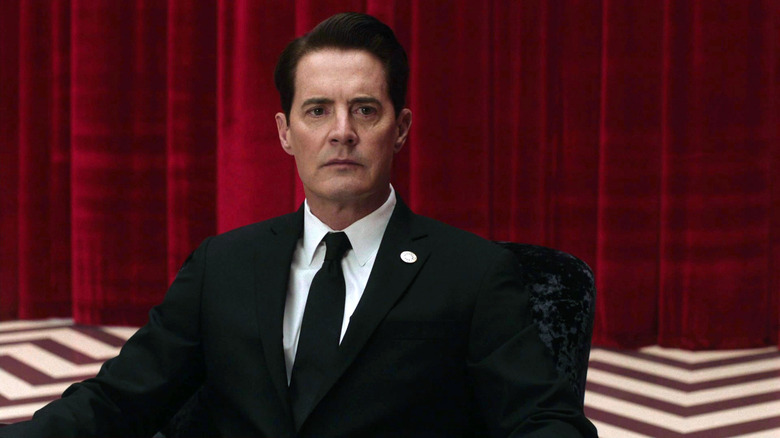 Showtime
"Twin Peaks" ran for two seasons between 1990 and 1991 and left a wildly impactful legacy despite its brief time on the air. It follows the exploits of FBI agent Dale Cooper (Kyle MacLachlan) who takes up residence in the small town of Twin Peaks to solve the murder of a teen girl named Laura Palmer. The series mixed down-to-earth Americana, soap opera sensibilities, bizarre humor, outright surrealism, and sometimes straight-out horror to create something that remains both imperfect and uniquely its own. Returning for a third season in 2017 on Showtime, the concept ran only further off of the rails as we discover Coop has spent much of the last 25 years possessed by the demonic "Bob."
Season 1 of "The Sinner" saw Ambrose deal with a case of a woman who was very much not as she appeared, which could also loosely describe Laura Palmer. Though the first episode reveals that Laura is deceased, her story is told in flashbacks, particularly through the often nightmarish 1992 spin-off film "Fire Walk With Me." The level of sympathy extended to Laura as she goes from homecoming queen to something resembling an apparition or even an angel is impressive, and by the end, it's hard to feel anything about her demise besides a profound sense of loss. That heartfulness, even when buried under layers of wild plot devices and indecipherable coded dialogue, is how "Twin Peaks" changed TV and made it the pop culture milestone it remains today.
The Fall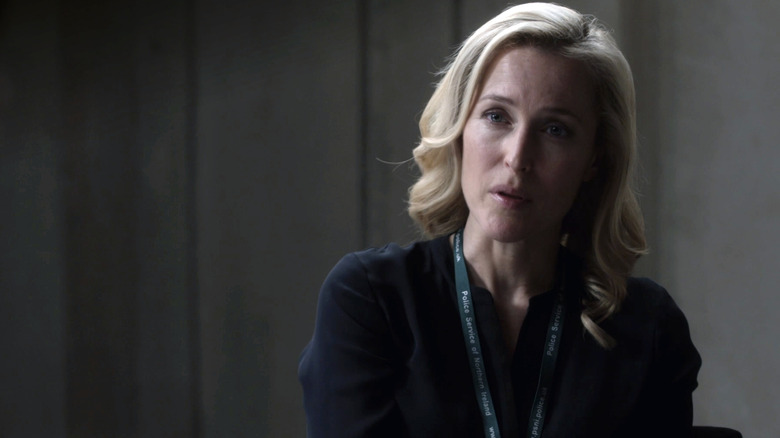 RTÉ One
Set in Northern Ireland, "The Fall" stars "The X-Files" alumni Gillian Anderson as detective superintendent Stella Gibson, a professionally accomplished but dominant and somewhat frightening woman sent to bring in a serial killer on the loose. Playing up the similarities between Gibson's methodical, occasionally cold, and calculating approach with that of the killer, "The Fall" granted its viewers a deeply reflective look at the shared nature of those that fight monsters and those who seek to bring them to justice. As pressures rise for both the investigator and the murderer, the two are tied together through shared traits and a trail of horrific crimes.
While so many thrillers and police procedurals rely on a whodunnit aspect, teasing out the killer's identity over the course of several episodes, "The Fall" gives no room to wonder as it introduces the murderer right out of the gate. Dropping the pretense of a puzzle for viewers to obsess over allows the series to take a step back and work on its character development as a whole. Watching antagonist Paul Spector (Jamie Dornan) balance brutal crimes with his life as a dedicated husband and father makes the story all the more chilling. The interplay between hunter and hunted and the way the role shifts and changes through the series' three seasons makes for a compelling watch that will give fans of "The Sinner" the interpersonal drama they crave.
Elite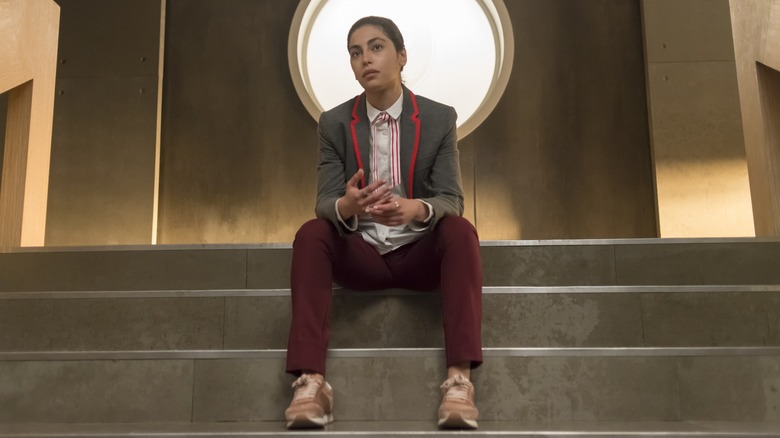 Manuel Fernandez-Valdes/Netflix
Netflix's original series "Elite" has five seasons in the bag, with a sixth also on the way. Season 1 begins with its cast covered in blood at the scene of a crime, then flashes back to a few months before in order to tell the story. Three working-class students, Samuel (Itzan Escamilla), Nadia (Mina El Hammani), and Christian (Miguel Herrán), are selected to attend the prestigious Las Encinas on scholarships in a PR move by the prominent construction company at fault for a building collapsing. We quickly meet fellow student Marina (María Pedraza), who we know from the opening stanza will soon meet an untimely demise.
Though the fast-paced social dynamics of a prep school filled with students engaging in sex and drug use might not be an immediate connection for fans of "The Sinner," the themes of both series have more in common than might first meet the eye. After all, much of "The Sinner" follows Ambrose's own increasing sexual experimentation even at the cost of his marriage. Additionally, "Elite" leans heavily into class dynamics, and much of the tension around the new students is directly related to their religious upbringing, relative poverty, or sexuality, making it clear from the jump that the social hierarchy of our teen years is so often continued into adulthood. On top of all that, "Elite" is a top-notch murder mystery, making it one of Netflix's most entertaining originals.
Top of the Lake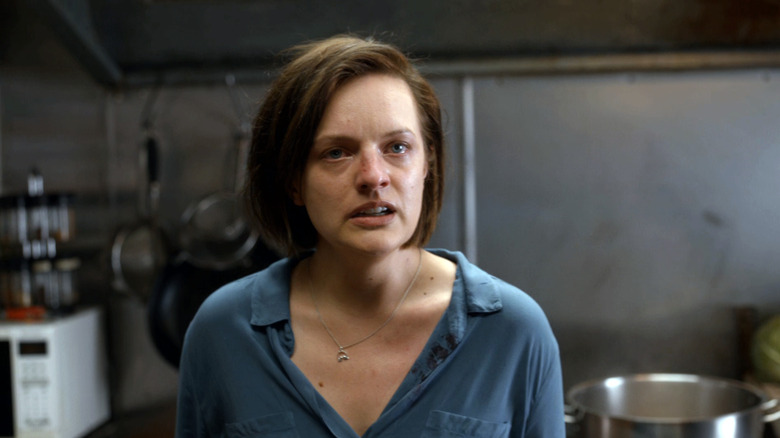 BBC
BBC's "Top of the Lake" was created and written by Jane Campion and Gerard Lee and features Elizabeth Moss in the lead role of detective Robin Griffin. The two-season series kicks off with Griffin, who now lives in Sydney, being called back to her hometown of Laketop, New Zealand to investigate the disappearance of a young pregnant girl named Tui (Jacqueline Joe). Griffin's visit to her mother (Robyn Nevin) intersects with us learning more about Tui's frightening and abusive home life. As the series goes on, the callous disregard of abused children across the world by systems designed to protect those that hurt them comes very much in focus as we learn Griffin has more in common with Tui than we initially thought.
Childhood trauma and its adult ramifications are a major theme in Ambrose's story throughout "The Sinner," and fans of both will note that he and Griffin have a lot in common. The second season of "Top of the Lake" sees Griffin attempting to reconnect with the daughter she had given up for adoption following the horrific circumstances surrounding her birth, showing a search for catharsis that likewise would define "The Sinner" in its final season. Stellar performances, remorseless villains, and perpetrators hiding in plain sight all combine to make "Top of the Lake" an all-timer in the police procedural canon.
Narcos: Mexico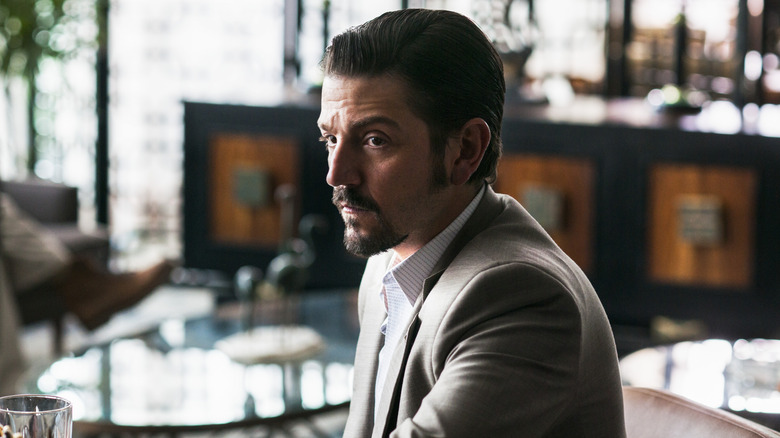 Carlos Somonte/Netflix
"Narcos" stars Pedro Pascal as the DEA agent tasked with bringing the notorious kingpin Pablo Escobar (Wagner Moura) in. A terrifying glimpse into the forming of the infamous Medellin cartel, this is the kind of show you wish was more fictional than it is. "Narcos" ran for three stellar seasons, then reset with "Narcos: Mexico," where it switched up its focus to the forming of the Guadalajara cartel in the '80s. Taking Miguel Ángel Félix Gallardo (Diego Luna) as its central focus, the franchise continued its descent into some of the most brutal drug syndicates in history. The show is based on a true story, though there are plenty of liberties taken, but the series is all the scarier for its proximity to real-life events.
Historical dramas and thrillers can have an extra tinge of impact as the audience knows what's coming but tries to negotiate a better ending for its players, and that's certainly the case for Michael Peña's take on the ill-fated DEA agent Kiki Camarena. The series very much thrives on its ability to show the humanity of characters doing inhumane things and a callous desire to survive at all costs, creating a moral gray area that pervades the entire franchise. Any crime TV fan should seek out "Narcos: Mexico," and those that loved "The Sinner" who are looking for the same interwoven social tapestries found in the small towns Ambrose visits will especially appreciate this series.