Why Rand Hilbert From Blue Bloods Looks So Familiar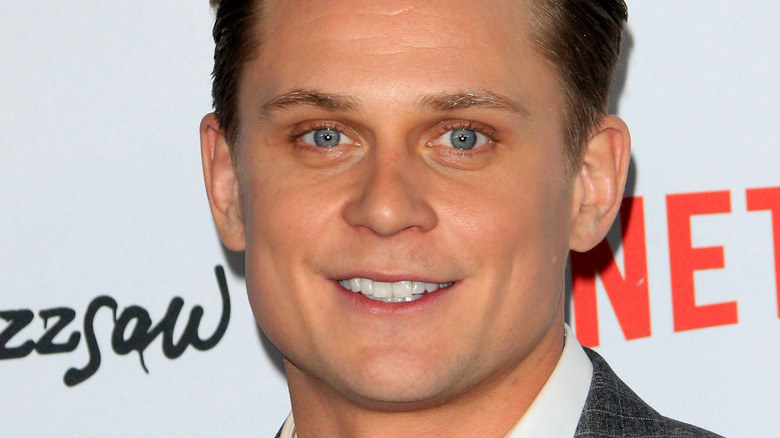 Kathy Hutchins/Shutterstock
Protecting Jamie Reagan (Will Estes) from the mob and uncovering an underground fight club. Those are the storylines of "Blue Bloods" Season 2, Episode 21 "Collateral Damage." The long-running crime drama focuses on the Reagan family and its mission to help the people of New York City. The show has proven to be another long-running series for Tom Selleck (who many know as Magnum, P.I.), and it has given Donnie Wahlberg (a member of the popular 1980's boy band New Kids on the Block) a chance to showcase his acting skills. While Selleck and Wahlberg are familiar to many generations, there is another familiar face of the small and big screens that becomes a central part of one of the plots in Episode 21.
Billy Magnussen plays Rand Hilbert, a man who is pressured into fighting his friend and colleague Phillip Gibson (Brett Dalton) in the underground fight club. While visiting the hospital for an unrelated reason, Danny Reagan (Donnie Wahlberg) and his partner Jackie Curatola (Jennifer Esposito) run into Phillip who suddenly collapses and dies due to his injuries from the fight. It is later discovered that a saltwater solution was placed inside Rand's gloves before the fight, making the gloves heavier. While Magnussen makes Rand into a compelling character, there are plenty of other noteworthy roles that he's played throughout the years.
Magnussen can be found across several genres on the small and big screens
"Blue Bloods" is not Billy Magnussen's first time stepping into a dramatic role. Soap opera fans may recall his long run as Casey Hughes on "As the World Turns," a role he played from 2006 to 2010. He has since picked up several small roles in crime dramas including "NCIS: Los Angeles," "Law & Order: Criminal Intent," and "CSI: Crime Scene Investigation."
Following stints in fictional crime dramas, Magnussen enters the world of retelling true crime in "American Crime Story: The People v. O. J. Simpson." Magnussen portrays Kato Kaelin, an actor who was staying in a guest house on O.J. Simpson's property when Nicole Brown Simpson and Ronald Goldman were murdered, according to CNN.
While Magnussen has a long list of small-screen roles, he has a wide range of big-screen credits, which includes showing off his musical talents as Rapunzel's prince in the 2014 film adaptation of Stephen Sondheim's "Into the Woods." James Bond fans will also recognize him as villain Logan Ash in "No Time to Die," and he said his fight scene with Bond (Daniel Craig) was an exciting moment. "Yeah, when I got the opportunity – or was told I had the opportunity to be in it – I was like, 'There's got to be a fight scene, right?!' And of course, when I found out, I was just like, 'Yes!' Not many people get to fight Bond," he told The Hollywood Reporter.
Magnussen is taking over the streaming world and gearing up for big projects
Billy Magnussen is currently starring alongside Cristin Milioti and Ray Romano in the HBO Max series "Made for Love." Magnussen plays tech billionaire Byron Gogol who invents a chip that connects a couple's thoughts. The show is currently in its second season.
And he has plenty of other big projects currently in the works. According to Deadline, he will join Zachary Levi and Gina Rodriguez in Netflix's reboot of "Spy Kids," although there are no exact details about his character as of yet. He is also busy revisiting his character Prince Anders from the live-action remake of "Aladdin." According to Screen Rant, Magnussen is reprising his role in a spinoff movie for Disney+. The upcoming installment in the "Aladdin" universe focuses on Prince Anders, and he's very excited about the project. "I loved making that character up, and to have the opportunity to create a world and a story with him in it has really been a treat," he said.