Here's Where You Can Play The Simpsons' Fake Waterworld Game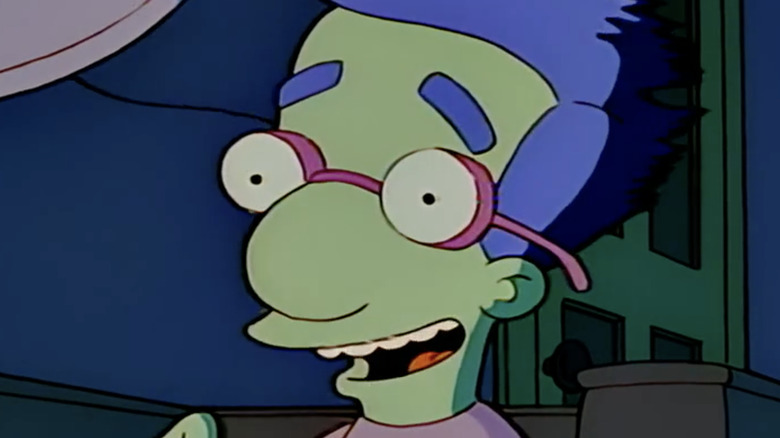 Fox
Out of all the pause-worthy moments  "The Simpsons" has put out throughout its many excellent seasons, one many fans would arguably agree that stands out is Milhouse Van Houten's (Pamela Hayden) ill-fated attempt to play the fake "Waterworld" arcade game. And anyone hoping they would one day get a chance to try out this expensive video game experience will finally get their shot.
Some fans may not realize it, but "Simpsons" episodes have introduced a ton of fake video games — like "Dash Dingo," "Cat Fight," "Lee Carvallo's Putting Challenge," and "Bonestorm" — with a "Grand Theft Auto" parody even appearing in "The Simpsons Movie" called "Grand Theft Walrus." While "The Simpsons" has showcased many faux video games over the years, one example pokes fun at the movie it's based on. In Season 8, Episode 10 ("The Springfield Files"), Milhouse Van Houten is seen inserting 40 quarters in an arcade game called "Kevin Costner's Waterworld," based on the real-life movie. When he finally gets to play, he moves the character one step, which results in a Game Over. Despite his disdain for the outcome, Milhouse begins to put another 40 quarters into the coin slot.
The gag was making fun of how the production of the Kevin Costner motion picture went over budget, but the joke resonated so well that one viewer set out to make it possible for other fans to try their luck at the game for real.
The game is real and doesn't cost 40 quarters to play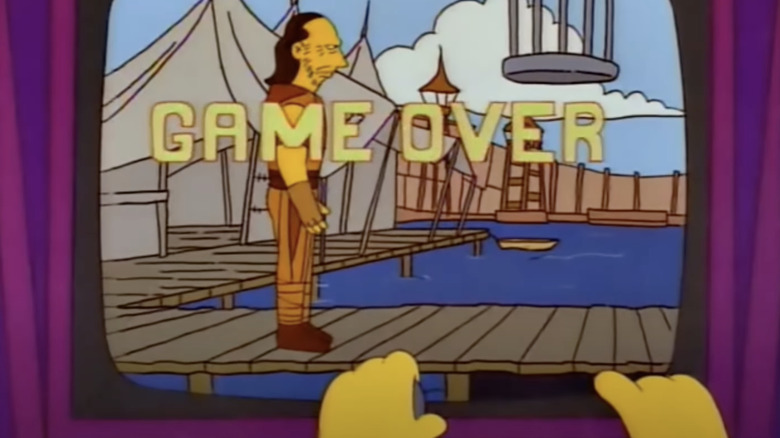 Fox
Twitch user Macaw45 posted to his Twitter account on October 8, 2022, that his completed freeware PC game "Kevin Costner's Waterworld" was available to download. The full-imagining of the fictional game was now a reality, and users could play it without spending 40 quarters every time they moved the character ever so slightly. The creator stated on the games download page that he was curious to see where the game would go after watching the scene in "The Springfield Files" episode, and that desire drove him to make the game.
While it looked pretty mediocre on the show, the real version recreates some of the most memorable scenes from the sci-fi flick. The well-crafted title has everything gamers expect from an entertaining endeavor, including multiple locations, boss battles, items to collect, and secrets to unlock. Fans haven't wasted time before trying it out, like gamer Call Me DNA, who posted, "I noticed there is a lot more to this game than I thought, which makes me appreciate it more." YouTube user Sneed Plays has already completed the game posting the video of the entire affair online. One user commented on it, writing, "This is harder than it looks. Good Run!" and another saying, "Well done. I've now had a cinematic experience."
Regardless of skill or prowess with video games, "The Simpsons" fans shouldn't sleep on the fan-made "Kevin Costner's Waterworld."