Sig Hansen's Special Connection With Deadliest Catch's Film Crew Turned Them Into Family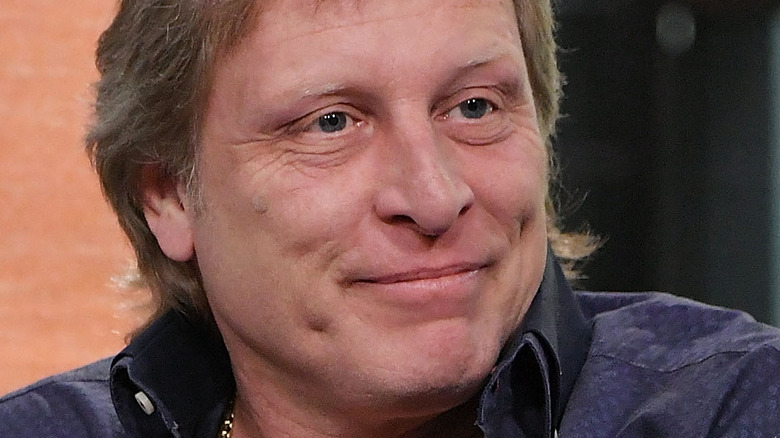 Mike Coppola/Getty Images
There's a certain type of grit required to be a crab fisherman on the Bering Sea. The water is frigid, rough, and dangerous, and the job is not for the faint of heart. Thanks to Discovery Channel's long-running series "Deadliest Catch," viewers are able to get a taste of the high-stress work.
However, there's another group of individuals who get more than a taste of sea life — the film crew, whose members experience the trials and tribulations right next to the captains and deckhands. To truly capture the full extent of what Sig Hansen, "Wild" Bill Wichrowski and the other captains do for a living, the film crew roughs it with them. They're present for the highs of collecting full pots, the lows of having ice slow down a journey, and everything in between. In an interview with IndieWire, executive producer Arom Starr-Paul shared how difficult it is to capture footage and avoid motion sickness. Director of photography David Reichert added that sleep deprivation is something the film crew also grapples with.
When F/V Northwestern captain Hansen was approached 18 years ago to be part of the reality TV project, he wasn't too sure about welcoming a film crew on his beloved boat. He told GamerStuff, "I think my first reaction when they asked us to film was, I thought they were nuts ...  And it was a negative reaction."
Not only did Hansen eventually agree to allow cameras on his boat, but he also slowly but surely formed a strong kinship with the people behind the equipment.
Much of the same film crew has followed Sig Hansen since the start of Deadliest Catch
Out of all the captains seen on "Deadliest Catch," Sig Hansen is the only one to be featured in every one of its 18 seasons (via IMDb). In turn, Hansen has been surrounded by some of the same film crew for that same length of time.
In September 2022, the spinoff "Deadliest Catch: The Viking Returns" premiered on Discovery and follows Hansen as he and his family attempt to launch a king crab fishing empire in their ancestral homeland of Norway. When it came time to film this new series, Hansen knew that he wanted certain members of the Northwestern's film crew to stick with him, because they already felt like family to him.
"We're 18 years into 'Deadliest Catch' and now we have 'Viking Returns' and I don't think I even would have dared go out there without some of the same people that we've been with for so many years. They become a part of your crew and in doing so, they become family to you," Hansen told Vegas Film Critic. "You've gotta trust them and that's a relationship that's built over time ... It took a while, but they're some of the best out there."
Hansen admitted in an interview with Headliner Chicago that fishing in unfamiliar Norwegian territory was challenging. After spending years on the Bering Sea, which he knows like the back of his hand, it was like starting from scratch. "I'm the greenhorn here," he said. Still, as he acclimated to this new environment, he had the familiar faces of the boat and film crews by his side for support.