The English's Chaske Spencer Says Filming Eli And Cornelia's First Exchange Was A Surreal Moment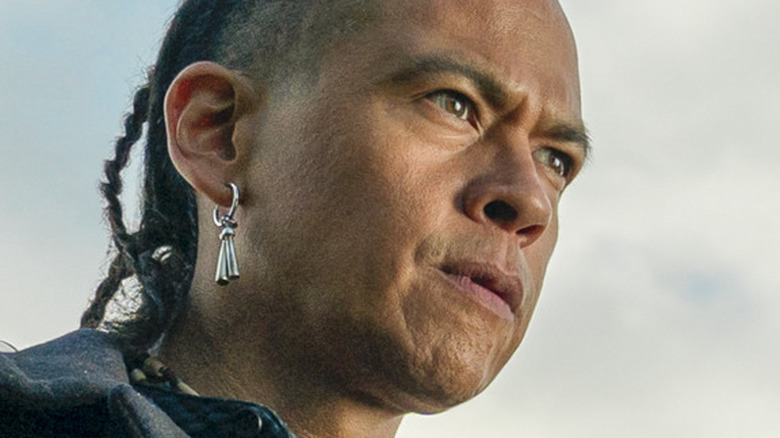 Diego Lopez Calvin/Drama Republic/BBC/Amazon Studio
Amazon Prime's upcoming limited series "The English" follows a British woman named Cornelia Locke (Emily Blunt), who's looking for revenge on the man who murdered her son in the American west circa 1890. She enlists the help of Eli Whipp (Chaske Spencer), who was an Army scout during the Civil War and is a member of the Pawnee Nation. Together, they learn more about themselves than they ever imagined they would while searching for closure to the trauma and pain they have been dealing with, as well as revenge upon those who have wronged Cornelia. 
For Chaske Spencer, who is perhaps best known as Sam Uley from "The Twilight Saga," taking on the role meant developing an onscreen rapport with Blunt that read as authentic and dynamic. When it came time to put Eli and Cornelia's first onscreen meeting onto celluloid, Spencer reports that the moment took on a level of surreality for him. 
Spencer couldn't believe what he saw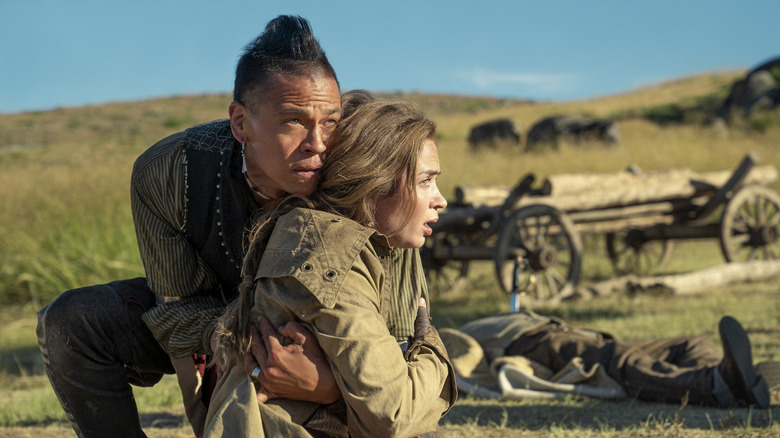 Diego Lopez Calvin/Drama Republic/BBC/Amazon Studio
During a November 2022 interview with Bradford Zone, Chaske Spencer explained that the very first time he and Emily Blunt swapped dialogue as their characters, the atmosphere felt a bit eerie to him. "There was one night when we had the first exchange from Eli to Cornelia at the beginning of episode one. When we were filming that, it was a full moon," he said. 
Spencer also explained that the series' road to existence had been quite a long one. Between the COVID-19 pandemic and other production delays, he wasn't sure that it would ever spring to life. He was both moved by and felt the surreal impact of acting out those very first moments beneath a big glowing moon with Blunt — suddenly all of his hopes and dreams were a reality, and the program was a go. "I gave acknowledgement to the film gods, or whoever makes this thing work, to absorb what we're doing and the beginning of the journey of filming. That was a very significant moment for me," he said.
The series' six-episode season — which was filmed in both Oklahoma and Spain and is a BBC co-production — is slated to hit the streamer on November 11.