Doom Patrol Will Be In DC's Live-Action Titans Series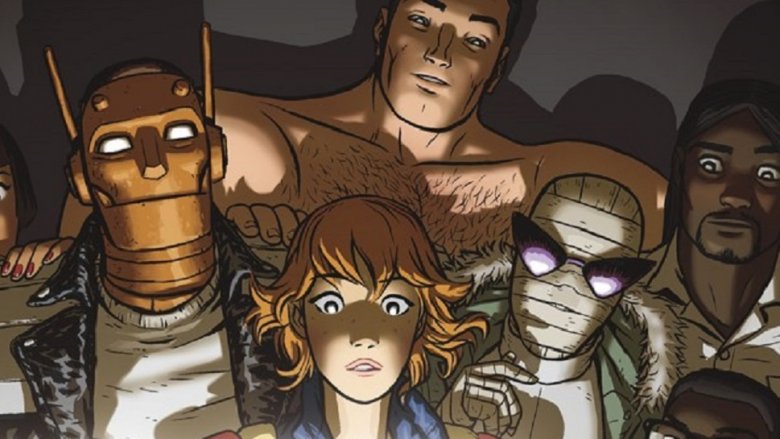 DC Comics
Dick Grayson and the Titans can't do it all alone.
President and Chief Creative Officer of DC Comics Geoff Johns confirmed on Friday (February 9) that the Doom Patrol will be a part of DC's upcoming live-action Titans series. 
Johns made the announcement via Twitter, sharing a photo of the script for season one, episode five. "The Titans are getting some company..." he wrote in the caption of the snap, which shows that the episode will be titled "The Doom Patrol" and is penned by Johns himself. 
First introduced to the DC Comics pantheon way back in 1966, the Doom Patrol are a rag-tag team of super-powered misfits who were originally known as "The World's Strangest Heroes," consisting of The Chief, Robotman, Elasti-Girl, and Negative Man. The latest incarnation of the Doom Patrol, which has been headed dup by Young Animal imprint writer (and My Chemical Romance Singer) Gerard Way since 2016, features a new roster: Robotman, Danny the Street, Casey Brinke, and Crazy Jane, among others. It's unclear whether Johns will exclusively use Doom Patrol creators Arnold Drake and Bob Haney's hero line-up, stick strictly to Way's team, or take a little from each. 
Written by Johns, Arrowverse executive Greg Berlanti, and Akiva Goldsman (Transformers: The Last Knight, The Dark Tower), Titans stars Brenton Thwaites as Dick Grayson/Robin, Anna Diop as Starfire/Koriand'r, Teagan Croft as Raven/Rachel Roth, Ryan Potter as Garfield "Gar" Logan/Beast Boy, Minka Kelly as Dawn Granger/Dove, and Alan Ritchson as Hank Hall/Hawk. 
Titans will premiere on DC's direct-to-consumer platform DC Digital Service sometime this year.