Scooby-Doo Directly Influenced Guillermo Del Toro's Cabinet Of Curiosities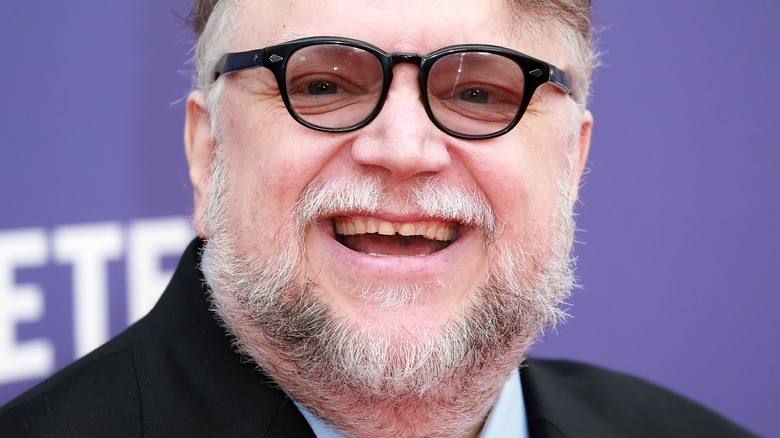 Fred Duval/Shutterstock
With a filmography that includes "Mimic" and "The Devil's Backbone," Guillermo del Toro has long been associated with horror. But even his non-horror works like "Pan's Labyrinth" and "The Shape of Water" carry a fantastical, unsettling sheen and showcase his affinity for monsters. In his new anthology series, "Guillermo del Toro's Cabinet of Curiosities," the director uses his love of horror to highlight some of the genre's most talented minds.
The eight episodes of "Cabinet of Curiosities" were released daily between October 25 and October 28, a release strategy that had Netflix depart from its typical "binge model" rollout. The episodes are helmed by a variety of directors, including Vincenzo Natali ("Cube"), Ana Lily Amirpour ("A Girl Walks Home Alone at Night"), and Jennifer Kent ("The Babadook").
The entirety of "Cabinet of Curiosities" mines from a deep well of influences, whether it's source material by H.G. Wells and others, or the pantheon of horror films. Here's how Scooby-Doo directly influenced Episode 8, "The Viewing."
The Viewing is a drug-fueled, grotesque take on Scooby-Doo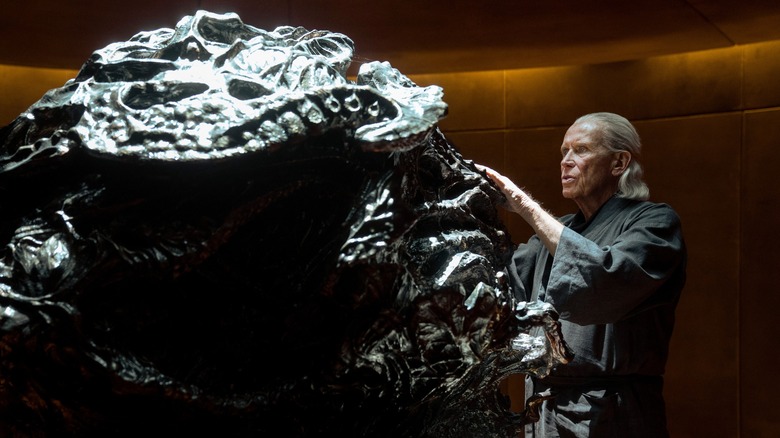 Netflix
Directed and written by Panos Cosmatos — the man behind the Nicolas Cage-led "Mandy" – "The Viewing" is, according to Slate, "perhaps the biggest WTF of the collection." The hour-long episode takes place in 1979 and follows a foursome of elite artists and scientists who are invited to a reclusive billionaire's estate. What follows is typical fare from Cosmatos: space cocaine, a face-melting rock, and an extremely '70s conversation pit, all wrapped up in a gory, psychedelic fever dream. The filmmaker called his episode, "basically an experimental film with a Netflix budget."
In making "The Viewing," Cosmatos looked to an unlikely source for inspiration: Scooby-Doo. "One of the biggest inspirations for the tone and the structure was Scooby-Doo episodes," the filmmaker told Netflix. "I wanted to do a Scooby-Doo cartoon that was rendered in the style of an EC comic, where the Scooby episode looks gnarlier and more freaky and real and drawn by Basil Wolverton or somebody instead of Hanna-Barbera."
With its archetypical guests — one of whom, Charlyne Yi's Charlotte, gives off serious Velma vibes — and period piece details, "The Viewer" does, upon close examination, share some DNA with the Scooby gang, albeit much more drug-fueled. Cosmatos certainly nailed the grotesque drawings of Basil Wolverton, as well as the storybook horror of EC comics' "Tales from the Crypt."
Cast members Eric André and Charlyne Yi noticed other influences for The Viewing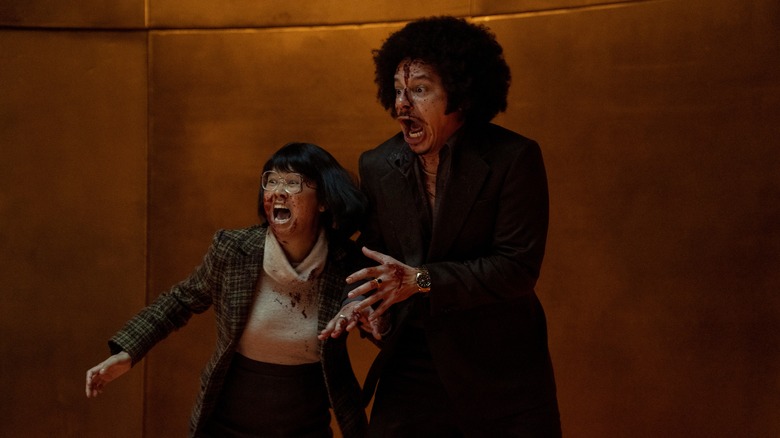 Netflix
Panos Costamos may have highlighted Scooby-Doo as the primary inspiration for "The Viewing," but cast members Eric André and Charlyne Yi, who play record producer Randall Roth and physicist Charlotte Xie, respectively, noticed other influences as well. "In my mind, it feels like 'Charlie and the Chocolate Factory,'" Yi told Netflix. "But instead of candies, it's drugs. And it's about the void inside you and capitalism."
Indeed, both Yi and André pointed to works in which a motley crew is assembled with a similar goal in mind, whether it's trying rare candies or saving the world. "He kind of collects people," Yi said of the mysterious billionaire character, Lionel Lassiter (Peter Weller). "I think we're all pieces of different people — it's almost like 'Captain Planet.' We make one superhuman."
To that effect, André name-dropped the 1985 whodunnit "Clue." "It's a bit like the movie 'Clue.' We all go there, we're not sure why, and Lassiter ... is just this really weird, creepy, J.D. Salinger–esque eccentric, who is all strung out on experimental drugs," said André. "And he has a specific item to show us, and he kind of draws out the meeting until the power is right." Of course, with its (literally) explosive climax, you'd also be correct in comparing "The Viewing" to "Raiders of the Lost Ark."