Only In Weird: The Al Yankovic Story Could You Find Jimmy Page And Mila Kunis Together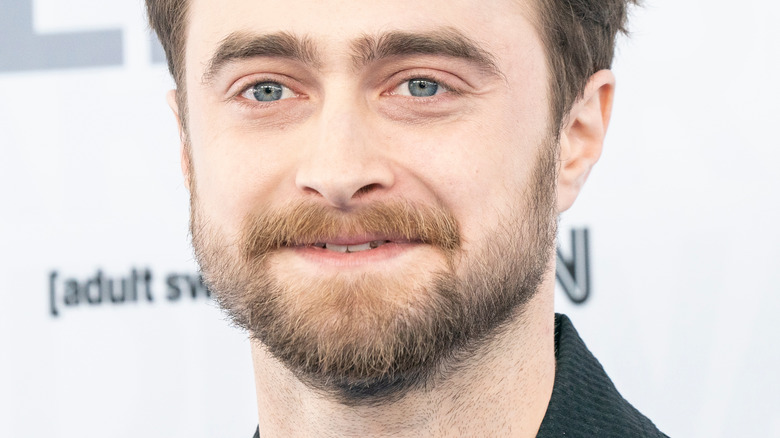 lev radin/Shutterstock
It's some sort of miracle that Weird Al Yankovic has his own biopic before star artists like The Beatles or Beyoncé. Yankovic has been consistently delivering hits since the early '80s, providing audiophiles with parodies of their favorite tracks with a healthy serving of polka. As expected, Weird Al's biopic is far from traditional. Taking a page out of the creative's playbook, "Weird: The Al Yankovic Story" is a parody of the biopic genre, playing with its conventions to create a hyperbolic reinterpretation of Yankovic's journey as a musician. 
"Weird: The Al Yankovic Story" is the Roku Channel's first major foray into original content, and it looks like it was a bet that paid off. The comedy currently holds a high 86% on Rotten Tomatoes. Looper praised lead star Daniel Radcliffe's performance as the titular singer and director Eric Appel's vision for flipping the biopic genre on his head. Written by Yankovic, the film naturally references several key figures who have dominated pop culture over the last four decades, including famous musicians and singers like Madonna, who is liberally used throughout the film. Turning fiction into fact, "Weird" is the first time audiences will be able to see Jimmy Page and Mila Kunis come together, kind of. 
Jimmy Page is giving guitar lessons while Mila Kunis is teaching Karate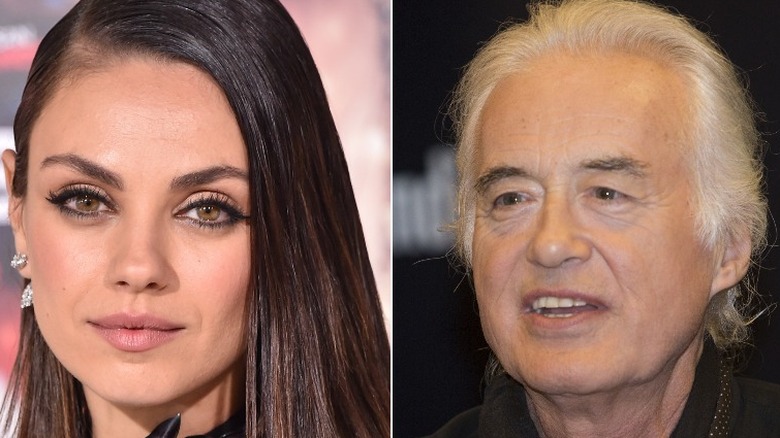 robin jason & DFree/Shutterstock
"Weird: The Al Yankovic Story" is filled to the brim with perfectly cast cameos and tongue-in-cheek references to both Al Yankovic's work and pop culture. Naturally, fans are bound to miss some of the film's most audacious and clever nods as "Weird" moves at a mile a minute, condensing the musician's "prolific" career into just shy of two hours. One hilarious reference that Close Personal Friends of Al likely missed includes a nod to musician Jimmy Page and actress Mila Kunis. Page is most well-known for shredding out on the guitar with Led Zeppelin, while Kunis rose to prominence thanks to her appearances in shows like "Family Guy" and "That '70s Show."
About 16 minutes into the film, Daniel Radcliffe's Yankovic is living on the west coast, far from his accordion-hating family. There, he stumbles upon a community board filled with flyers. Look closely, and you'll see that there's an ad for "Jimmy's Guitar Lessons," which features a photo of Page's iconic Les Paul guitar. Hanging just below the call for lessons is a flier for "Kunis Karate School," a nod to Mila Kunis. The real-life Yankovic and Kunis haven't worked together previously, so perhaps the nod to the actress was a simple matter of alliteration.
Page famously didn't allow Yankovic to parody any of Led Zeppelin's work. However, they struck a deal when it came to using the band's "Black Dog" briefly. "It's actually quite a coup that I was able to get Led Zeppelin to let me and my band do that little bit of 'Black Dog' in 'Trapped In The Drive-Thru.' They're famous for not letting people do anything with their music," Yankovic told the Toronto Sun in 2006.