The Walking Dead Season 11, Episode 22 Recap: The Rebellion Looms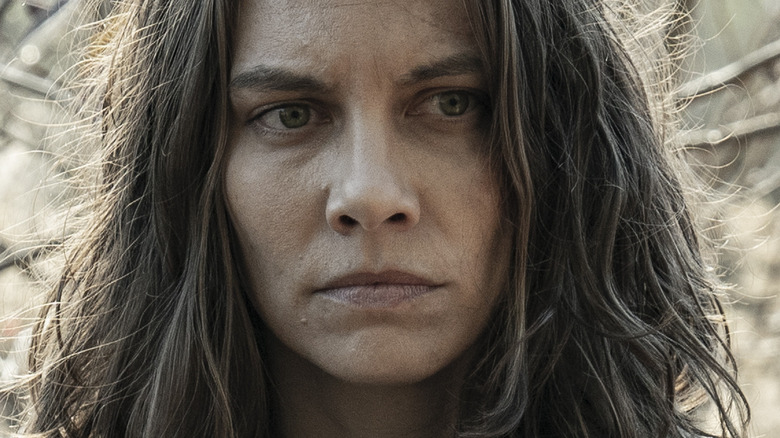 Jace Downs/AMC
The following contains spoilers for "The Walking Dead" Season 11, Episode 22 — "Faith"
The quality of mercy is not strained, or so they say. On "The Walking Dead," that's an arguable statement. Sometimes mercy will win you an ally, sometimes it will simply buy you time. At worst, it will put you at a terrible disadvantage. But mercy is another human quality that sets the living apart from walker-kind. 
In voiceover land, Judith Grimes (Cailey Fleming) considers the importance of the sort of mercy her father taught her about when confronted with the horrible specter of death from her vantage point and young age. As we revisit scenes of Negan Smith's (Jeffrey Dean Morgan) past, we note how he has changed with time — from merciless antagonist to quasi-ally for many of the Alexandria gang. "The world is dark and broken, but we're not. Not yet," Judith observes. She later adds, "We stare into the face of death every day. Until one day, that face is our own. How do you come back from that?"
Negan has come back from his previous mistakes — and his defeat at the hands of Judith's father –  by finding love with his wife, Annie (Medina Senghore), and trying to lead a small settlement into a peaceful existence. That has all blown up in his face in spite of his best intentions, and he and his wife are now chattel of the Commonwealth. But luck has a way of twisting itself about in the "Walking Dead" universe. After the events of "Outpost 22," Negan finds himself in a position to bargain for more power to save his wife and unborn child. But he's not the only one willing to make sacrifices to save his loved ones.
Negan makes a deal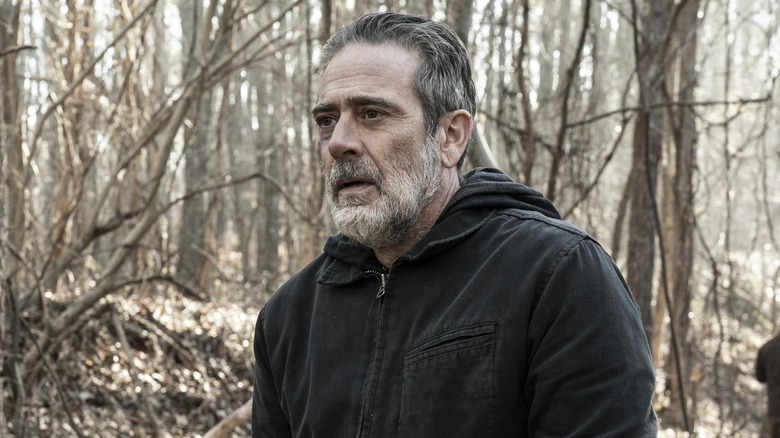 Jace Downs/AMC
At the railroad tracks, allegiances are forming. Princess (Paola Lázaro) — who has apparently been captured offscreen and brought to the settlement after breaking up with Mercer (Michael James Shaw) — encourages Ezekiel (Khary Payton) to work with Tyler Davis (Cameron Scott Roberts), who was apparently sent to Alexandria after he disappeared from his Commonwealth hospital bed earlier in the season. Negan, meanwhile, fights the system and loses; his attempts to bargain a softer workload for Annie result in his abuse by the guards on duty. Negan and Ezekiel approach Davis to see if he'd like to help, but he's been too beaten down by the system to consider assisting Ezekiel's quest for rebellion. 
Negan is taken to the Warden's (Michael Weaver) office. The Warden confronts Negan with a map he believes was drawn by one of the Alexandrians and he forces Negan to ferret out the culprit on the pain of Annie's torture. Negan is all too aware that the Warden is a reflection of his old, cold self. He and Annie quietly discuss the matter, and Negan is willing to do what it takes to save her. A conversation between himself and Ezekiel seems to doom the former to death, as Ezekiel continues to vow he will claim revenge on Negan once they're free. The two patriarchs — weary of one another and of the world — are bound together by their agreement to fight the system, for better or for worse. Now Negan is stuck between choosing his old ways, or a new road.
Eugene goes on trial - but encounters an unexpected savior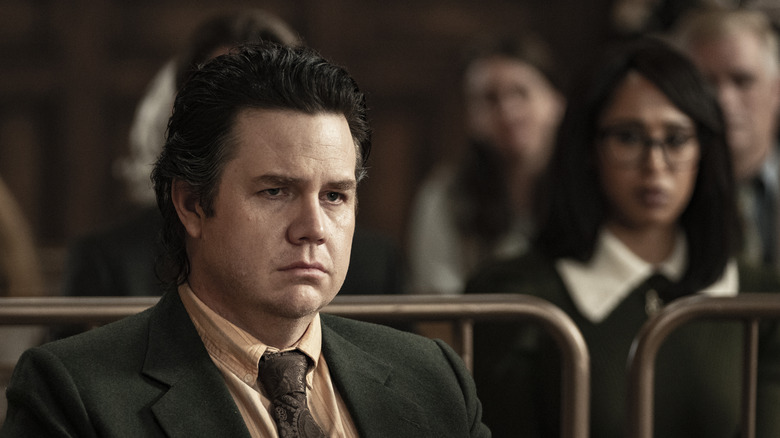 Jace Downs/AMC
Over in the Commonwealth, Eugene Porter's (Josh McDermit) trial has commenced. Pamela Milton (Laila Robins) gives testimony, crying over her son and the impact the Founder's Day riots have had on her. "You took him from me. You killed my boy!" she sobs. Judge Marian George (Elizabeth Becka) seems to be in Pamela's back pocket, unwilling to listen to Yumiko's (Eleanor Matsuura) objections and jumping upon her every bold move. Her work is enough to cause a stir in the courtroom, though it might not be enough to create a rebellion — yet.
Yumiko presses onward, trying to get Pamela to admit that the tape featuring Eugene's confession was not forged. Pamela insists that Eugene altered the tape, and tries to use his confession to Mercer against him. Yumiko later tries to convince Mercer to testify on Eugene's behalf and tell the truth about what he's witnessed Pamela's regime do, but he doesn't think it will make a difference. Eugene gives a moving speech, but the inevitable occurs, and he is found guilty, resulting in a surprising outcry among the trial's viewers. The foregone nature of the proceedings feels a little dry and underwhelming, but Eugene's sense of dignity is moving.
That is until a surprising plot twist occurs. Eugene is marched off to his doom with a sack over his head, and it turns out he's being led to Mercer. The soldier looks at Eugene, gives a firm nod, and says, "Time to f*** s*** up."  Eugene's or the Commonwealth's? We don't know.
Team Carol and Daryl break into Alexandria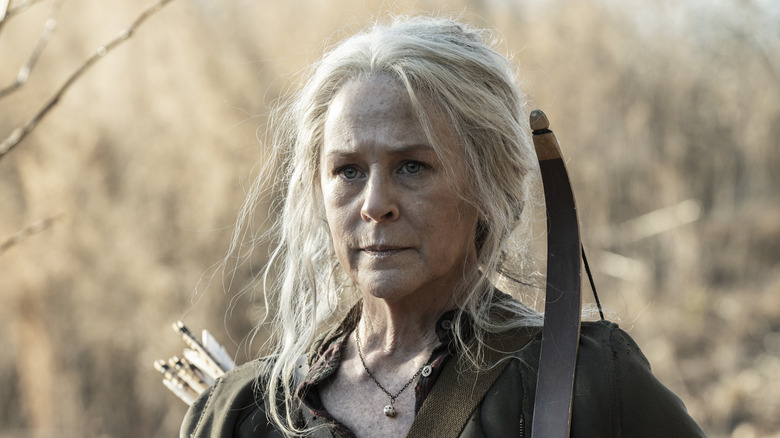 Jace Downs/AMC
Team Carol (Melissa McBride) and Daryl (Norman Reedus) have successfully spied on Negan's work group but are unable to find their missing kids. They decide to split up and try to attack the camp from below. Connie (Lauren Ridloff), Rosita Espinosa (Christian Serratos), and Daryl decide to break into Alexandria through the sewer system, while Carol and Maggie Rhee (Lauren Cohan) decide to burst into what was once the town's administrative building, where they think the kids are being held. Carol and Maggie end up trapped in an upstairs room with a soldier they've knocked unconscious, and Connie and Daryl have to kill a few walkers as they crawl through the sewers. 
Maggie is torn up with guilt over her son, but Carol keeps her on an even keel as they wait for an opening. Ultimately, Carol and Maggie follow Hershel's (Kien Michael Spiller) cries and rescue him before he can be tortured. But Coco is nowhere to be found, to Rosita's horror. Yet Maggie's relief and joy — after so much anguish over losing her son for so long — is palpable. That it comes in the presence of Carol, who's lost so much of her own blood family, is all the sweeter. 
Family prevails over order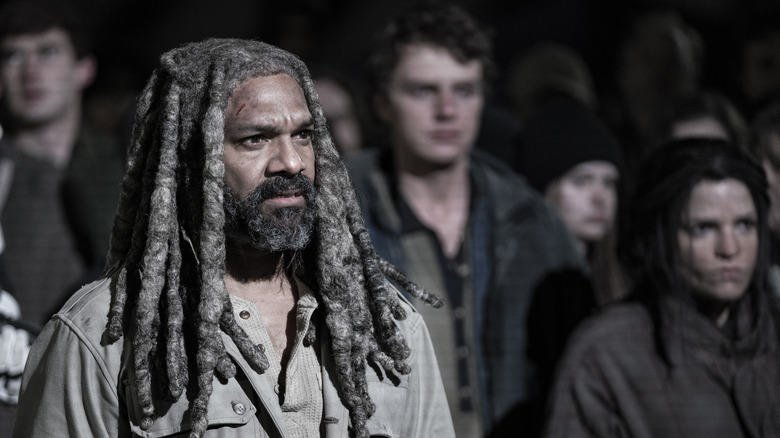 Jace Downs/AMC
That night, the Alexandria prisoners are marched out to meet their betrayer, and they learn that Negan has confessed to the supposed crime without naming any further allies. Since he's willing to meet death without further complaint, the Warden decides to deny him his martyrdom. He will have Annie executed alongside Negan so that he'll feel the pain of the situation. 
That's a terrible enough notion to cause Ezekiel — and then all of their friends — to step into the line of fire. That's an enormous gesture of goodwill that marks a huge sea change for Ezekiel and Negan's relationship — and serves as the inverse to Negan's baseball bat attack on Glenn (Steven Yeun) and Abraham (Michael Cudlitz). In that moment, Ezekiel realizes that Negan is willing to die for his wife and that he's become more selfless as he grows into fatherhood. The Warden shrugs at the gesture and decides that killing the entire group is a good idea. 
In a hail mary speech, Ezekiel steps firmly into a leadership role and quotes Judith. "The world is dark and broken, but we're not," he cries. And that's enough to make a soldier under the Warden's command — who had previously been seen being victimized by the Warden's bureaucratic nonsense — stand down. The rest of the men follow suit, minus one. That soldier takes a bullet. Desperate, the Warden takes Kelly hostage but ends up taking Daryl's knife right in the back.
Rosita rushes to the scene and demands to know where Coco is. She even threatens the Warden with a walkerized soldier. But he just laughs. "You will lose everything," he says before Rosita shoves the walker at him and ends his life.
When does The Walking Dead Season 11, Episode 23 air?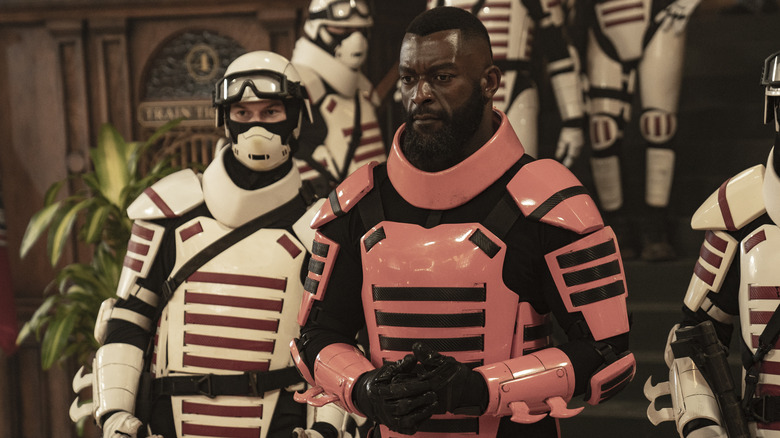 Jace Downs/AMC
The home stretch is upon us. Episode 23 of Season 11 — "Family" — will debut on November 13 at 9 p.m. on AMC. And of course, AMC+ subscribers will be given the gift of early viewership: "Family" will hit the streamer the Sunday before it airs on the carrier, on November 6.
In the wake of the breaching of Alexandria, it appears that the Commonwealth — and Pamela's plans to use a steam train to effect nationwide domination — is in danger now that Maggie, Daryl, and Carol's team are in charge of the outpost. Mercer might be plotting a secret rebellion against her as well, and with Eugene at his side, it might make Pamela's legal victory quite hollow indeed. And what of Coco? Is she truly dead?
And what of Team Oceanside? During "Faith," they were still spooked over the climbing, tool-using walkers they encountered at the Renaissance fair. They're further dismayed to learn from Luke (Dan Fogler) and Jules (Alex Sgambati) about the settlement's fall after a chance encounter on the road. They team up and agree to truck their supplies as far away as they can from the site of the former encampment, heading to what they believe will be a safe zone in Alexandria. To accomplish that goal, they join a roaming pack of walkers, covering themselves in gore and shambling along. Will they survive to see another day? We'll find out next week.