Avatar's Michelle Rodriguez Absorbed James Cameron's Eye-Opening Leadership Style On-Set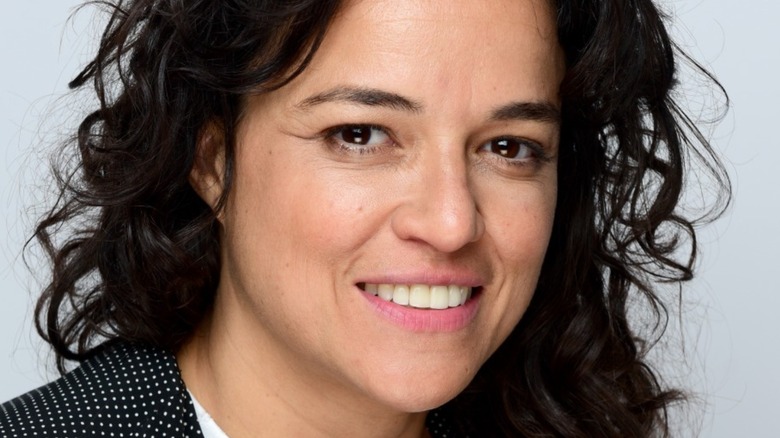 Vivien Killilea/Getty Images
"Avatar: The Way of Water" is finally about to arrive, and, naturally, it has the film world waiting with bated breath to see if that darn James Cameron can pull it off again. "It," in this case, refers not just to the potential franchise-launching success of "The Way of Water" — a film with arguably the toughest-ever act to follow — but to the question of whether or not it will continue two historical trends that speak to Cameron's miracle-working genius. First, can he, after "Aliens" and "Terminator 2: Judgment Day," continue to spin even-better belated sequels out of self-contained sci-fi hits? Second, can he strike lightning again after "Titanic" and "Avatar" and create a massive blockbuster phenomenon following years of seemingly foolhardy investment?
Both seem like especially daunting challenges this time around, but then again, it's James Cameron we're talking about. And the way "Avatar" star Michelle Rodriguez talked about his process in a recent panel is evidence enough of why we'd do well not to bet against him. Rodriguez, who played spunky fan favorite Trudy Chacón in the first film, will not be returning for "The Way of Water," unlike her co-stars Sam Worthington, Sigourney Weaver, Zoe Saldana, and Stephen Lang. But, during a virtual press conference in support of the 4K theatrical re-release of "Avatar," Rodriguez made it clear that the landmark sci-fi film was one of the most important and enriching professional experiences of her life, largely due to the lessons she learned from Cameron.
Cameron's direction broadened Rodriguez's horizons as a professional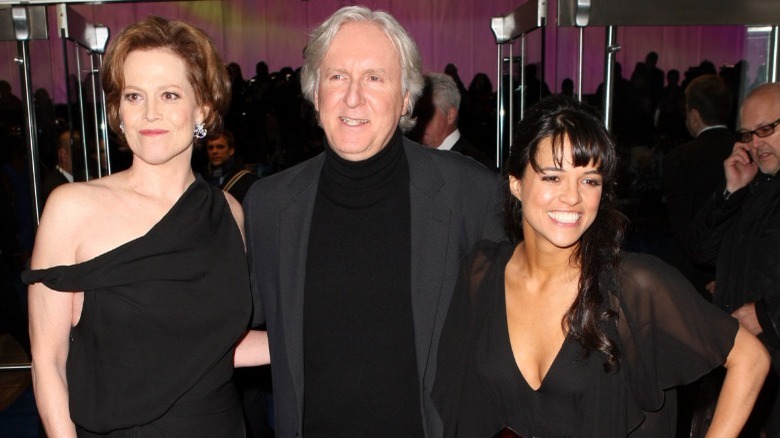 Dave Hogan/Getty Images
Per The Illuminerdi, it was during an online press conference featuring the director and five main stars of "Avatar" that Michelle Rodriguez discussed what she learned from working with the notoriously passionate and detail-oriented James Cameron.
"If there's anything I could take away from shooting an Avatar movie with Jim, is the openness of my horizon," the actress said. "My perspective shifted. 'No's don't mean no to me. 'No's mean I have to work harder to get around a problem. You know, the resiliency. The example of leadership. Just being on a set and watching how he would inspire everyone in their field, whether it's engineers, whether it's people in the art department, to do their best." Rodriguez revealed that the experience of working with the cast and crew of "Avatar" taught her about the importance of the teamwork that goes into quality blockbuster-scale filmmaking, noting that whenever something was deemed to be off on set, the entire team joined forces to fix it.
As she was on the ground shooting scenes, Rodriguez often wondered how Cameron could possibly translate the project's enormously ambitious metaphysical and spiritual concepts to screen. But, sure enough, he pulled it off. "When I saw the movie, I was like, drop mic. He did it. He freaking did it," she said. "Everything that he wrote went to the screen. And I'm like, okay, I get it now. That's why he's such a stickler for detail."