Chicago PD Fans Are Over The Recycled Storylines For Atwater
Lori Allen/NBC
This article contains spoilers for Season 10, Episode 6 of "Chicago P.D."
Since its premiere in 2014, "Chicago P.D." has been a compelling and bold take on the tried-and-true American police procedural on network television. The series often explores a grittier and morally ambiguous tone with some of its characters, which harkens back to the days of "Hill Street Blues" and "NYPD Blue" in the 1980s and 1990s. But the show has always made brave moves when it comes to its storytelling, and some of these writing room decisions have not pleased fans, thanks to the polarization that many narrative threads have caused. Apart from major screenwriting decisions, there are also some instances where major characters get neglected with good material or seem to fall victim to recycled storylines repeatedly.
Officer Kevin Atwater (LaRoyce Hawkins) is one supporting character in the 21st District that seems to fall into this trap regularly, and according to one fan, this even includes long stretches where his character is barely visible at all. But this is becoming more and more of a noticeable trend with Atwater, especially in light of the events of Season 10, Episode 6, titled "Sympathetic Reflex." Many fans are now speaking out about how they are over the reprocessed storylines for the character as well.
Many fans are tired of the tragic storylines Officer Atwater consistently receives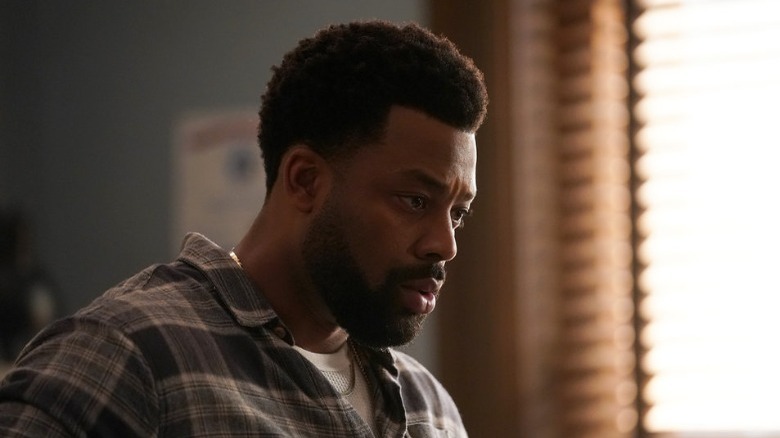 Lori Allen/NBC
The sixth episode of "Chicago P.D." Season 10 is a showcase for Officer Atwater, who is the only Black officer in the 21st District's intelligence division. Atwater's pleas in the episode in trying to persuade his co-workers to offer consideration and understanding while doing their duties out on the streets are turned on its head once he shoots a white minor later in the installment, which is implied to potentially affect his career since the kid's parents have power within the community (per NBC). LaRoyce Hawkins spoke about the episode with Parade and stated, "We're so conditioned to the inverse, almost to the point to where we're not sensitive enough to the narrative at this point..." The actor continued by revealing how news is widely circulated to the point of saturation when police shoot Black minors.
Regardless of the episode's emotional power, some fans pointed out how Kevin gets these types of arcs constantly on the show. On Twitter, @myra7 tweeted, "Not Kev having to defend his badge and reputation again #ChicagoPD." @Sevensmom23 illustrated Atwater's lack of screen time as well by stating, "When we asked for an Atwater story line this is not what we wanted.. [crying emoji] #ChicagoPD." Fan @jstark804 was even blunter and put things into context by sharing, "Why do we keep accusing Kevin for murder and other things he didn't commit? Like why is this always his storyline? #ChicagoPD."