Bruce Willis Kept A Crowd's Attention Tending Bar Long Before His Acting Career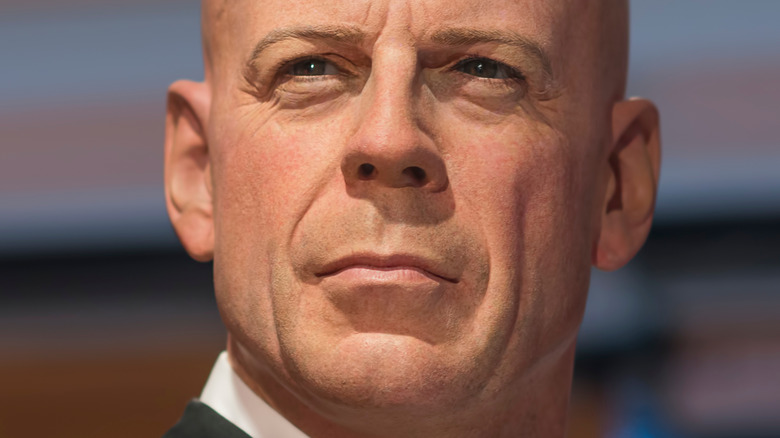 Photo Oz/Shutterstock
Hollywood icon Bruce Willis announced his retirement from acting earlier this year after revealing he had been diagnosed with aphasia — a condition that could make it difficult for Willis to read, write, and speak (via Deadline). Though retiring at Willis' age is far from abnormal, and certainly nothing to be ashamed of, the tragic specter of the actors' condition has cast a solemn mood over his fans — many of whom fell in love with his talent after witnessing performances in films like "The Sixth Sense," "Unbreakable," and, of course, "Die Hard."
Last week, it was erroneously reported that the actor had signed over the rights to his image and voice, allowing a deepfake company to recreate him in future films (via BBC). Though false, the claim isn't that outlandish — especially considering the report didn't come long after it was revealed that James Earl Jones signed over his own voice rights to a deepfake company so that Darth Vader's menacing growl could survive his retirement (via Vanity Fair).
As some look into the bizarre future for ways to further Willis' time in the sun, others remember a quiet period before the world knew the name Bruce Willis, a past in which he was New York's most beloved bartender, "Bruno."
The best bartender in New York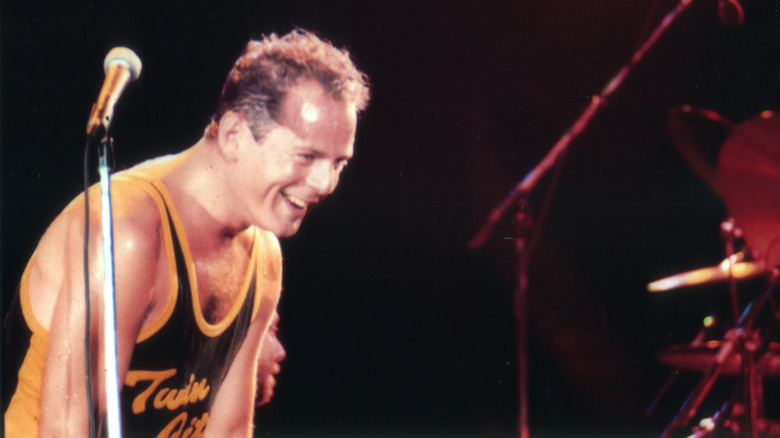 Jim Steinfeldt/Getty Images
Veteran entertainment critic Glenn Kenney (RogerEbert.com) wrote in Decider about his first-hand experience at Robert's bar in New York City, where bartender Bruce Willis — aka Bruno — held musical court. With a skill for the harmonica and a decent voice for the blues (which, Kenney admits, translated to an ill-fated attempt at multiple mainstream blues records), Willis often kept patrons entertained. Kenny's friend, Joe, worked with Willis at the bar while both aspiring performers tried to make their way in the brutal 80's New York theatre scene.
After booking an off-Broadway show, Joe began to pick up more and more of Willis' shifts – until the actor would disappear altogether after being offered a role in the series "Moonlighting." Kenny recounts that Willis treated his colleagues well throughout his career, even booking Joe for an extended run at a comedy club in Haily, Idaho after the actor attempted to purchase the town in the 90s (via Yahoo! News).
Willis' "Once Upon a Time in Venice" co-star John Goodman ("Monsters Inc.," "The Big Lebowski") recounted frequently encountering the actor at a bar called Chelsea Central, also in New York City (via the New York Post). Goodman described Willis to the Post as "the best bartender in New York," as he would entertain the crowd for hours on end while tending bar.