This Was Deadliest Catch Captain Keith Colburn's Very First Fishing Gig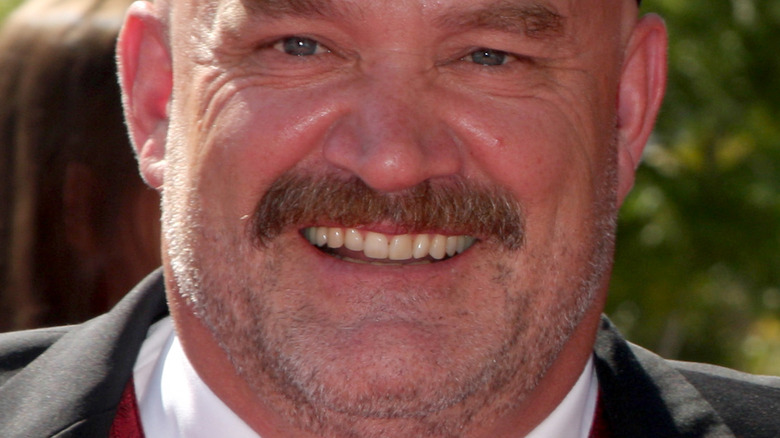 Kathy Hutchins/Shutterstock
For 18 seasons, the reality show "Deadliest Catch" has consistently set itself as a ratings hit for Discovery. Fans can't get enough of the series that centers on the daring job of commercial crab fishers in the Bering Sea. Seeing the crews brave massive waves and freezing weather makes for intriguing TV that can also be a little brutal. With such an impressive span, it's little surprise that fans have become more familiar with some of the captains featured, including Captain Keith Colburn.
Colburn helmed "The Wizard" fishing vessel and made his first appearance on "Deadliest Catch" during Season 3, but he hasn't missed a season since his initial debut. His time on "Deadliest Catch" produced many standout moments on the show. Some could have ended in tragedy for Keith Colburn, such as when he injured his head. Others highlighted his high expectations for any of the greenhorns, even if one of them happens to be his own son. Ultimately, Colburn often showed that he knew how to lead and handle the Wizard expertly. But we all have to start somewhere. No captain is born overnight. And as with the case of Colburn's very first fishing gig, many captains are molded over time.
Colburn started as a greenhorn
Captain Keith Colburn isn't mainly known for wearing kid gloves regarding his greenhorns. So, working on the Wizard probably means experiencing more hazing than perhaps on other ships. Yet it's not like Colburn doesn't know the hardships of being new and inexperienced in commercial crab fishing. After all, that's how he started in the business. According to an interview with the Business Observer, Colburn said, "I went from the bilge to the bridge. I worked my way up from nothing. When I got to Alaska, I didn't have a thing." More details of Colburn's origin from Crab Wizard note that at the age of 22, he traded in frivolously skiing around Tahoe for moving to Alaska with little money to his name and starting as a greenhorn on a vessel called the Alaska Trader. Colburn toughed it out, eventually moving to work on the Wizard. As he further stated in the Business Observer, while on the Wizard, he managed to move up the ranks roughly every couple of years before eventually becoming captain.
Colburn's trek from greenhorn to captain doesn't seem out of the ordinary. Captains Jake Anderson and Wild Bill Wichrowski also started as inexperienced greenhorns before ascending. However, both Anderson and Wichrowski at least came equipped with vital skills that would significantly benefit any greenhorn. Anderson might have been new to commercial crab fishing when he started on the F/V Northwestern, but thanks to his family, he grew up around fishermen (via FV-Saga.Com). As for Wichrowski, the captain had his education and training from the Navy to help him in his budding crab fishing career (via Military.Com).
Greenhorns have it tough
Captain Keith Colburn may be living proof for any dream-filled rookie that it is possible to go from taking orders to one day giving them. But the road to get there is anything but easy. Honestly, working any position on these vessels seems like a headache. The manual labor will test anyone's limits, as the crew is dealing with 750-pound crab pots on a boat violently rocked by waves. And as for what to expect with the weather conditions, Captain Wild Bill Wichrowski once gave his best comparison to Fox News. He said, "My advice would be if a guy wanted to learn how to crab fish, I'd say, 'Go to a meatpacking plant, sit in a freezer for a couple of days and have your friends come by about every 20 minutes, and throw a bucket of cold water in your face.'"
That sounds harsh, but it is perhaps the closest experience folks could get at home. Just keep in mind that greenhorns have to endure another level of misery beyond labor and weather conditions. As seen countless times on the show, greenhorns are hit with frequent bullying and hazing by other crew members and even the captains. It's their way of weeding out anyone lacking the proper spirit. It all looks like increased drama for the cameras. But James Gallagher noted that the horrific treatment greenhorns receive on "Deadliest Catch" is just as accurate when the cameras aren't rolling.