The Prop Head For House Of The Dragon's Viserys Shows The Extent Of His Decay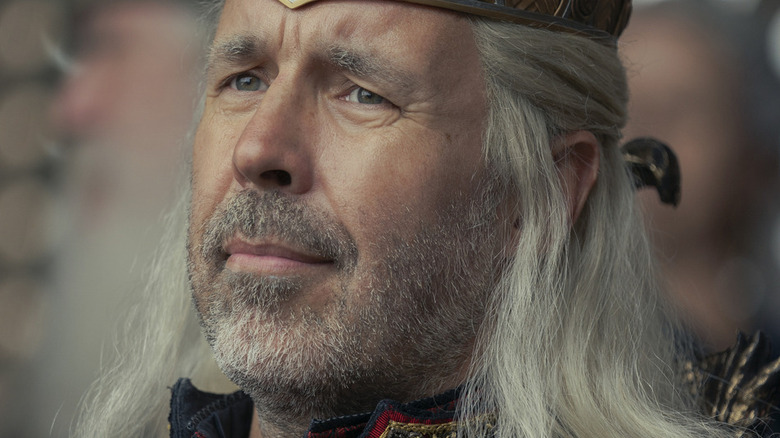 Ollie Upton/HBO
At the beginning of "House of the Dragon" Season 1, Viserys Targaryen (Paddy Considine) starts out as a relatively healthy, middle-aged king. However, as the season goes on, years pass, and Viserys' health starts to decline. This is due to Viserys having a disease that grows slowly over several years. On Entertainment Weekly's West of Westeros podcast, Paddy Considine revealed the truth about King Viserys' illness in "House of the Dragon," calling it a form of leprosy. 
Considine elaborated further on Viserys' condition. "His body is deteriorating, his bones are deteriorating. He is not actually old. He's still a young man in there. He's just, unfortunately, got this thing that's taken over his body. It becomes a metaphor for being king, and the stress and strain that it puts on you, and what it does to you physically, what it does to you mentally." 
Viserys' illness starts as some cuts from sitting on the Iron Throne, then he loses some fingers, then an arm. Closer to death, his condition worsens even further. According to The Leprosy Mission, prior to modern medicine (like in "House of the Dragon"), leprosy would indeed have slowly taken over someone's body over the course of years or decades. Additionally, contrary to popular belief, leprosy is not highly contagious, which explains why the rest of the family did not get it. Although King Viserys did not experience every typical symptom of leprosy, he did experience the symptom of disfigurement of his skin and body over time.
Viserys loses an eye and has a hole in his face, which was not actually common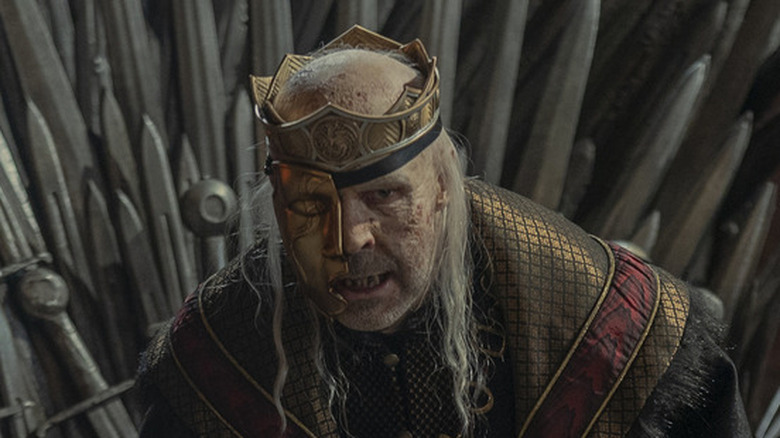 Ollie Upton/HBO
On Instagram, Barrie Gower, prosthetics designer and part of the make-up department for "Game of Thrones" and "House of the Dragon," posted a picture of a silicone head prop of King Viserys that was used on "House of the Dragon" for VFX scanning and onset lighting reference. The image depicts the level of damage suffered to Viserys' face, although the rest of his body was also affected. While Viserys wears a mask to conceal the damage done to his face throughout much of "House of the Dragon," he takes it off around his family at the end of his life.
According to The Leprosy Mission, some of the damage suffered by King Viserys on "House of the Dragon" due to his leprosy is actually pretty extreme, even for a time before modern medicine. For example, Viserys loses his entire right eyeball, which would have been unlikely. Although the loss of feeling in the eye and blindness would have both been likely, the actual loss of an eye would not. Additionally, there is a large hole in his cheek, leaving part of his mouth and some of his teeth exposed, which would have been unlikely as well. Regardless, whatever form of leprosy Viserys has resulted in the deterioration of his face and the weakening of his body. 
Viserys' hair has thinned and his hairline has receded somewhat. His right eyebrow is also missing, and his facial hair has thinned out as well. Besides the large hole in his face, there is also a lot of smaller-scale rotting of the flesh and skin, leaving small craters in his face and his right ear.
Barrie Gower researched real-life diseases to create Viserys' look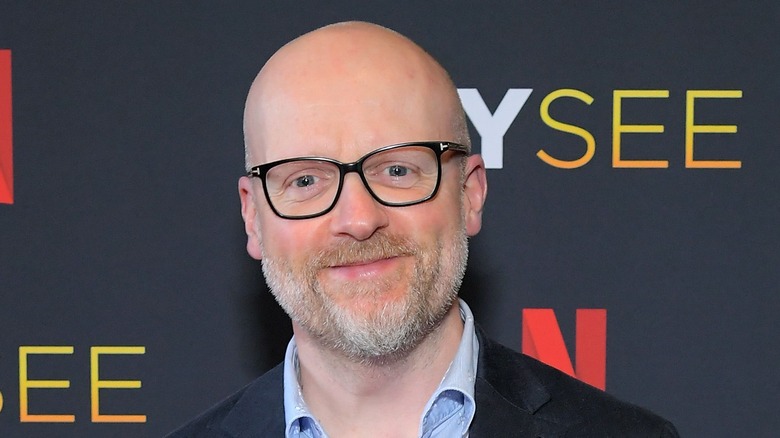 Charley Gallay/Getty Images
In an interview with Variety, prosthetics designer Barrie Gower explained how he made Viserys actor Paddy Considine look like he had leukemia for the filming of "House of the Dragon." Gower said, "We researched various flesh-eating disorders. Necrosis, leprosy, all kinds of horrible references. Lots of interesting shapes, colors and ulcers. They could give us a good indication for textures, colors, glosses, how dry things would be. It's very grounded in the real world of horrible diseases." So, even if some of the damage Viserys suffers from his disease is not necessarily realistic for leprosy, it may be realistic for other diseases. 
Gower also discussed the actual materials and process used to create Viserys' look. "We had little silicone molds that you can press onto the skin and peel them off," he said. "We had cheek appliances, little sores that were shaved into Paddy's own beard and his hairline. With the silicone bald cap, we could recede the hairline and had sores in there." For a couple of scenes, they used a thinner body double with pronounced bone structure.
Since Viserys' illness progresses gradually, the same makeup tactics could not be used for every episode. However, to achieve his final look just before death, Gower said, "We had fully prosthetic make-up that covered all of Paddy's face for those scenes. We had areas that were painted green for the visual effects department to remove in post. They also tucked in the build of Paddy's face, so they made him a lot more slender and gaunt." This is what is depicted in Gower's Instagram post: the prosthetic mold used in lieu of Considine's actual face for his final scenes in "House of the Dragon."