Steven Spielberg's Insightful POV As A Teenager Helped Inspire The Fabelmans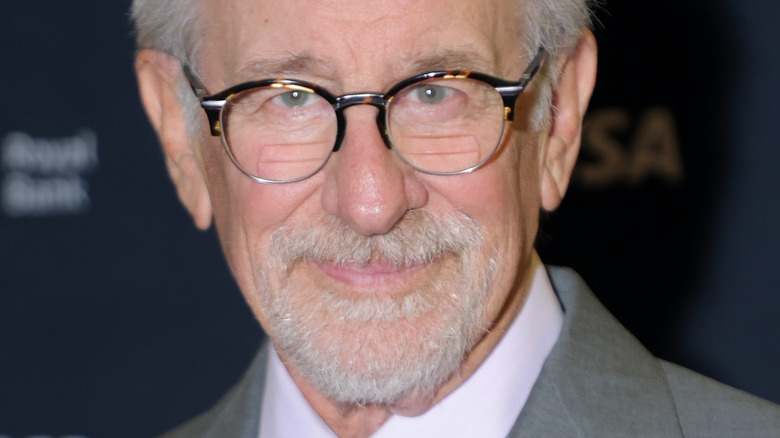 Michael Loccisano/Getty Images
There is no denying that Steven Spielberg knows what he is doing when he makes movies. The successful filmmaker has won several Academy Awards (via YouTube) and is a recipient of the Cecil B. DeMille award, proving he has had a very rewarding career. But Spielberg's path to greatness started from a young age, and he knew one day he would need to craft his intriguing origin story into a motion picture that would eventually become "The Fablemens."
"E.T. The Extraterrestrial," "Saving Private Ryan," "Jaws," and "Jurassic Park" are some of the excellent Spielberg movies that fans continue to enjoy years after they are released. While the infamous auteur has had several blockbuster hits and terrible flops throughout his illustrious run, many of his works are top-rated on IMDB, and he has several titles among the coveted list of highest-grossing titles of all-time (via Box Office Mojo). The filmmaker was also voted greatest director of all time by readers of Empire magazine (via BBC News), and according to Forbes, Spielberg's efforts have attained him an impressive net worth of $4 billion. Spielberg is undeniably a powerhouse, but before joining the three-comma club, he would have to decide to start the journey. That film-to-riches story is loosely unveiled to audiences in "The Fablemans," and it appears the prolific director knew what he saw through the lens when he was a teen was destined for the silver screen.
The Fablemans has been in the works for longer than many would expect
Tony Kushner is a producer in the industry who has worked with Steven Spielberg on several films, including "Munich," "Lincoln," "West Side Story," and "The Fablemans." In an interview, while discussing the 2022 feature directed by his talented frequent collaborator, he revealed that Spielberg had revealed something about his early years that would kick off the process of creating "The Fablemans" during the filming of the 2004 motion picture "Munich." "The camera saw something that was sitting in plain sight. Something that no one in the family saw because they weren't looking for it, or because they had a stake in not seeing it," Kushner reiterated what the filmmaker had told him during production to The Hollywood Reporter. "I was so moved by that story. Immediately I said, 'Someday you're going to have to make a film about this.'" The producer also revealed that the topic of Spielberg's early days would be a constant topic of conversation, and it would not go on deaf ears. Kushner would archive what was said, taking notes on the matter and eventually cultivating it all into "The Fablemans. "
Kushner's diligent documentation of Spielberg's narrative-friendly nostalgia has paid off well, as "The Fabelmans" has attained critical acclaim with an impressive rating on Rotten Tomatoes. In addition, IndieWire claims it is a frontrunner for the Oscars. Origin stories are never an easy win, but it isn't that surprising that the humble beginnings of one of the greatest filmmakers Hollywood has ever seen would result in a spectacular coming-of-age drama that would be as revered and honored as much as its inspiration.