Jumanji: Welcome To The Jungle Retakes Top Box Office Spot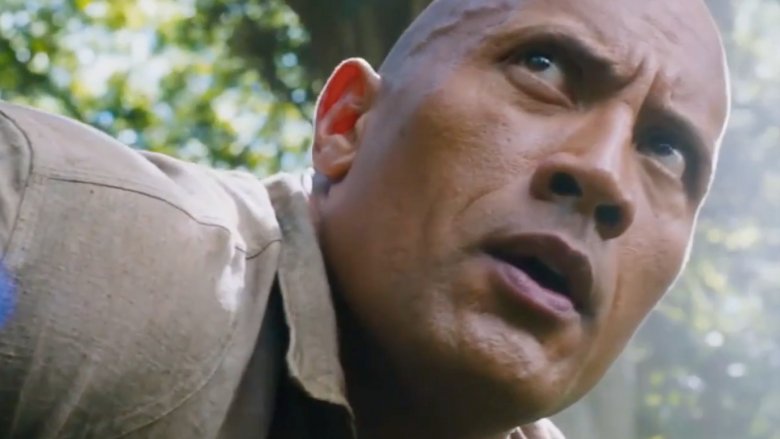 There really is no stopping the Rock. Dwayne Johnson's Jumanji: Welcome to the Jungle took the top spot at the box office once again this weekend, after losing the title to Maze Runner: The Death Cure last weekend.
Jumanji: Welcome to the Jungle, which also stars Kevin Hart, Karen Gillan, Jack Black, and Nick Jonas, has been a box office hit throughout the holiday season. The movie has already made $352.6 million at the domestic box office and an additional $503.1 million worldwide, good for the 60th highest grossing film of all time. The movie has held on to the number one spot for five of the past six weekends.
Maze Runner: The Death Cure took second place with an additional $10.2 million, falling 57.8 percent from its first weekend. The trilogy capper, which stars Dylan O'Brien, Kaya Scodelario, Thomas Brodie-Sangster, and Ki Hong Lee, was delayed from its initial planned release date after O'Brien suffered an injury on set; although it hasn't been able to reach the heights of the past films in the franchise, it is still holding solid at $137 million worldwide.
Helen Mirren's Winchester took third place with $9.2 million, just in line with moderate expectations. The movie, which was trashed by critics with a nine percent on Rotten Tomatoes, stars Mirren as Sarah Winchester, a real-life heiress who begins to believe she's cursed after her husband and child meet sudden and unexpected deaths. Although Sarah is first visited by a doctor (Jason Clarke) who thinks she's crazy, he soon comes to believe she could be telling the truth.
Super Bowl weekend is generally one of the softest of the year at the box office, and this year was no different, with Winchester serving as the only new wide release. The rest of the top ten was filled out with familiar performers, including Hugh Jackman's The Greatest Showman, which continues to show strong legs, and Guillermo del Toro's The Shape of Water, which got a box office bump after earning 13 Oscar nominations, including Best Picture.
You can view this weekend's full box office results (via Box Office Mojo) below. 
Top 10 Weekend Box Office Gross
1. Jumanji: Welcome to the Jungle: $11,000,000 (-31.9 percent), $352,642,752 Total Domestic Gross   
2. Maze Runner: The Death Cure: $10,200,000 (-57.8 percent), $39,760,199 Total Domestic Gross
3. Winchester: $9,250,000 (– percent), $9,250,000 Total Domestic Gross   
4. The Greatest Showman: $7,800,000 (-18.3 percent), $137,475,172 Total Domestic Gross 
5. Hostiles: $5,523,000 (-45.4 percent), $21,237,413 Total Domestic Gross
6. The Post: $5,200,000 (-42.9 percent), $67,184,510 Total Domestic Gross   
7. 12 Strong: $4,710,000 (-45.8 percent), $37,303,553 Total Domestic Gross   
8. Den of Thieves: $4,670,000 (-45.9 percent), $36,270,932 Total Domestic Gross   
9. The Shape of Water: $4,300,000 (-27.4 percent), $44,580,050  Total Domestic Gross   
10. Paddington 2: $3,110,000 (-45.1 percent), $36,313,679 Total Domestic Gross