Poe Dameron Almost Had A Different Story Arc In The Last Jedi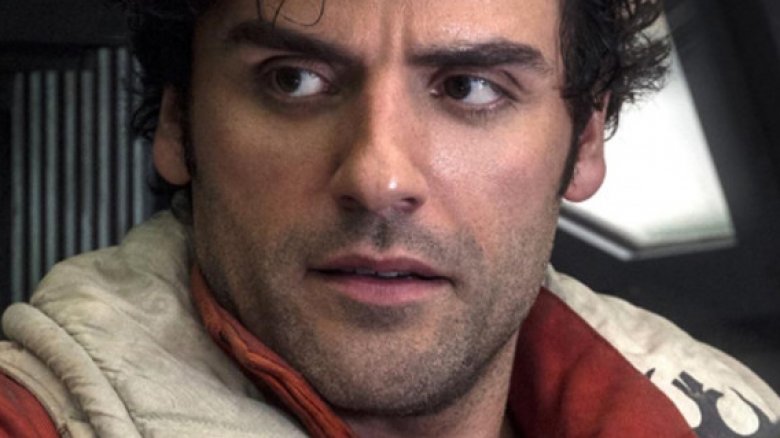 It's easy to assume that a character as charming and quick-witted as Oscar Isaac's Poe Dameron would be a breeze to write. But, as it turns out, you'd be dead wrong.  
Star Wars: The Last Jedi writer-director Rian Johnson got candid with Collider and admitted that he found it extremely difficult to nail down what Poe's storyline would be in the film — so much so that the suave X-wing pilot originally had a completely different arc. 
"[The] hardest [character] to write for, honestly, just in terms of figuring out what their story was going to be was Poe ... Luke [Mark Hamill] was obviously the hardest overall, but besides Luke, Poe was the trickiest," explained Johnson. "Poe is such a clear-cut, simple character in [The Force Awakens] because he's Oscar Isaac and he's the most charismatic man in the universe and he's just rad."
The creative continued, revealing that in the first draft of The Last Jedi, Poe ventured off to the casino city of Canto Bight alongside Finn (John Boyega) and Rose Tico (Kelly Marie Tran). However, Johnson ultimately realized that the storyline was uninteresting. 
"I actually wrote, in the very first draft I wrote of it, Poe went with Finn on the mission to Canto Bight, and the two of them were going to be together on the mission," he stated. "And it didn't work at all because those two get along so well and it'd be really boring."
To remedy the chemistry, Johnson gave Poe a new arc, which kept the two leading men separate for the majority of the movie. "When I split them apart, I thought, 'Oh, okay, so Poe can have his own deal ... What is Poe's deal?' And then I came up with the thing of ... he's a hero, but he has to become a leader. Leia [Carrie Fisher] needs him to mature beyond brash heroics into someone who can take on the mantle of leading this Resistance," said Johnson. 
Just think: If Johnson had stuck with his original plans, we never would have heard Poe ask Leia, "Permission to hop in an X-Wing and blow something up?" And that would be a real shame, wouldn't it?