Game Of Thrones' Richard Dormer Thinks Beric Dondarrion's Flaming Sword Is Cooler Than A Lightsaber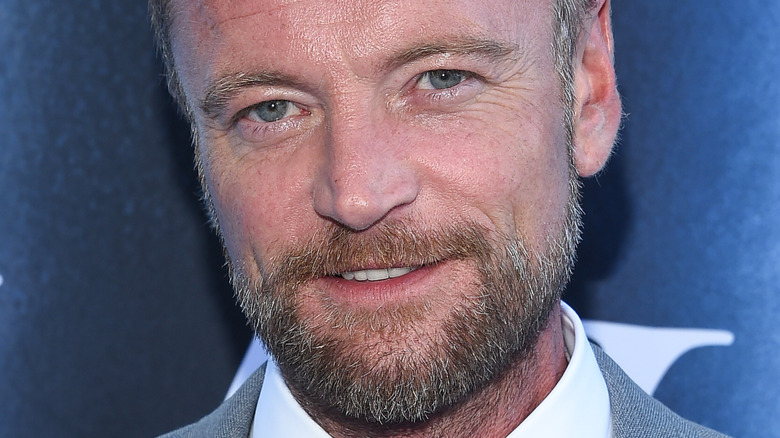 DFree/Shutterstock
Every piece of production mattered in "Game of Thrones," including the accessories that came with some characters. In the case of the tough-to-kill hero that took more hits than the Stark family tree, Beric Dondarrion (Richard Dormer), it was his trusty flaming sword. When the night was dark and full of terrors, Dondarrion could strike White Walkers down with a swing of his fiery blade and look like an absolute badass doing it. Understandably, during his time on the award-winning show adapted from George R. R. Martin's beloved book series, packing heat such as this came with strict guidelines and a team to ensure things didn't get too hot when Dormer got rough with anyone living or dead.
He might have led the Brotherhood Without Banners into battle time and time again, but that didn't mean that Dormer had a handle on what he deemed 'the coolest weapon on the show.' Things got tricky when a scene demanded a call to arms, especially when he was managing a flaming sword in one of the coldest environments imaginable, all while visually impaired.
Extinguishers were on standby any time Dormer threw down on Game of Thrones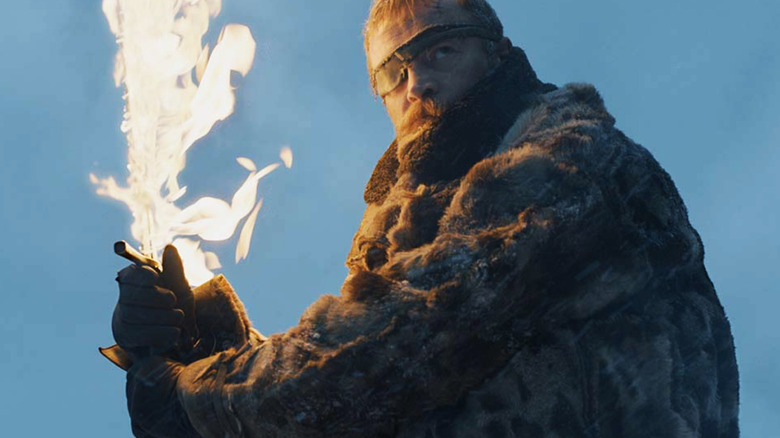 HBO
In an interview with The Guardian, Dormer revealed just what sort of effort was needed to go into handling the hottest weapon in The Seven Kingdoms of past, present, and potentially future spin-offs. By the sounds of things, it was great to wield a flaming sword as long as an entourage was at a safe distance in prep for what could happen, which was often given Dormer's routine limitation. "Because Beric only has one eye, I'd be temporarily blind and swinging the flaming sword —which is real, not CGI," he explained. "Every time I hit them [stunt men] they'd go 'whumpf' and guys would charge in with extinguishers."
Such a risky set piece would be complex without the added elements brought about by shooting Season 7 on location in Iceland. "It's not nice being soaking wet and very hot and yet very cold at the same time and trudging up and down the most beautiful glaciers in the world." The perk, in the end, is that Dormer came very attached to his sword, which he believed even topped one of the most iconic weapons in pop culture. "Let's face it, I have the coolest weapon on the show. It's better than a lightsaber." A big claim that can only be settled one way. Where's Obi-Wan Kenobi when you need him?