Heath Ledger Had Zero Tolerance For Any Jokes About Brokeback Mountain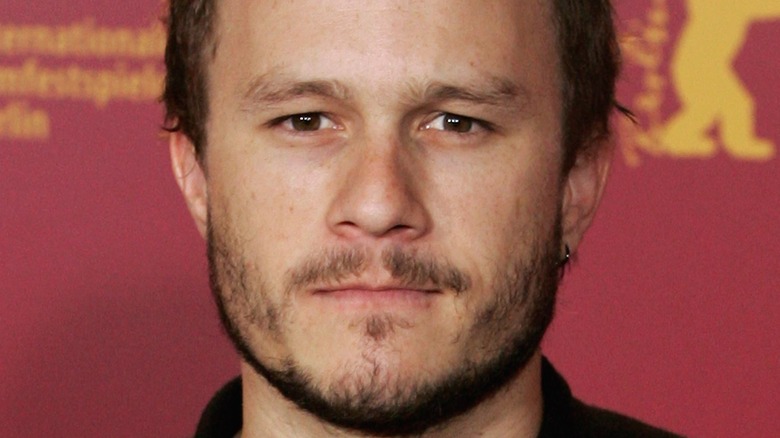 Sean Gallup/Getty Images
In 2005, Heath Ledger and Jake Gyllenhaal starred in "Brokeback Mountain," the romantic drama directed by Ang Lee. Written by Larry McMurtry and Diana Ossana — and based on Annie Proulx's 1997 short story of the same name — the film follows the complicated relationship between two cowboys, Ennis Del Mar (Ledger) and Jack Twist (Gyllenhaal). After meeting in 1963, when they're both hired to herd sheep during the summer, the two begin a sexual relationship. However, at the end of the summer, they go their separate ways, with each man going on to marry someone else (their subsequent wives are played by Michelle Williams and Anne Hathaway, respectively). But, over the years, Ennis and Jack continue to find their way back to one another.
"Brokeback Mountain" was critically acclaimed on all fronts, including the leading performances by Ledger and Gyllenhaal, both of whom received an Academy Award nomination. Furthermore, the film was notable at the time for a rare showcase of a love story between two men — it was frequently cited as the "gay cowboy movie" at the time, despite the ambiguity of the men's sexualities. Unfortunately, there were also plenty of people who wanted to go beyond that and make further jokes about the film — something for which Heath Ledger had no tolerance, according to Jake Gyllenhaal.
Jake Gyllenhaal recalled how seriously Heath Ledger took the film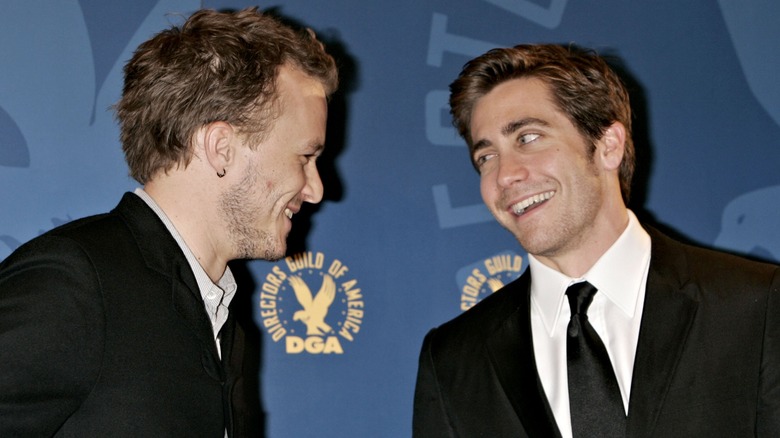 Kevin Winter/Getty Images
In April 2022, during an interview with Vanity Fair, Jake Gyllenhaal recalled working on "Brokeback Mountain" with Heath Ledger, who tragically died in 2008, three years after the film was released. Gyllenhaal had nothing but admiration for how Ledger treated the subject matter of the film both during and after their time on set. "There were many jokes being made about the movie, or poking fun at, things like that," he explained. "And [Ledger's] consummate devotion to how serious and important the relationship between these two characters was — it showed me how devoted he was as an actor and how devoted we both were to the story and the movie."
Furthermore, Gyllenhaal previously revealed to Another Man in 2020 that the year they were nominated for Oscars for "Brokeback Mountain," the actors were approached about doing an opening bit at the ceremony, which would have featured the two co-stars poking fun at the film. Gyllenhaal explained, "And Heath refused. I was sort of at the time, 'Oh, okay ... whatever.' I'm always like: it's all in good fun. And Heath said, 'It's not a joke to me — I don't want to make any jokes about it.'"
Heath Ledger had no hesitations about taking on the role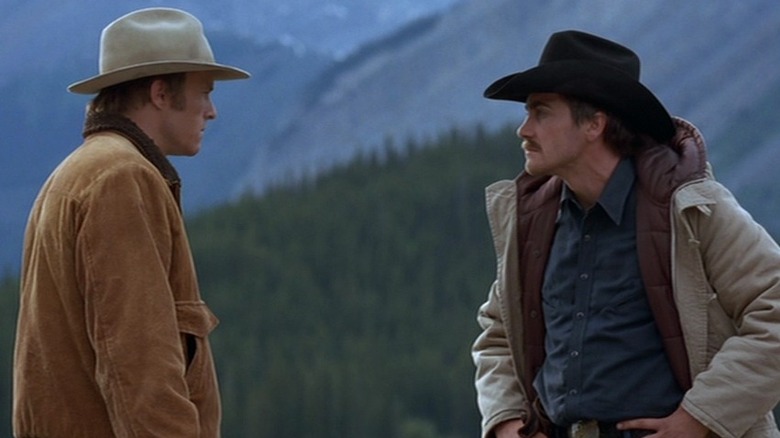 Focus Features
In March 2006, Heath Ledger sat down with Pop Entertainment for an interview about "Brokeback Mountain," during which he revealed that he didn't even consider not taking the role. When asked why he decided to play Ennis when so many actors had turned down the part, Ledger responded by saying that he was drawn to the complexity of the character and the fact that it required the most mature performance from him of his career at that point. "It was the perfect script; it was the perfect director," the actor continued. "It was a story that hadn't been told, which is extremely rare in this industry or anywhere really. I think the story of love, in general, is a little recycled and it's a little stale. And this hadn't been put to script." Ledger added, "I think it was really rare. I thought I'd be crazy to turn it down."
In another interview with MovieWeb from the previous December, Ledger also blatantly rejected the idea of being praised for taking on the role of a gay character. When asked if anyone in his life was against him playing the part, Ledger responded, "No one was trying to detract me from it. Everyone was very supportive of it." He continued, "I hate to call it 'daring' or 'brave.' Firemen are daring and brave. I'm acting. I didn't get hurt and I'm not mentally wounded from this experience."