David Harbour's Friends Tried To Convince Him Not To Play Hellboy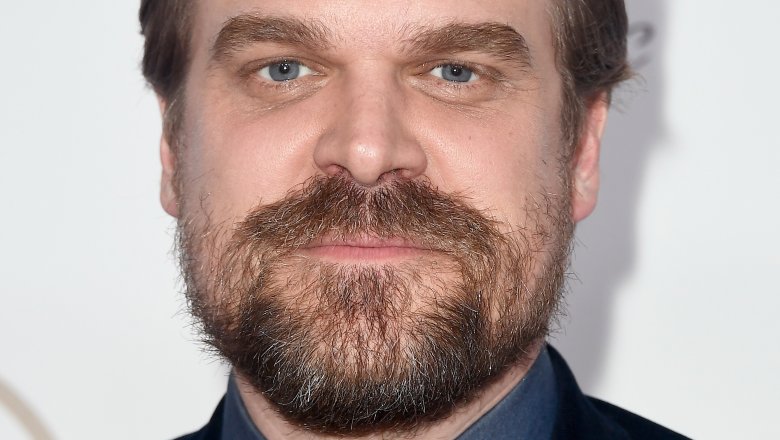 Getty Images
Had David Harbour taken his buddies' comments to heart, we would see another actor starring in the upcoming Hellboy reboot. 
When it was announced that Harbour — whom television fans fell head over heels for in Netflix's Stranger Things, wherein he plays the lovably gruff Chief Jim Hopper — had been cast as the wise-talking, cigar-smoking, red-skinned anti-hero in director Neil Marshall's new Hellboy movie, media and fans alike sent a wave of criticism his way. 
But, as it happens, Harbour faced backlash over the project long before news of his leading role went public. 
Speaking with The Hollywood Reporter's Heat Vision, Harbour revealed that several of his friends attempted to dissuade him from accepting the part. The actor's pals apparently feared the project would be too polarizing, since both original Hellboy actor Ron Perlman and film franchise director Guillermo del Toro aren't attached. 
"I was approached by some very prominent nerds whom I know very well, and I respect their opinions because they're friends of mine, who were like, 'Dude, step away from ... Hellboy. Step away,'" recalled Harbour. 
Clearly, the actor chose to turn the other cheek and go with his gut, confident that his take on the character would be a unique and enjoyable one. Harbour likened it to different stars portraying the same comic book hero in separate movies. "I can like Michael Keaton's Batman and I can like Christian Bale's Batman. I can like Jack Nicolson's Joker and I can like Heath Ledger's Joker," he stated before quipping, "There [are] other Jokers I don't have to like." 
Harbour then spoke about about how his iteration of the Dark Horse Comics character will be both unlike anything fans have seen before and a more accurate representation of the source material. 
"[The comics] seem much more macabre to me. They seem much more melancholy. They seem much more primal, [with] more struggle [and] more angst. And I felt like those other two movies were funnier and brighter and kind of sillier in a way, which was great for what it was. But I thought to approach this material in a different light and to do something completely different than what they had done," he explained. "This was something that I couldn't pass up because I love those [Mike] Mignola comics. And the mythos we are in now, I feel like two strains are running. They are making these kind of popcorn-y, somewhat two-dimensional comic book movies, and then there is this strain like Logan and Deadpool. That is what I am drawn to in the genre. I would love to do a Hellboy where you love him, but you're also not quite sure about him."
Joining Harbour for the new Hellboy are Milla Jovovich (Underworld) as Nimue the Blood Queen, Ian McShane (American Gods) as Hellboy's adoptive father Professor Trevor "Broom" Bruttenholm, and Daniel Dae Kim (Hawaii Five-O) as Bureau for Paranormal Research and Defense member Major Ben Daimio. Sasha Lane as Alice Monaghan, Penelope Mitchell as Ganeida, Sophie Okonedo as Lady Hatton, Alistair Petrie as Lord Adam Glaren, Brian Gleeson as Merlin, Kristina Klebe as Leni Riefenstahl, and Vanessa Eichholz as Ilsa Hepstein also star. 
Hellboy is due out on January 11, 2019.