Sony Taps Venom Screenwriter Kelly Marcel To Direct Venom 3
"Venom 3" has found the perfect director.
As the Marvel Cinematic Universe was bringing in unprecedented box office receipts, Sony took a look at its slew of Marvel/Spider-Man-associated characters and decided to forge its own path in the ever-evolving landscape of comic book films. This led to the birth of 2018's "Venom," the first film in Sony's Spider-Man Universe (formerly called the Sony Pictures Universe of Marvel Characters, or SPUMC). Featuring Tom Hardy in the titular role, the film was largely divorced from Kevin Feige and Disney's MCU. Directed by Ruben Fleischer, the film was ultimately panned by critics, holding a 30% Rotten rating on Rotten Tomatoes. Audiences, however, adored Hardy's lobster-eating Eddie Brock, helping propel the film's global cume to over $850 million (via The Numbers).
A sequel was ordered, with "Lord of the Rings" star and "Mowgli: Legend of the Jungle" director Andy Serkis stepping into the director's chair. Plagued by delays due to the COVID-19 pandemic, "Venom: Let There Be Carnage" was released in the fall of 2021 with Woody Harrelson as the nefarious host for the red symbiote. The film went on to gross over $500 million (via Box Office Mojo) and managed to fold Hardy's Venom into the Marvel Cinematic Universe via a game-changing post-credits sequence. "Spider-Man: No Way Home" was released later that year, once again doubling down that the Sony-owned anti-hero had a firm place in Feige's toybox.
Now, all eyes are on the untitled "Venom" threequel, which Hardy confirmed was being written earlier this year. Hardy and Sony have found the perfect director to helm Brock's third outing: screenwriter Kelly Marcel.
Kelly Marcel is also producing and writing Venom 3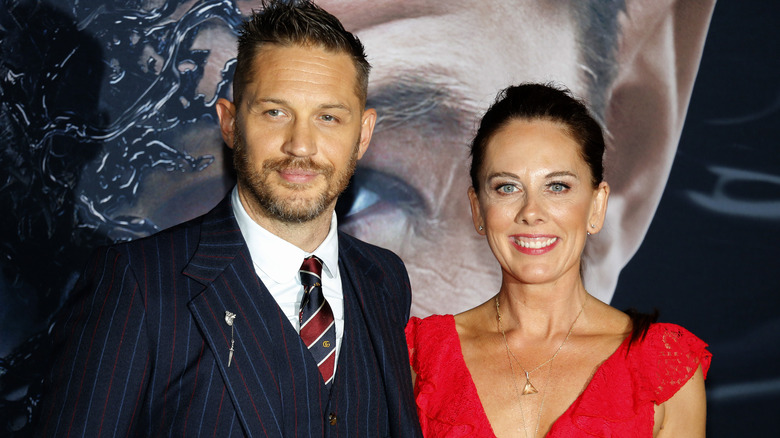 Tinseltown/Shutterstock
Deadline confirms that Kelly Marcel has been tapped to bring "Venom 3" to life via the director's chair. Marcel has been a close collaborator of Tom Hardy's since 2008's "Bronson" and is responsible for writing "Venom" and "Let There Be Carnage," the latter of which also featured a story by credit from Hardy. Marcel also penned "Fifty Shades of Grey" and helped develop Disney's live-action "Cruella."
"Venom 3" will be Marcel's first major directorial stint. She will produce the film alongside Hardy and write the film's screenplay from a story she developed alongside the lead actor. The usual suspects Avi Arad, Matt Tolmach, Amy Pascal, and Hutch Parker will be producing the upcoming comic book romp. Deadline says that Marcel and Hardy have the same vision for the symbiote and intend on closing out the character's trilogy with creative harmony. Details are ultimately slim on the third "Venom" film, especially in the wake of the "Spider-Man: No Way Home" post-credits scene, which saw Eddie Brock return to his own universe, leaving behind a speck of symbiote in the MCU.
While speaking with Discussing Film following the release of "Let There Be Carnage," Marcel remained uncertain if a third Venom film could pan out. "We don't know if there will be another 'Venom' movie after this one, but should they move forward with another one, obviously, I would love to see him interacting with all kinds of villains within the Marvel Universe," the future director said. With the third entry now confirmed, can audiences expect a larger crossover between Sony's Spider-Man Universe and the MCU? Only time will tell what Marcel and Hardy have in store for audiences.