Horror Adaptation Clown In A Cornfield In The Works From The Producers Of Smile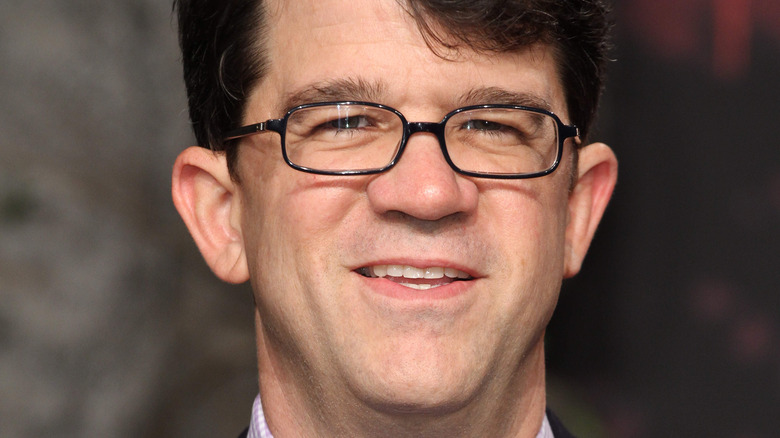 vipflash/Shutterstock
Right off the hop, "Clown in a Cornfield" sounds like either a terrifying horror property or a political ad in the American Midwest. Joking aside, "Clown in a Cornfield" is actually a book by Adam Cesare, which was released in 2020 and followed up with a sequel in 2022. The book's premise is simple — a father and daughter move from Philadelphia to Missouri after a death, but the area is deeply conservative and the town's mascot, named Frendo the Clown, begins to kill the teenagers that engage in typical teenage behavior. In other words, "Clown in a Cornfield" has all of the makings of a horror franchise.
Speaking with Cemetery Dance, Cesare was asked about what can be said about his "Clown in a Cornfield" book, and he replied, "How can you compete with Pennywise, Captain Spaulding, et al.? So this is a masked slasher story. The mask just happens to be a clown face." He continued, "I'm aware it's a simple premise. That it almost sounds too simple. But to me that's the beauty of a slasher. All these expectations and prejudices come pre-loaded into the format, but all the best slashers push against convention and end up packaging their surprises, thematics, and invention in subtle ways." Luckily for fans of clown-based scares, it seems that the producers of the well-received horror film "Smile" have been tapped to adapt "Clown in a Cornfield."
Temple Hill Entertainment and the director from Tucker & Dale Vs. Evil are adapting Clown in a Cornfield
As reported by Deadline, Temple Hill Entertainment will be producing an adaptation of "Clown in a Cornfield," specifically Wyck Godfrey and Marty Bowen. In addition to the recent horror film "Smile," Temple Hill Entertainment is probably best known for the "Twilight" and "Maze Runner" franchises. Eli Craig, who is famous for his work on the horror-comedy "Tucker & Dale Vs. Evil," will direct. This announcement caused Temple Hill to release a statement that said, "We love Eli Craig's brand of scary fun and are thrilled to be working with him on this terrifying slasher adaptation that is both timely and timeless."
"Smile" certainly generated a fair amount of chatter for its aggressive marketing campaign involving people sitting behind home plate at baseball games while donning a haunting smile, so it's possible that we'll eventually hear reports of creepy clowns hanging out in cornfields — the thought of which is enough to fuel our nightmares for the foreseeable future.