Snoke's Backstory Could Be Revealed In Future Star Wars Movies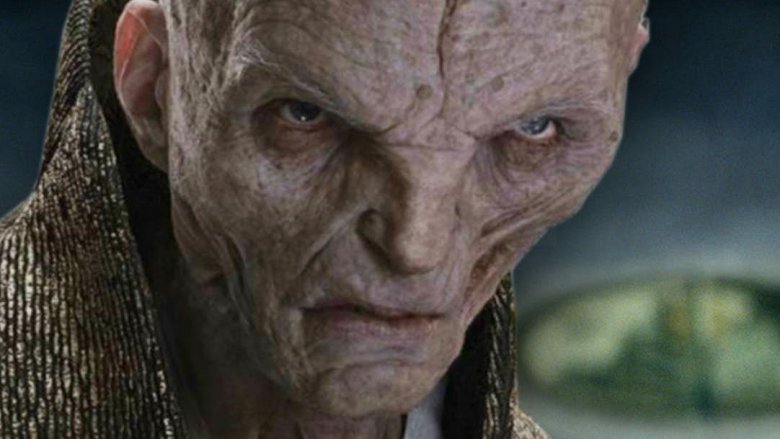 Contains spoilers for Star Wars: The Last Jedi
No, we didn't learn anything substantial about Supreme Leader Snoke in The Last Jedi, but that doesn't necessarily mean we never will.
Andy Serkis, who plays the twisted ruler of the First Order, recently hinted to ScreenCrush that Snoke could be a factor in future Star Wars movies. When asked if he and writer-director Rian Johnson wanted to keep Snoke's story a mystery, Serkis said, "We did, yeah. We've talked about it. We wanted to keep it a mystery and, you know by the way, it is Star Wars. So who knows what might happen? Without giving anything away."
Of course, it would be tricky to bring Snoke back. In The Last Jedi, he was cut in half by his apprentice Kylo Ren (Adam Driver). But it's not like deceased characters don't reappear in the Star Wars galaxy. Just ask Yoda. He does it all the time. 
But it's also possible that we could find out where Snoke came from and what exactly his deal was in Episode IX or elsewhere, even if the character doesn't show up.  
Serkis could also just be speaking hypothetically as ScreenCrush points out he offered up this tidbit on his own. However, the phrase "without giving anything away" implies that he knows something he's not saying. 
Before the release of The Last Jedi, Serkis opened up a little about Snoke, saying "his hatred of the Resistance is fueled by what's happened to him personally." He also called Snoke a "vulnerable and wounded character" who has suffered in the past. 
Johnson also said he didn't reveal much about Snoke in The Last Jedi because it didn't serve that specific story. "It was a tough thing, even though I knew some fans were interested in it, I also knew it wasn't something that dramatically had a place in this movie," he said. "Hopefully it can be addressed elsewhere, or even J.J. [Abrams] may address it in the next movie."
We'll find out if that happens when Episode IX hits theaters on Dec. 20, 2019.