Nanny - What We Know So Far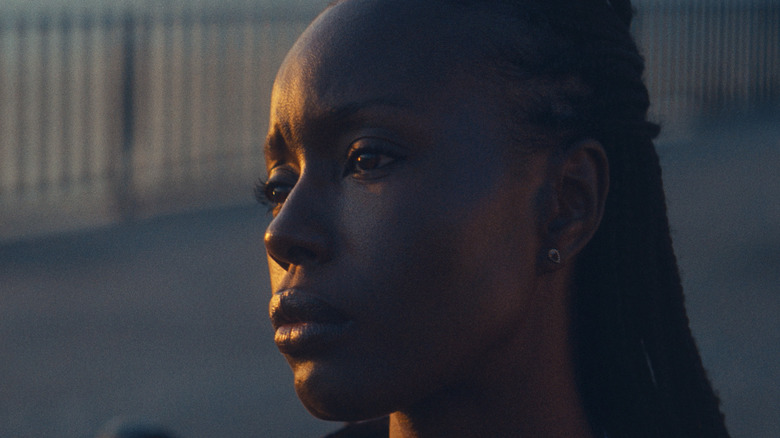 Amazon Studios
After a 2022 that's given us a good dozen memorable horror films, Prime Video is set to join the conversation with "Nanny."  A psychological horror combining thriller elements, drama elements and some hints of romance and comedy with an eerie, ghostly sense of guilt and tension, it's a movie that promises a subtler take on the genre, with dark clouds of mold blooming over walls and insects skittering over skin. Love, motherhood, and prophetic dreams all share a piece of the pie, with the delights and subsequent nightmares that chasing the American dream can provide for someone who has recently entered the country.
As the world prepares to close the door on 2022 at large, it appears "Nanny" is ready to end things for the genre with a bang, in more ways than one. It's already receiving solid critical buzz, and was named one of our most anticipated horror releases to watch for the end of 2022. Here's what we know about the movie's release date, trailer, plot, and other vital pieces of information regarding the film's release.
When will Nanny be released?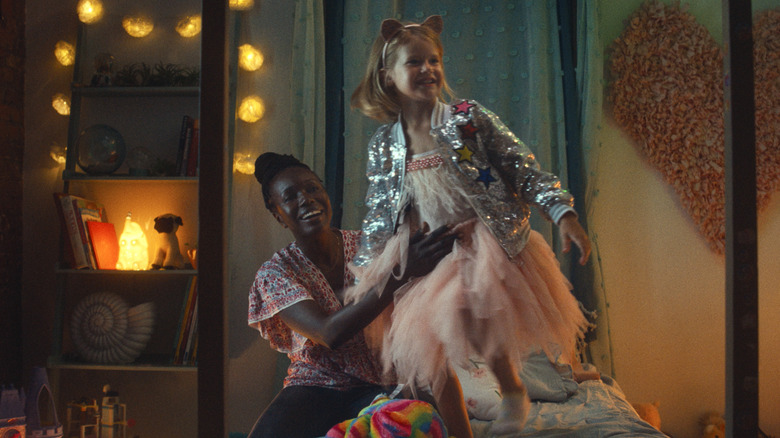 Amazon Studios
Per Nanny's official trailer, "Nanny" will receive two different release dates. The film will enter limited theatrical release on November 23. Then, on December 16, it will hit Prime Video. So your venue of choice will depend on whether or not the film is playing near you. Presumably, the Prime Video release will occur at midnight on the 16th, as is typical with most of its original films and television productions. The film has already made the film festival circuit, premiering at the Sundance Film Festival in January of 2022, where it won a Grand Jury Prize for Drama (per Variety) that sparked a bidding war and eventually landed the project at Amazon. It has subsequently screened at the 2022 Toronto International Film Festival and will play at AFI Fest in November.
The release date seems to hint that Prime Studios has Oscar ambitions for the new film, as most direct-to-streaming films require at least some time in brick-and-mortar movie theatres before being made available on a streaming platform to qualify for most major awards. In any event, those interested in seeing the movie will definitely have plenty of time to take it in the manner of their choice.
What is the plot of Nanny?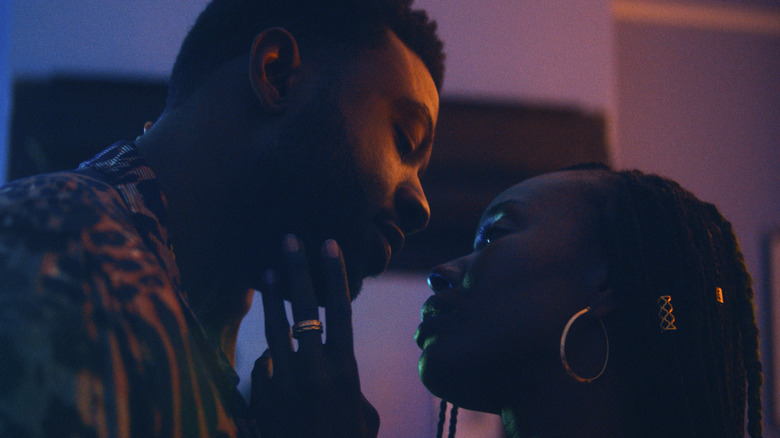 Amazon Studios
Per both the film's trailer and its pre-release press blurb, the film centers itself around Aisha (Anna Diop), who has emigrated from Senegal to build a better life for herself and her son, Lamine (Jahleel Kamara). Becoming a nanny for a rich white couple named Amy and Adam (Michelle Monaghan and Morgan Spector), Aisha settles in to their luxurious Manhattan townhouse and sets about caring for their young daughter, Rose (Rose Decker). She even begins to build a romance with Malik (Sinqua Walls), who she meets by happenstance one day. Lamine's absence stalks her constantly, and she only hopes that she can make her family complete sometime in the future.
But all is not well in Amy and Adam's household, and Aisha soon learns more about the malevolence lurking under the picture-perfect surface of the marriage. Amy turns controlling and begins to withhold money from Aisha. Soon Aisha begins having surreal nightmares which portend great doom for both Lamine and herself. Can she manage to escape the situation and bring her son to a rosier place?
Who is starring in Nanny?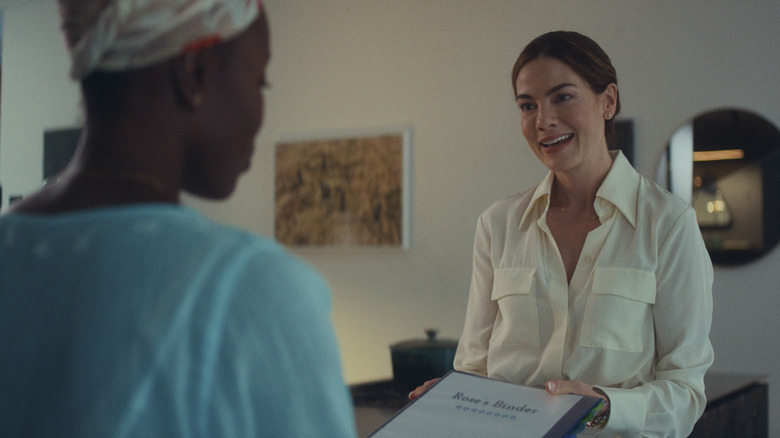 Amazon Studios
Per IMDb, "Nanny" stars Anna Diop of "Us" and "Titans" fame as Aisha. Sinqua Walls of "Friday Night Lights," "Teen Wolf," and "Once Upon a Time" plays Aisha's love interest, Malik. Jahleel Kamara plays Aisha's son, Lamine. Michelle Monaghan from "Kiss Kiss Bang Bang" and "Gone Baby Gone" and Morgan Spector from "Homeland" and "The Gilded Age" play the unhappy Amy and Adam, with Rose Decker as their daughter, also named Rose. Acting legend Leslie Uggams ("Roots") shows up as Kathleen, with Olamide Candide-Johnson as Mariatou. The cast is rounded out by Princess Adenike, Zephani Idoko, Mitzie Pratt, Keturah Hamilton, Stephanie Jae Park, Ebbe Bassey, Alina Carson, Anna Quirino, Nate Archibald, and Michael Cuomo. 
With the film fully out and playing festivals, it's unlikely that any further cast members of import will surface after the film's debut, but one never knows. There could be a surprising cameo no one's noticed yet.
Who is directing Nanny?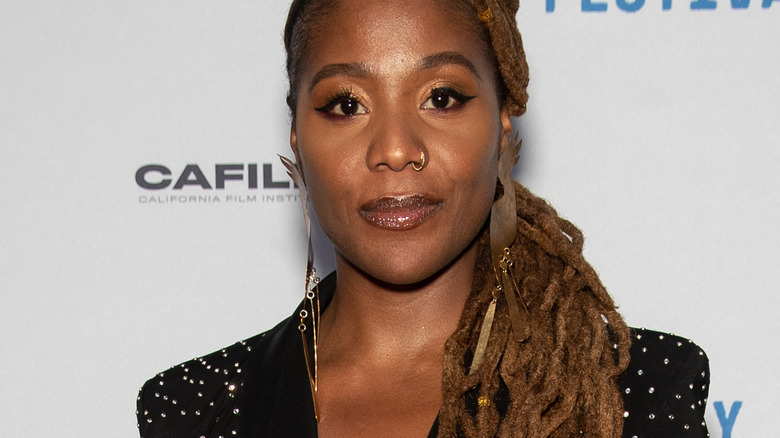 Miikka Skaffari/Getty Images
Per her IMDb page, "Nanny" was both written and directed by Nikatu Jusu. This is her first full-length feature film. Her previous projects have included short films such as "Black Swan Theory," "Say Grace Before Dawn" and "Flowers." Per Deadline, she has signed to release another full-length feature through Universal and Monkeypaw Productions sometime in the future.
In an interview with Den of Geek, Jusu admitted a penchant for horror, and said she takes joy in twisting the everyday into the nightmarish. "The mundane is horrific for so many of us. I think in real life, you have a day where you're taking the train to work, and you're having an existential crisis about your entire life... we're constantly barraged with the precarity of our existence," she said. Jusu said that the film specifically underlines the way Aisha's trauma affects her behavior, saying, "I'm always thinking about the ways that Black women have to bite our tongues and swallow indignities and the toll that it takes on our spirits and our health and our bodies."
Is there a trailer for Nanny?
A trailer for the film was released by Prime Video in September of 2022. Said trailer definitely manages to let viewers in on Aisha's plight, and the past events that haunt her, without spoiling the film's central mysteries. You can spy the fact that she seems to be keeping her son secret from Amy and Adam. Also notice that viewers get a glimpse of the sorts of horrific nightmares Aisha is being subjected to: visions of death by drowning, black mold overspreading everything, and nightmarish images coming to taunt her. There are even brief shots of bugs skittering underneath her skin. The amount of harrowing imagery melts into spooky and almost gentle watercolor imagery used by Jusu. It's frightening, charming, and very absorbing.
So far this is the only trailer that's been released for "Nanny," though we wouldn't be surprised to see a secondary trailer pop up sometime in the near future. 
What will Nanny be rated?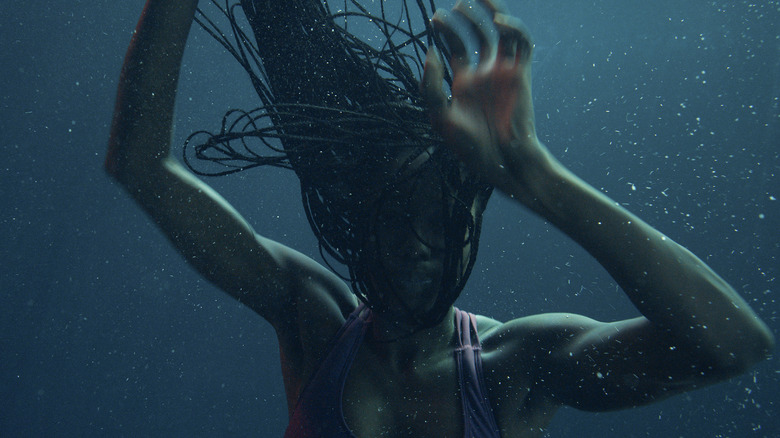 Amazon Studios
Per Rotten Tomatoes, "Nanny" has been rated R. The MPAA descriptors attached to the film's page declares that the movie has been rated this way due to "Brief Sexuality/Nudity and Some Language." That definitely means "Nanny" isn't appropriate for children or even younger teens. With its apparently complex plotline, this appears to be a horror film best suited to grown-ups. 
"Nanny" won't be the first Prime Studios film to be rated R; in fact, as of this writing, many of the studio's films, including the thriller "Run Sweetheart Run," its remake of the horror film "Goodnight Mommy," and the romantic drama "My Policeman" have been released in R-rated cuts. What that means for the rest of the films on its slate, and what bearing that might have on the future of "Nanny" with audiences worldwide, remains to be seen. But hopefully, it will capture the imaginations of audiences.