Black Panther Early Reviews Call It The Best Marvel Movie Yet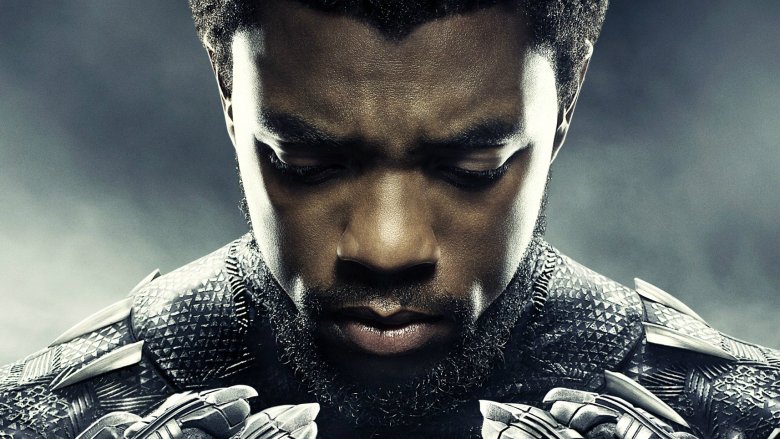 Marvel Studios
It's good to be the king.
Early reactions from the Black Panther premiere are in, and although official reviews aren't out yet, critics and fans are overwhelmingly impressed with the latest standalone flick from Marvel Studios. In fact, some say it's the best Marvel film yet. 
A lot of the praise goes to director Ryan Coogler, who has created a world in Wakanda where the stakes are very real and the characters resonate with a kind of depth that's not usually seen in a comic book movie. But it's the star-studded cast that gets lots of the attention. Chadwick Boseman is obviously a favorite as Black Panther, but there's a lot of love for Michael B. Jordan as the villainous but magnetic Erik Killmonger, Letitia Wright as the brilliant Shuri, and Danai Gurira as the fierce Okoye.
Reviewers are also overjoyed to see positive representations of black women and careful handling of real issues like imperialism and cultural identity. Tre'vell Anderson of the Los Angeles Times called it a "love letter about blackness" and David Ehrlich of IndieWire said it's "the first MCU film that has an actual sense of identity and history and musicality." Some are even calling it a very early Oscar contender for next year, especially for visual effects and costume design. 
Check out some of the early reactions below and prepare to judge for yourself when Black Panther hits theaters on Feb. 16.
Black Panther is the best MCU movie ever. I was blown away from start to finish and I'm not even being biased. This was by far the best marvel movie to date. Thank you, Ryan Coogler! #BlackPanther pic.twitter.com/8Qh0hlOYAb

— Geeks of Color (@GeeksOfColor) January 30, 2018
Ryan Coogler knocked it out of the park, some great sequences presented in a "single take/shot." If this movie isn't nominated for costume, art and production design awards next year, I would be seriously shocked. #blackpanther

— Peter Sciretta (@slashfilm) January 30, 2018
#BlackPanther is exceptional – the James Bond of the MCU. You've seen nothing like this in a superhero movie – it's bold, beautiful & intense, but there's a depth & spiritualness that is unlike anything Marvel has ever done. It's 100% African & it is dope af. pic.twitter.com/Z77IjnIjf2

— ErikDavis (@ErikDavis) January 30, 2018
#BlackPanther is a love letter about blackness, to a world that often ghettoizes it without realizing that it is on black backs that this planet revolves.

This world's livelihood is in our blood. pic.twitter.com/FscW1hWbI6

— Tre'vell Anderson (@TrevellAnderson) January 30, 2018
If you don't understand the power of representation, imagine growing up never seeing a superhero who looks like you. When American Girl dolls came out I always picked Addy who had to escape slavery. But now kids have #BlackPanther's Nakia, Shuri and Okoye. Dope on many levels.

— Natasha Alford 🇵🇷✊🏾👩🏾‍💻🎥 (@NatashaSAlford) January 30, 2018
The story arc of Eric Killmonger will strike a heavy cord for every African-American who was raised here.

It puts tears in my eyes, made me grit my teeth and broke me before the credits.

Will discuss more on @FanBrosShow#BlackPanther

— Mellow Marketer (@MellowMarketer) January 30, 2018
Shuri, played by @letitiawright, is absolutely delightful. I love that Shuri is so at ease with her brilliance and genius. And her scenes with T'Challa are so funny! #BlackPanther pic.twitter.com/Rch7LfSlqM

— ReBecca Theodore-Vachon (@FilmFatale_NYC) January 30, 2018
Black Panther is amazing. Intelligent, thought-provoking, and emotionally resonant on top of being fun. Killmonger is the MCU's best villain, bar none. Michael B. Jordan kills it. Letitia Wright is a star.

— Rebecca Pahle (@RebeccaPahle) January 30, 2018
.#BlackPanther is phenomenal to say the least! All cylinders from direction, acting, production design, costumes and action are Aces!!!

— Wilson Morales (@blackfilm) January 30, 2018
BLACK PANTHER is incredible, kinetic, purposeful. A superhero movie about why representation & identity matters, and how tragic it is when those things are denied to people. The 1st MCU movie about something real; Michael B. Jordan's Killmonger had me weeping and he's the VILLAIN

— jen yamato (@jenyamato) January 30, 2018
BLACK PANTHER is not screwing around. By far the most political Marvel chapter, to the point I had to remind myself this is a Marvel movie. BLACK PANTHER is a movie with a lot to say.

Also, Michael B. Jordan ... damn

— Mike Ryan (@mikeryan) January 30, 2018
#BlackPanther: I never wanted this movie to end, and as soon as it did I wanted to go back. Solid action, smart story, tons of personality. Shuri is my new fave, Nakia is everything, Killmonger is incredible, T'Challa deserves to rule the MCU. Coogler has done it again. 💜🖤💙 pic.twitter.com/t9gG3DLuCL

— Angie J. Han (@ajhan) January 30, 2018
"Black Panther" is one of Marvel's most ambitious works and includes, in Michael B. Jordan's Erik Killmonger, a top tier villain for Marvel or otherwise. He owns every scene he's in and the film is everything it's been billed as. Long may it reign. pic.twitter.com/KajWk3PNRm

— Frank Pallotta (@frankpallotta) January 30, 2018
BLACK PANTHER feels like the actual start of a new phase for Marvel, not only because it exists so well on its own terms, but because it feels so new and timely, through both its storytelling and the very people the story is about (and those who get to tell it). Wonderful.

— Kate Erbland (@katerbland) January 30, 2018
#marvel does it again with 'Black Panther'. Very impressed with the story and filmmaking. @michaelb4jordan absolutely kills it as the villain and is the best one since Loki. Also @DanaiGurira kicks so much ass and I loved every second of it. Going to make serious $. pic.twitter.com/YBrg2x3Nnz

— Steven Weintraub (@colliderfrosty) January 30, 2018