The First Slam Dunk - What We Know So Far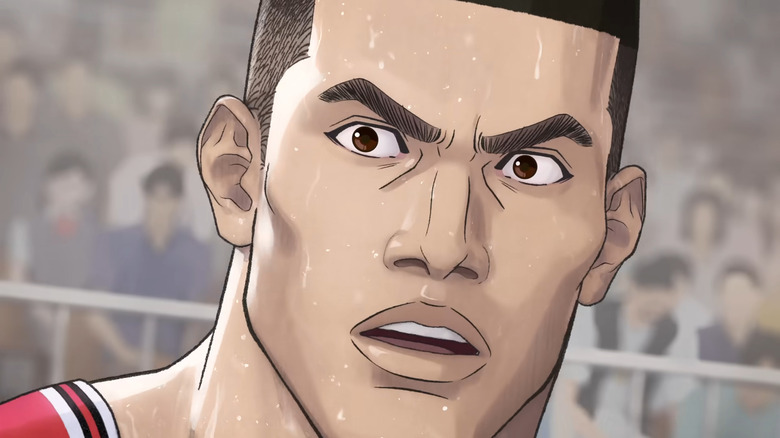 Toei Animation
The combination of anime and sports has often produced some of the more memorable and noteworthy projects. For instance, the volleyball-centered "Haikyuu!!" has won over many fans with a redemption-focused story on an underdog team. New entries, like "Blue Lock," aim to change the game by deconstructing the concept of a star player in a dystopian setting that feels more like "The Hunger Games." But before 'Haikyuu!!" and "Blue Lock," one basketball-inspired manga arguably set the bar on sports anime. In 1990, author Takehiko Inoue debuted his manga "Slam Dunk," a work that follows the grind of a Japanese high school basketball team.
An anime series soon followed, increasing the series' immense popularity and influence with fans. Per CNN, "Slam Dunk" is credited as making the sport of basketball beloved by a generation of fans and having Inoue recognized by the Japanese Basketball Association. Inoue could have easily sat back on the laurels of "Slam Dunk" alone. Instead, the creator continued to push his craft to new heights with other acclaimed manga such as the Musashi Miyamoto-led "Vagabond," and "Real," another heartfelt basketball story that focuses on wheelchair-bound athletes. Still, it looks like Inoue is returning this year to his breakthrough series through an upcoming film. Titled, "The First Slam Dunk," the movie is set to premiere this year. So lace up those sneakers as we delve into everything we know so far about "The First Slam Dunk."
When is the release date for The First Slam Dunk?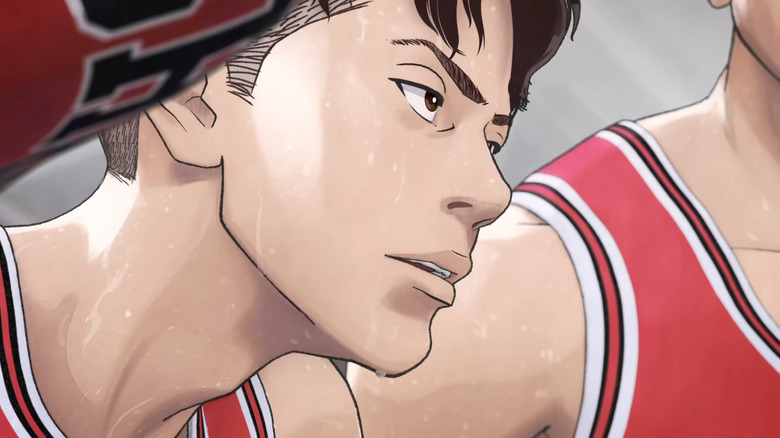 Crunchyroll
Although the initial anime series ended in 1996, "Slam Dunk" fans still had much to celebrate in recent years. In 2018, the original manga got republished with new gorgeous cover artwork from creator Takehiko Inoue (via Crunchyroll). The reprint arrived roughly on time for the series' 30th anniversary, which took place in 2020. But the following year, fans got another exciting reason to celebrate "Slam Dunk." On Twitter, Inoue announced that a new "Slam Dunk" movie was in production. His tweet only contained an animated GIF of the "Slam Dunk" title sketched in pencil. But it was more than enough to raise the hype.
Details on the project remained scarce until July 2022 when we finally got a title and planned release date. Via the official movie site, "The First Slam Dunk" will open on December 3, 2022, in Japanese theaters. However, there's currently no official release date outside the country. But given the series' global reach and overall popularity, a release date for Western audiences can't be too far behind.
What is the plot of The First Slam Dunk?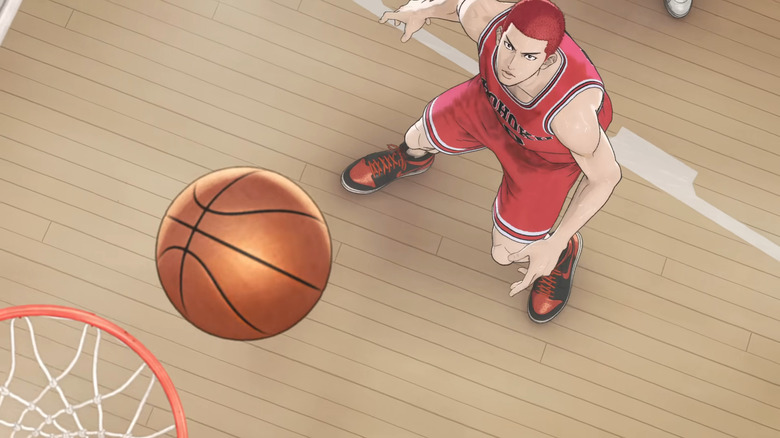 Toei Animation
The "Slam Dunk" series centers on redhead high schooler Hanamichi Sakuragi, who is more of a delinquent than your typical jock. He begins his first year at Shohoku High, where his plans change once he meets a girl named Haruko Akagi, who has a passion for basketball. Haruko recognizes Sakuragi's athletic ability, and despite his personal aversion to basketball, he winds up joining the school's team. "Slam Dunk" sees Sakuragi and his teammates gel as a formidable unit and grow as players.
Yet, "Slam Dunk" is more than a simple journey about a ragtag basketball team. Through comedy, drama, and thrilling on-court action, "Slam Dunk" tells the type of relatable bonding tale only sports stories could deliver. During an interview with Anime News Network, Takehiko Inoue said, "Well, while 'Slam Dunk' is technically about basketball, I don't think it's essentially a basketball story. It could have been about soccer just as easily. Really, I just wanted to convey the feeling one gets from playing sports in general, and hopefully, anybody can relate to that." It's currently unclear if "The First Slam Dunk" is a reboot of the anime series in film form, as its name implies. But we can certainly expect it to continue to explore the central themes found in the manga and original anime.
Who is starring in The First Slam Dunk?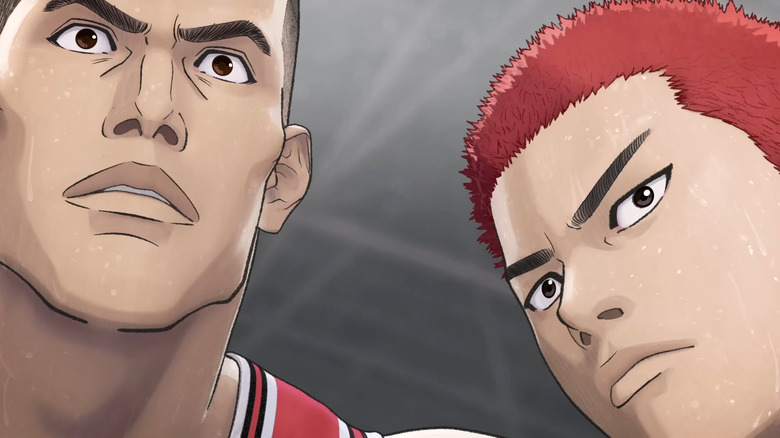 Toei Animation
In November 2022, Toei Animation revealed who would be voicing the members of the Shohoku High School basketball team (via Anime News Network). According to the company, Ryota Miyagi will be voiced by Shugo Nakamura, Hisashi Mitsui will be played by Jun Kasama, and Kaede Rukawa will be performed by Shin'ichirō Kamio. As for Hanamichi Sakuragi, he'll be played by Subaru Kimura, and Takenori Akagi will be voiced by Kenta Miyake. We can't wait to hear their takes on these characters when the players finally take to the court.
Who is directing The First Slam Dunk?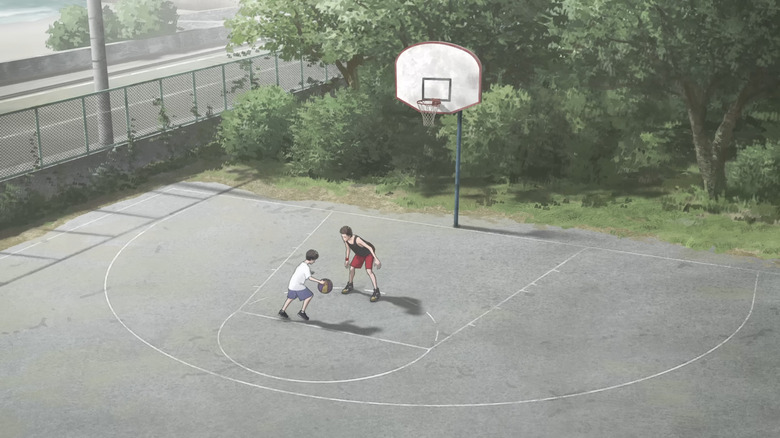 Toei Animation
"The First Slam Dunk" definitely has the appropriate title for at least a few reasons. Besides its debut in 3DCG animation, it will also serve as the directorial debut for series creator Takehiko Inoue. Via the official movie site, Inoue is the director, writer, and character designer for "The First Slam Dunk." News of Inoue's significant involvement with the project should quell some fan concerns over the quality of the animation in "The First Slam Dunk." Inoue is a manga artist celebrated for his care and exceptional attention to detail in his work.
Given how much the "Slam Dunk" series has meant to the creator, it also makes sense to see him take the helm for the film. When drawing the artwork for "Slam Dunk," Inoue believed that fans could see his enjoyment in combining his love for manga and basketball (via CNN). The love should translate into the film with Inoue leading. But to ensure everything is done right, he's receiving some seasoned help from the studio Dandelion Animation. Dandelion has some production work for films such as "Lupin III The First" and "Dragon Ball Super: Super Hero" (via Anime News Network). They've even got some experience doing 3DCGI on another sports anime because of their work on "Haikyuu!!"
Is there a trailer for The First Slam Dunk?
In November 2022, Toei Animation released a teaser trailer that might be brief but already reveals so much. It opens with two kids playing basketball on an outside court before cutting to Haruko Akagi sitting on the beach, deep in thought. It then quickly cuts to the star members of the Shohoku High School basketball team in the middle of the crucial game. The teaser shows off characters such as Hanamichi Sakuragi, Kaede Rukawa, and Takenori Akagi, who fans should quickly recognize even though they appear in 3DCG animation.
This is the first time the series has leaped to 3DCG animation, as the classic series and previous anime films stuck to traditional hand-drawn animation. If anything, the new look aims to blend its iconic style with 3DCG, much like the recent "Dragon Ball Super: Super Hero Movie." And that should serve as little surprise, seeing as Toei is involved in both projects. Sakuragi and his teammates are bursting with detail, especially with their faces.
Where can you catch up on the Slam Dunk series?
"The First Slam Dunk" could potentially make for a great introduction to the series. However, for those that want to get a head start on "Slam Dunk" before the movie debuts, there are quite a few ways to do so. Japanese fans may already have a leg up again in this regard, as Toei placed the anime series on its Animation Museum Channel on YouTube for free (via Geek Culture). It will be up until November 19, 2022. The catch, however, is unless you're viewing YouTube from Japan, there's no way to take advantage. Perhaps as a western date is revealed, Toei might do the same event for North America. In the meantime, the best way to watch all 101 episodes of the "Slam Dunk" anime is through Crunchyroll as they have the entire series.
Although it's possible to watch some series on the service for free with ads, Crunchyroll requires a subscription for "Slam Dunk." However, new subscribers can try a 14-day trial before paying. That's plenty of time to try out a good chunk of "Slam Dunk" or, for the more dedicated, binge the series before paying. For those looking to go back to where it all started for "Slam Dunk," there's the manga option. Viz has published all 31 volumes of the "Slam Dunk" manga. Surprisingly, they don't offer it digitally through their Shonen Jump App, but in print form, each book is currently priced at $9.99.