NCIS Fans Are Over The Moon After The Abby Mention In Season 20, Episode 6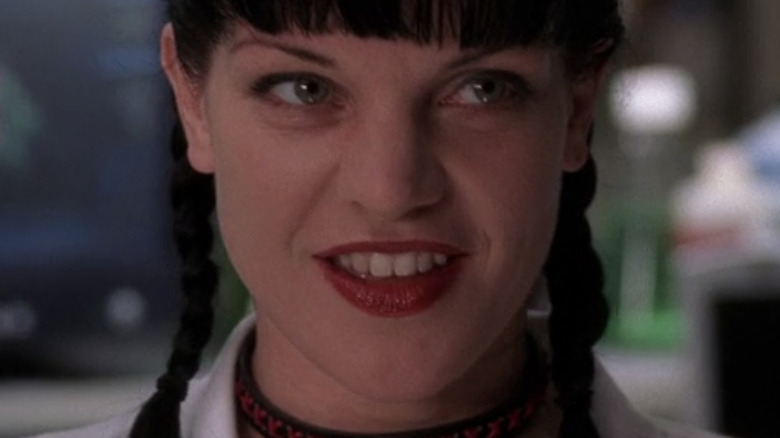 CBS
Despite the fact that fan-favorite forensic scientist Abby Sciuto (Pauley Perrette) has not been a part of "NCIS" since her departure back in Season 15, it's safe to say that she remains one of the most iconic and beloved characters in the series' history. Sciuto was defined by the juxtaposition between her energetic, jolly personality and her macabre line of work — Anthony DiNozzo (Michael Weatherly) even once called her "the happiest goth you'll ever meet."
Indeed, perhaps the most memorable aspect of Sciuto's character is her goth attire, as she is often seen sporting black or dark-toned clothing, spiked anklets, necklaces, and numerous tattoos. Sciuto's anachronistic personality and engaging on-screen presence made her not only one of the most memorable characters in all of "NCIS," but also on all of television. In 2011, Perrette was even declared the most popular actor in primetime in an Entertainment Weekly report. Thanks to an unexpected Caf-Pow reference earlier in "NCIS" Season 20, her presence continues to loom over the series. 
In fact, there is actually a pretty significant Easter egg in "NCIS" Season 20, Episode 6 that references Abby Sciuto's important work within the NCIS forensics lab.
Abby's Lab For Dummies makes a surprising return
CBS
Longtime fans of the series will remember that Abby Sciuto created a handbook for her successor following her departure from the NCIS forensics lab in the Season 15 episode "Two Steps Back." In the episode, we see Abby leave behind a small manual entitled Abby's Lab for Dummies — complete with her own hand-drawn illustrations and some spooky lettering to evoke her cheerfully macabre personality.
In Season 20, Episode 6, we actually see Jimmy Palmer (Brian Dietzen) using this sarcastically-titled manual to run the forensics lab while Abby's successor, Kasie Hines (Diona Reasonover), is away on a secret undercover mission. Watching Palmer puzzle over this manual in the forensics lab is a delightful callback for fans who remember Abby's Lab For Dummies. The throwback goes even deeper as this entire sequence is accompanied by a soundtrack that sounds awfully like the high-energy techno music that used to play whenever Abby herself was cracking a case.
In one fell swoop, this small Easter egg not only evokes Abby's presence within her old lab but also pays homage to the massive impact her character had on that lab throughout the series' history.
Fans online absolutely adored this callback
As one might expect, fans online were overjoyed to see Abby's Lab For Dummies return in the latest episode, and many of those fans took to social media to praise this small callback to their favorite forensic scientist.
"Jimmy reading Abby's lab for dummies shows how we all miss Abby in the lab," tweeted @TheKevNation, accompanied by a tearful emoji. "OMG ABBY'S LAB MANUAL FOR DUMMIES AHHHHHHHH," echoed @smackalalala. Other users, like @littlerioIu, chimed in across Twitter to express their excitement at seeing Abby's Lab For Dummies return all these years later, with some, such as @tumbling_theta, even claiming that seeing the booklet actually made them emotional.
Fans on Reddit were similarly pleased to see Abby's Lab for Dummies make a surprise return in this episode, with u/Sufficient-Hyena2247 asserting that they absolutely loved the numerous nostalgic throwbacks within this episode — especially Abby's handbook. The immense outpouring of praise for this small Easter egg makes it clear that fans of "NCIS" still absolutely adore Abby Sciuto despite her extended absence from the series, and that her presence will continue to loom large over the NCIS forensics lab until the very end.