The 12 Best Movies Like The Good Nurse You Should Check Out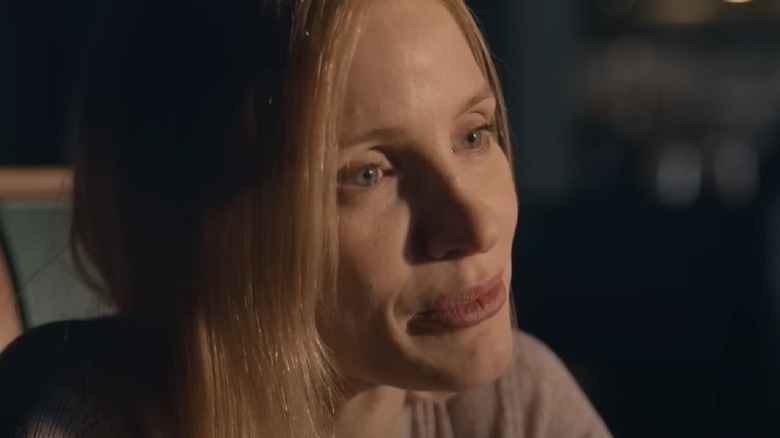 Netflix
Released just in time for Halloween in 2022, Netflix's original movie "The Good Nurse" is both a true crime murder mystery and a psychological thriller that tells the story of a gruesome real-life serial killer through the eyes of the woman who discovered his crimes. Starring Jessica Chastain and Eddie Redmayne, it is told from the perspective of Amy, a nurse and single mother struggling to make ends meet, who befriends a new colleague just as a curious spate of patient deaths rock the hospital they work in.
When Amy's suspicions about her new coworker's odd behavior begin to nag at her, she takes it upon herself to investigate further, putting her and her family at risk. Based on the true story of New Jersey serial killer Charles Cullen, "The Good Nurse" is a taut thriller about a determined woman who does her own digging to get to the truth and expose a murderer. Met with strong reviews, your mouth still may be agape after the end credits have rolled, and you might want to find another movie or two with similar stories, themes, or characters.
From films about real-life serial killers, strong-willed women performing their own investigations, or just dark character dramas, we've found 12 movies that you should be watching if you were impressed by "The Good Nurse."
Gone Girl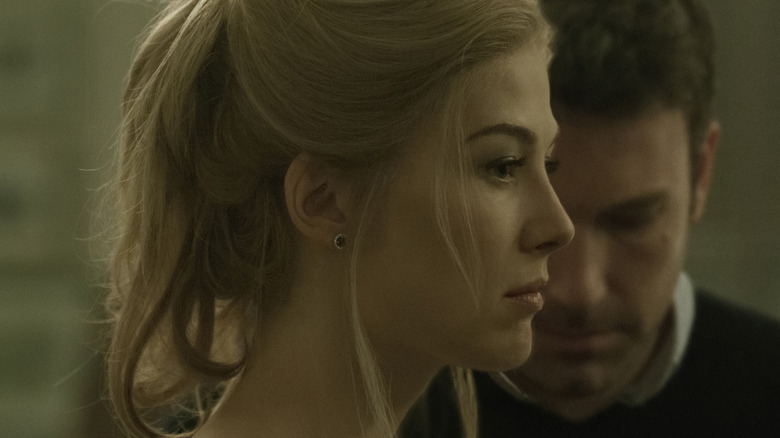 20th Century Studios
Though "Gone Girl" isn't based on a true story, it's might be one of the finest murder mysteries on this list. Starring Ben Affleck, Rosamund Pike, and Neil Patrick Harris, it was directed by auteur filmmaker David Fincher and written by Gillian Flynn, who authored the novel on which it's based. A riveting thriller with several unexpected twists that we won't spoil here, it begins with Pike's character Amy going missing, and her husband Nick becomes the prime suspect in what many believe was her murder.
Affleck stars as New York writer Nick Dunne, who along with his wife Amy was once believed to be an idyllic couple, living out everyone's fantasy of the perfect marriage. But after Amy's disappearance, the media circus surrounding the case begins to expose their inner lives, poking holes in the story of their fairy tale life. Soon, questions begin to arise about the nature of their relationship, Nick's fidelity, and whether there's more to Amy's disappearance than meets the eye. Eventually, a startling revelation about Amy herself leads to a climax that will leave you uncertain about who the true victim really is.
What begins as a stirring mystery eventually turns into a violent, twisted thriller, and with its all-star cast delivering tour-de-force performances, "Gone Girl" is as nail-bitingly suspenseful as you're likely to find. A major box office smash, it was nominated for four Golden Globes, including best picture, and would earn Pike an Oscar nomination, buoyed by the shocking things she had to do for the role.
The Weekend Away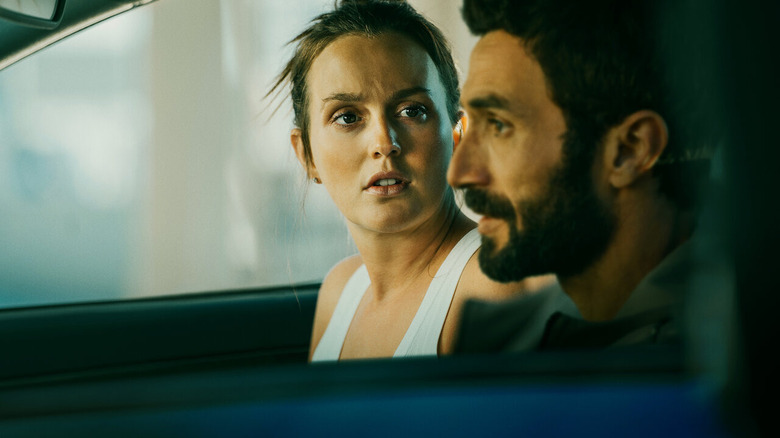 Netflix
In "The Good Nurse," Amy discovers that the most important man in her life is not who he seems and takes it upon herself to find out what's really going on when a series of murders occur around her. In a similar story, the 2022 film "The Weekend Away" stars Leighton Meester as Beth, a young woman who decides to investigate the disappearance of her best friend and suspects her husband may have somehow been involved.
The story begins when Beth and Kate (Christina Wolf) decide to take a weekend away overseas. But after a night out clubbing, Kate goes missing, and the police don't seem that interested in getting to the bottom of it — at least, not right away. With the assistance of taxi cab driver Zain (Ziad Bakri), Beth's search leads her to uncover evidence of an affair between her friend and her husband. Before she can learn more, she comes under suspicion herself after Kate's body is discovered, with police now seeming to think that the suspiciously helpful cabbie Zain may have conspired with Beth to have her friend murdered. But there are still questions about Rob's relationship with her best friend... questions that Beth is determined to get answered.
A clever murder mystery, "The Weekend Away" is a breezy, edge-of-your-seat thriller with plenty of genuine surprises that you won't see coming.
The Snowtown Murders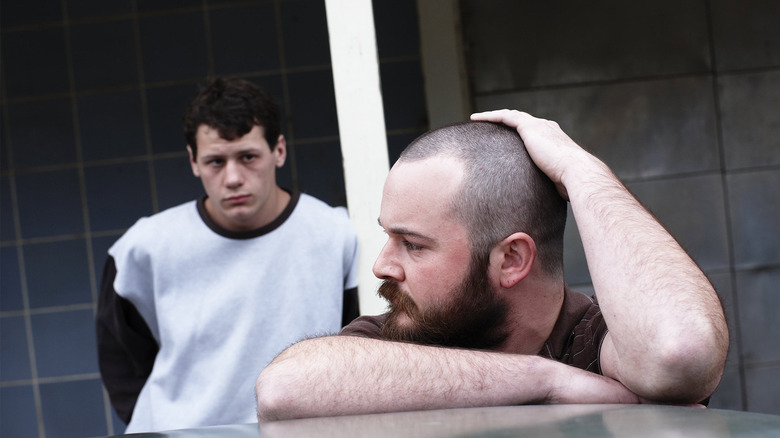 Madman Films
Some true crime stories are more difficult to watch, as the real-life nature of unsettling crimes can be hard to endure. Falling on the more uncomfortable side of the spectrum of stories that will appeal to fans of "The Good Nurse" is the 2011 film "The Snowtown Murders," a movie based on the grizzly series of killings that played out in Australia between the autumn of 1992 and spring of 1993. A total of 12 killings were carried out by three young men, with the help of a fourth who assisted in disposing of the bodies, in what would be one of the most famous killing sprees in the nation's history.
The film, itself an Australian production, is a dreary tale directed by Justin Kurzel and tells the tragic story of Jamie (Lucas Pittaway), whose abuse at the hands of his mother's boyfriend is curtailed by a newcomer named John Bunting (Daniel Henshall). But John is not the heroic do-gooder he seems and soon draws Jamie into a twisted world of bigotry, hatred, and violence. 
A disquieting film that takes a strong stomach to watch, "The Snowtown Murders" brilliantly provides a context to the killers and explores what turned them into darkness, while never igniting sympathy. Met with rave reviews, ven its most ardent fans have noted its bleak tone as a barrier to enjoyment.
If you or someone you know is dealing with domestic abuse, you can call the National Domestic Violence Hotline at 1−800−799−7233. You can also find more information, resources, and support at their website.
Extremely Wicked, Shockingly Evil and Vile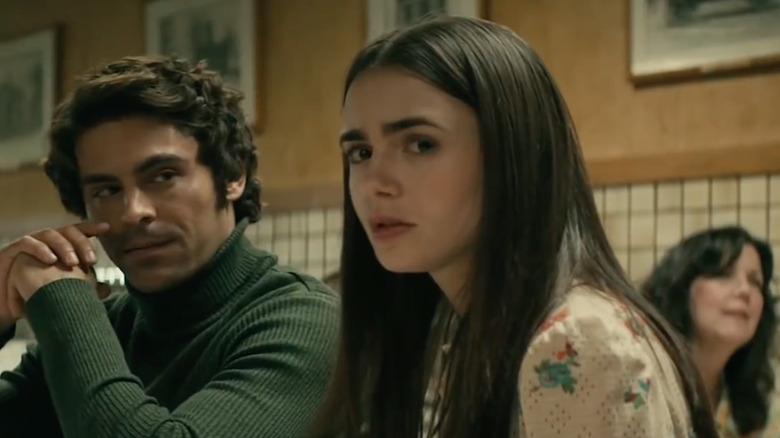 Netflix
There have been several high-profile direct-to-streaming serial killer-focused films in recent years, and a few of them have generated some controversy. One of them landed in 2019: the Netflix original "Extremely Wicked, Shockingly Evil and Vile," a film that told the story of Ted Bundy, the notorious murderer who killed more than 30 people that authorities knew of, and likely more that they didn't. While it briefly drew some attention for an unusual social media reaction, the film also got attention for telling a new side to an old story, and its towering lead performance from star Zac Efron.
Largely told from the perspective of Bundy's longtime lover Liz Kendall (Liz Collins), we meet her in the late 1960s as a recently-divorced single mother. She soon finds herself in a relationship with a good-looking man named Ted Bundy, who becomes like a father to her daughter Molly. But just as things are going well, Bundy is implicated in a series of gruesome murders. While he insists he's being set up, Collins stands by his side as his loyal and devoted lover. As the evidence begins to pile up against him, though, she soon realizes that he may not be the man she thought.
Like "The Good Nurse," "Extremely Wicked, Shockingly Evil and Vile" dramatizes the true story of a woman forced to confront the reality that the man closest to her may in fact be a deeply disturbed serial killer.
The Clovehitch Killer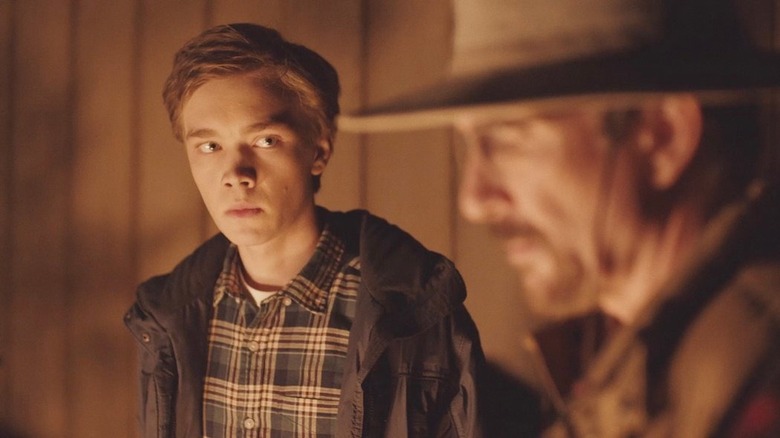 IFC Midnight
Though it's not directly based on a true story, "The Clovehitch Killer" is loosely based on the infamous serial killer Dennis Rader, better known as "BTK." Unlike a traditional true crime dramatization, however, the film doesn't exactly recount his days as a murderer but picks up a decade after his crimes, as his teenage son discovers that his own father may secretly be a deranged serial killer.
In this heavily fictionalized telling of the story, we meet 16-year-old Tyler Burnside (Charlie Plummer), who lives with his religious family in a quiet Kentucky community. After discovering disturbing materials in the family car, though, he begins to wonder if his father (Dylan McDermott) may somehow be connected to the infamous Clovehitch Killer, a serial murderer who had terrorized their community 10 years before. The discovery of photographs of several victims in his father's shed leads him to seek help from an expert on the killings. As Tyler quietly begins investigating his own father and gets closer to the truth, he risks re-awakening a violent monster. 
Released in 2018, "The Clovehitch Killer" became a surprise hit after its initial release, boosted by an endorsement from none other than horror legend Stephen King, who praised the film's high levels of suspense. 
Lost Girls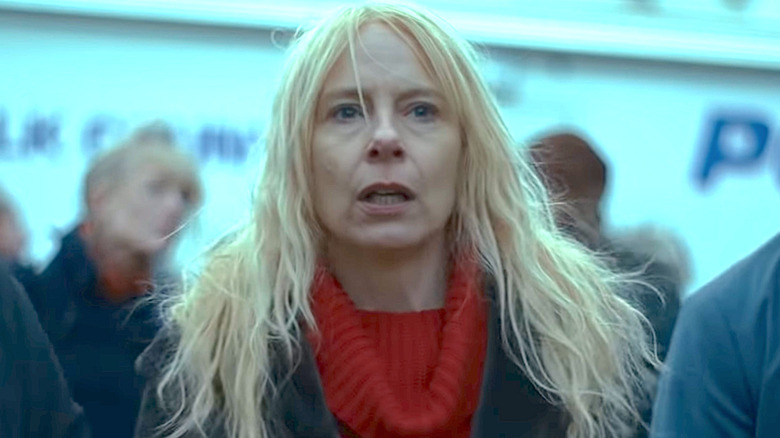 Netflix
Netflix never met a true crime story it didn't like, and in 2020 the platform released "Lost Girls," starring Amy Ryan and based on the series of unsolved murders along New York's Long Island in 2010. Police hadn't even a whiff that there was a killer at large until the mother of one of the missing victims stepped forward to pressure authorities into an extensive search, which led to more bodies being found. Many speculated that the victims' status as sex workers — as well as corruption within the police department — may have contributed to a lack of aggression by investigators.
In the film, Ryan stars as Mari Gilbert, whose daughter Shannan goes missing, and she meets resistance from local police who seem disinterested in initiating a search. When she takes it upon herself to start digging, she uncovers a number of young women who have been murdered and their bodies dumped along the Long Island Ocean Parkway. 
A true-life mystery that remains unsolved, "Lost Girls" is all the more captivating for it, led by Ryan's impressive performance as the outraged mother looking for answers. Unafraid to ask tough questions and lay blame at the police for their mishandling of the case, the film strikes a powerful tone that shines a spotlight on society's treatment of young women on the fringe.
The Girl on the Train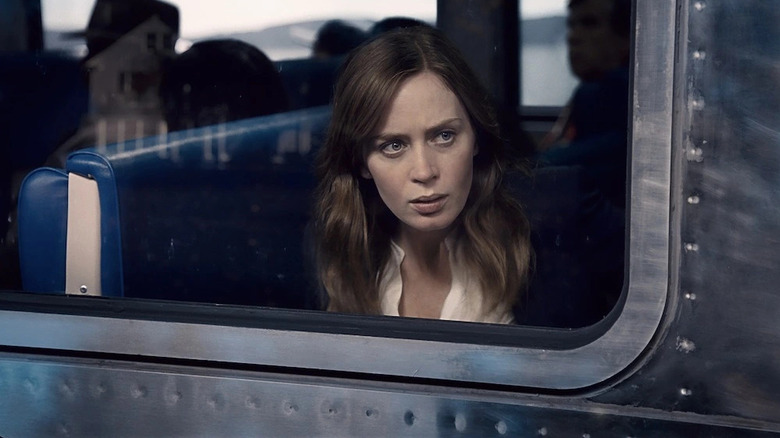 Universal Pictures
Much like "The Good Nurse," the 2016 film "The Girl on the Train" revolves around a beleaguered woman who becomes involved in a shocking crime and leads her own search for answers. This time, though, it's Emily Blunt as the intrepid amateur investigator Rachel Watson, who's still reeling from an emotionally draining divorce and job loss.
While contemplating her new life, Watson (Blunt) has taken to riding the train back and forth to and from New York City to pass the time. While aboard, she becomes obsessed with the lives of her former husband (Justin Theroux) and his new wife (Rebecca Ferguson), as well as the married neighbors Scott and Megan (Luke Evans and Haley Bennett). Stunned when she spies Megan involved with another man (Edgar Ramirez), Rachel's shock is amplified when Megan goes missing and eventually turns up dead. As evidence emerges, Rachel finds herself with multiple suspects, including the psychiatrist that she'd seen Megan with and even her own ex-husband. Meanwhile, strange gaps in her own memory — and literal blood on her hands — also leave Rachel unsure if she can even trust herself. 
A rollercoaster of twists and turns, "The Girl on the Train" is led by Blunt's impeccable performance, in a dramatic story of a desperate woman looking for answers... and a possible killer.
Cold Fish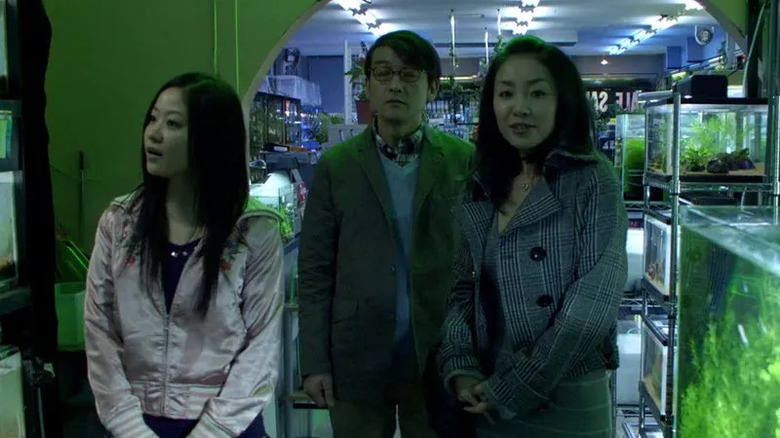 Third Window Films
For something a little different, we look to the island of Japan and its 2010 psychological thriller "Cold Fish," which mixes its murder mystery with a touch of black comedy. Like "The Good Nurse" it also features an ordinary person becoming involved in the murderous exploits of a serial killer in a story loosely based on real events. In this case, it's the Saitama Dog Lover Murders that struck Japan in the early '90s. In that startling true story, a husband and wife duo conspired to murder unsuspecting customers of their pet shop.
In "Cold Fish," we meet the Shamoto, a man with a troubled daughter whose mischief puts him in front of Murata, a man who owns an exotic fish shop. Finding a kindred spirit, the two men become fast friends and eventually go into business together. But Murata is harboring a sinister secret, as he has already murdered dozens of people and disposed of their bodies without ever being caught. Discovering his new friend's dark side, Shamoto realizes there's no way to extricate himself from his relationship with Murata and winds up becoming an inadvertent accomplice. But as the body count rises, Shamoto begins to lose his grip on his sanity.
A twisted, mind-bending thriller that blends some dark comedy with its gruesome graphic violence, "Cold Fish" is a true crime shocker that will leave chills down your spine.
Beast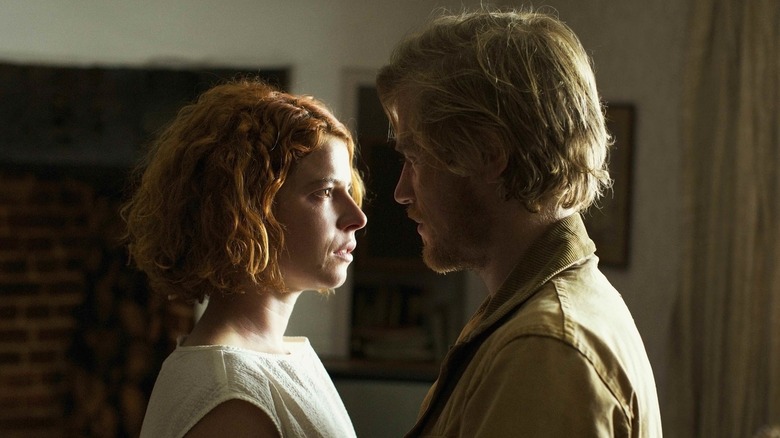 Altitude Film Distribution
Heading across the pond to England, we find a murderous tale of love, loneliness, and murder, in the 2017 film "Beast." Starring Jesse Buckley and Johnny Flynn, it recalls "The Good Nurse" with the story of a downtrodden woman who becomes close to a man who is hiding a dark, deadly secret. Set in the remote British Channel Island of Jersey, we're introduced to Moll (Buckley), a young woman who is an outcast in her own family, and ostracized in her community, while living under the thumb of her overbearing and wealthy mother.
When she is assaulted after a night out dancing though, Moll is rescued by Pascal (Flynn), a local who unbeknownst to her was a recent suspect in a murder. After they fall in love, she learns of the allegations but remains fiercely protective of him, seeing him as a like-minded pariah that nobody believes. But when a new murder rocks the community, Moll begins to doubt Pascal's denials and protestations of innocence. And when a poor farmer is arrested for the crime, she decides to find out whether he's telling the truth.
Less a murder mystery than a dark character study, "Beast" is a warning of the dangers that lurk in the fabricated delusions we all hold about ourselves. A stunning first film for director Michael Pearce, it received near-universal acclaim from critics, earning him a BAFTA Award for outstanding debut in the process.
Nurse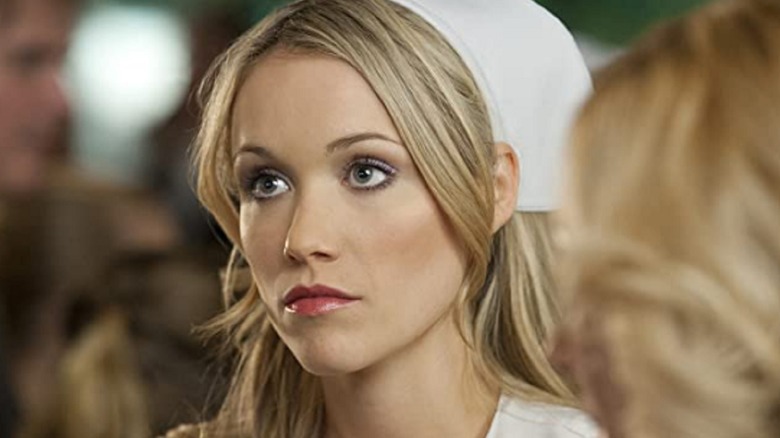 Lionsgate
If you don't mind a little dark comedy mixed in with your serial killer story, you'll find that "Nurse" from 2013 has an eerily similar premise to "The Good Nurse," and it goes beyond its like-minded title. Though it's very different in tone — being that it's an erotic horror thriller filmed in 3D — it still tells a similar story. In the film, we meet a nurse who moonlights as a serial killer and a colleague who begins to become suspicious, even conducting her own investigation into the crimes.
Katrina Bowden plays Danni Rogers, a young woman who's just graduated from nursing school and becomes a protégé of Abby Russell, who takes her under her wing. Danni is drawn into an unhealthy relationship with the older, veteran nurse, who is annoyed by her relationship with her boyfriend Steve. Before long, Abby is sadistically manipulating Danni in a variety of situations to get what she wants. We soon learn that Abby is more than just a social parasite, but a killer, too, ensnaring unfaithful men in her deadly web and murdering them in cold blood. With her list of victims getting longer, Danni realizes something is very wrong. 
Though very different in tone from "The Good Nurse," this is one schlocky pic that is delightfully wicked and terrifyingly creepy. If you want to see another nurse on a killing spree and a young woman discovering her secret, the singularly titled "Nurse" is it.
Dark Places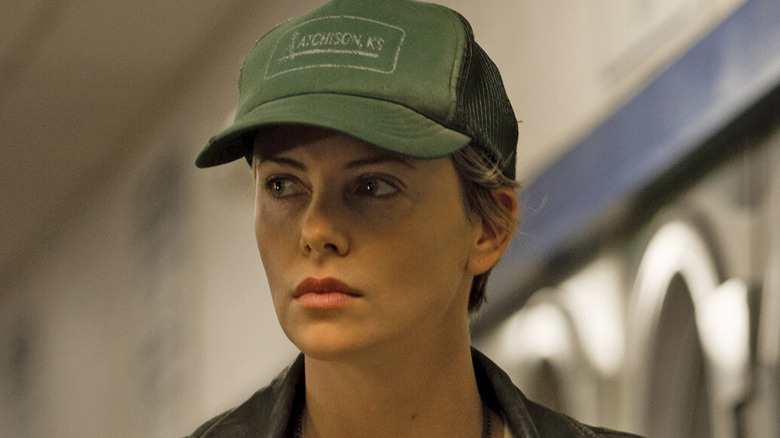 A24
We're not sure how a murder mystery thriller starring Oscar-winner Charlize Theron flew under most people's radar, but "Dark Places" barely saw the light of day when it was released in 2015. Like "The Good Nurse," the film features a major Hollywood star playing an otherwise ordinary woman who looks into a vicious crime. In this case, her investigation is to determine a culprit's guilt or innocence when questions arrive decades after a brutal killing spree. With a star-studded cast that included Corey Stoll, Chloe Grace Moretz, Christina Hendricks, Tye Sheridan, and Nicholas Hoult, "Dark Places" was based on a novel by "Gone Girl" scribe Gillian Flynn.
Theron plays Libby Day, who as a child survived the murder of her mother and sisters and whose testimony against her brother was the lynchpin to his conviction. But when Day connects with a group of true crime enthusiasts, she finds new evidence that suggests her brother may not have committed the murders and sets to learn what really happened 30 years ago. Told in dueling narratives that play out in both 2015 and 1985, the audience learns the truth about the massacre, as Day slowly uncovers new evidence that casts doubt on her brother's guilt.
A complex, dark thriller that goes to some decidedly dark places just as its title suggests, "Dark Places" is a satisfying mystery that will keep you guessing.
Shirley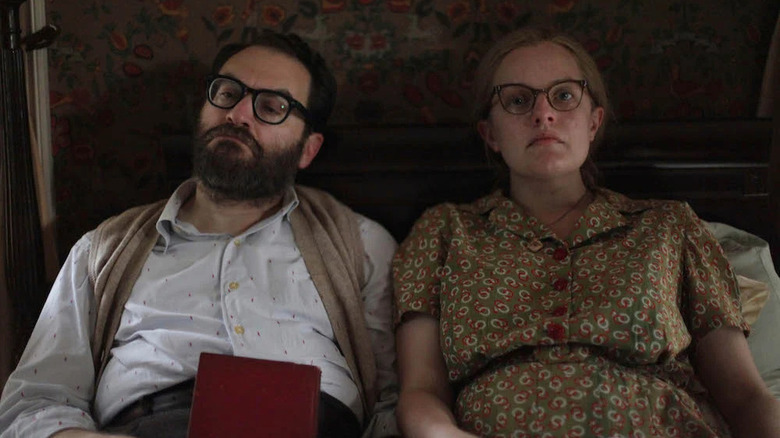 Neon
More similar to "The Good Nurse" in its themes, there is no murder or mystery in the 2010 film "Shirley" — though it is inspired by the life of horror author Shirley Jackson, played here by Elizabeth Moss. The film explores the unusual relationship between Jackson, her husband Stanley, and their new boarders, married couple Fred and Rose. Each holds dark secrets from the other, and here they go both ways, as nobody is a true hero in this story.
It begins with husband Stanley — a respected academic — hiring Fred as a lecturer, who relocates to their town with his wife Rose. But Rose is an admirer of Stanley's wife Shirley, the author of a recently published story in the New Yorker that caused a sensation. Soon, Fred and Rose move in with the more established couple, with Rose learning about Stanley's repeated affairs and Shirley's excessive drinking, and an unhealthy bond develops between the two women. While Rose becomes an inspiration and assistant in the writing of Shirley's next book, she becomes quietly and dangerously infatuated with her writing idol.
An unconventional biopic that experiments with the genre, "Shirley" turns what could have been a dry biography into an engrossing thriller. Though there is no serial killer here, no deranged monster to be uncovered, "Shirley" remains a breathtaking and enthralling psychological drama about obsession.