All Quiet On The Western Front's Trailer Has Fans Reflecting On The Book They Read In School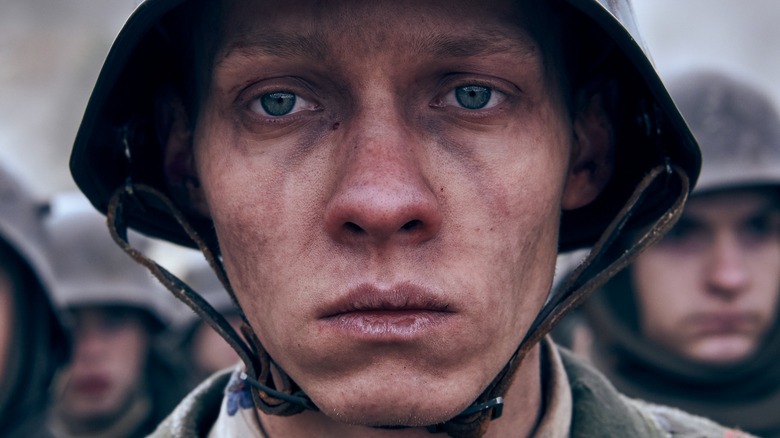 Reiner Bajo/Netflix
When Erich Maria Remarque's novel "All Quiet on the Western Front" was first published in 1929, the German perspective of World War I was vividly captured. The book was told from the point of view of soldiers both during and after the conflict and the incredible mental and physical toll it took on them. Remarque's work was quickly adapted into a Hollywood film of the same name the following year. Director Lewis Milestone's "All Quiet on the Western Front" became the third film to win the Academy Award for best picture and would be inducted into the National Film Registry in 1990 (per IMDb). The movie was also remade in 1979 as a TV film.
World War I's depiction in film and television is seeing a bit of a reappraisal, with Sam Mendes' "1917" from 2019. Now Netflix's remake of "All Quiet on the Western Front" is at the forefront. For those who have never seen the 1930 adaptation, this new telling will offer an updated visual flare to the classic anti-war novel. But for some fans, just seeing the film's trailer has them reflecting on a book they read in school years ago.
The trailer is bringing back memories of English and history class for some fans
On a subreddit dedicated to movies, the teaser trailer for the film was shared with u/TheBigIdiotSalami commenting, "English high school classes about to go hard in the paint for this one." Poster u/SirHawrk replied, "You read all quiet on the western front in English class? Wouldn't it make more sense to read it in German class?" Although the book was originally written in German and is from the same perspective, English-translated copies were also released (via Scholarly Editing). But there was also the original film with English dialogue, with u/Smucko pointing this out by adding, "I think he's [original poster] referring to the movie, my English teacher played this to us at least twice lol."
Adolescence also seems to be a great time to discover the book since the soldiers depicted were young men and adolescents. When asked about his relationship with the novel, director Edward Berger stated in an interview, "I'd read it when I was 17 or so, somewhere there, then again somewhere in my early 20s, and then not for 20 years. And so, when Malte Grunert, the producer, called me, [it had been a while] but the book was so in me..." He then spoke about how important the work is to German identity and its nearly century of impact on young readers.