The XFL Is Officially Returning In 2020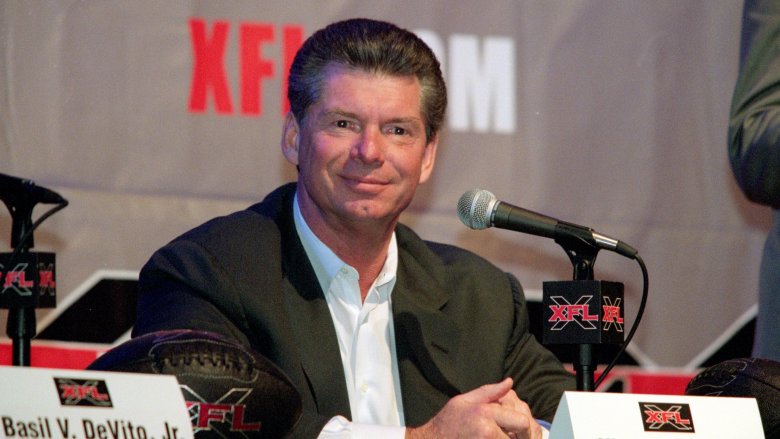 Getty Images
The rumors are true. 
After running for one disappointing season before folding in 2001, the XFL will return in 2020 for another attempt to reinvent the game of football, and pry fans away from the NFL. 
The news was announced today in a press conference from Alpha Entertainment, a company formed by WWE founder and CEO Vince McMahon. The official announcement, bizarrely, started off in the form of a rap song, with lyrics including "This is quicker, simpler / Rules reformed / This is your game, safer / This is football, reborn." You can watch the relevant bit of the announcement broadcast here.
"Quite frankly, we're going to give the game of football back to the fans," McMahon said in his announcement. 
Despite sharing a name with its 2001 incarnation, the new version of the sports league appears that it will be radically different in both tone and approach from the iteration that came before it, just in case the "your game, safer" lyric didn't provide enough of a clue. While the original XFL was all about increasing hits and action, with fewer rules and more brutal play, the new league will be more family-oriented, with no tolerance for players who have criminal records.
"The new XFL will be fan-centric, with all of the things you like to see and less of the things you don't," McMahon said. He went on to add that XFL's form of football would present a "shorter, faster-paced, family-friendly, and easier to understand game" than other leagues currently provide, mentioning in particular that the games might not feature a halftime break.
The league is intended to begin with 8 teams, each equipped with rosters of 40 men, playing a 10-game regular season, with two semifinals and a championship game capping everything off. Additionally, the league's teams will be owned by a single entity, with no franchise model. No cities have yet been considered for team home fields.
While McMahon did not bring up the point himself, the CEO did face questioning from reporters regarding the timing of the XFL relaunch, with many speculating that the XFL was being revived in response to flagging NFL ratings. Others have floated the idea that the relaunch is meant to capitalize on negative audience reactions to player protests against systemic racism and police violence that have divided the NFL fanbase for months. 
Responding to questions regarding whether those issues influenced the decision to revive the brand, McMahon replied, "No. I've always wanted to relaunch, and have had this plan for some time."
"As far as our league is concerned, it'll have nothing to do with politics," McMahon added. "Absolutely nothing, and nothing to do with social issues, either. We're there to play football."
However, when pressed by reporters, McMahon did concede that players will be expected to abide by the rules of the league, and the rules may include a mandatory standing for the national anthem. "I think this: The national anthem is a time-honored tradition that's played to this day, and many, many years in the past, prior to most athletic events in our country and other countries," McMahon told reporters on a conference call following the announcement. "So whatever our rules are is what everyone will abide by." 
McMahon said that there would remain "plenty of opportunity and plenty of ways" in which players and coaches could express themselves off of the field. The implication here is that the league will expect players to not express their views while on the field, which, in all fairness, does have a little bit to do with politics — but this whole thing ain't hitting until 2020, so maybe we should all save our energy, and avoid getting ahead of ourselves on this.
The new XFL is expected to begin play in late January or early February of 2020 and continue its season through the spring. Now, if we can just bring back original recipe Four Loko, we've got a beautiful decade ahead of us.