Roald Dahl's Matilda The Musical - Everything You Need To Know
Dan Smith/Netflix
From the charming to the creepy, Roald Dahl's works have been adapted over and over again. We've gotten multiple versions of "The Witches," "The BFG," and "Charlie and the Chocolate Factory." And the same is true for his 1988 children's fantasy novel "Matilda," which inspired a 1996 film that in turn inspired a West End/Broadway musical. Now, the stage play has inspired its own movie — "Roald Dahl's Matilda the Musical."
The latest incarnation of the tale hit Netflix on December 25, 2022 — after spending quite a bit of time in development hell, as its screenplay was first penned in 2013 — but what do you need to know about the movie before you press play? Well, if you want to learn more about the talented cast, who's working behind the scenes, or what critics and audiences thought about the film, we've got you covered. Read on for everything you need to know about Netflix's "Matilda the Musical."
What is the plot of Matilda the Musical?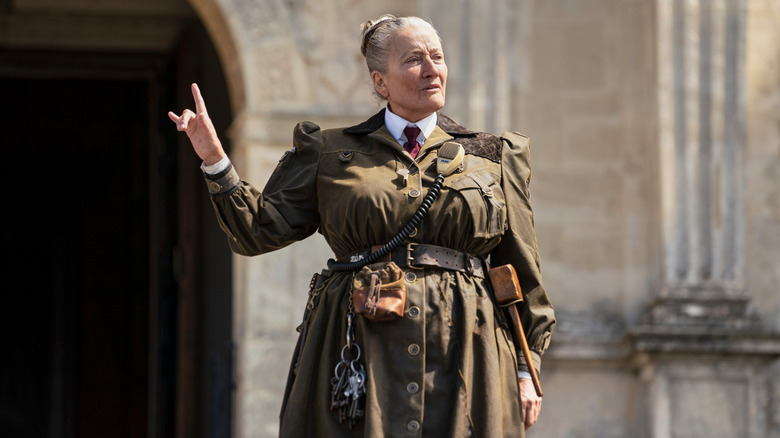 Dan Smith/Netflix
If you're familiar with Roald Dahl's book or Danny DeVito's 1996 version, you probably won't be surprised by the plot of the film. But if you're unfamiliar with "Matilda" or need a refresher, the plot sees the titular hero from birth to adolescence. During this time, her father and mother exclusively sideline her emotional and physical needs. For anyone who has not seen or read any version of this story, imagine how the Dursleys treat Harry Potter – it's basically the same situation. 
Matilda suffers at school too. Her principal, Miss Trunchbull, clearly believes in excessive corporal punishment. Everything this woman does is in the name of torturing children. Aside from this, Matilda happens to be both a child prodigy and a literal magic wielder. She uses both of these traits, as well as her rebellious streak, to fight back against her parents and her evil principal. Along the way, she inspires her fellow students to do the same, and she's often supported by Miss Honey, the only kind adult in the entire narrative. Of course, in this particular version, the whole thing is set to catchy songs and toe-tapping dance sequences.
Who stars in Matilda the Musical?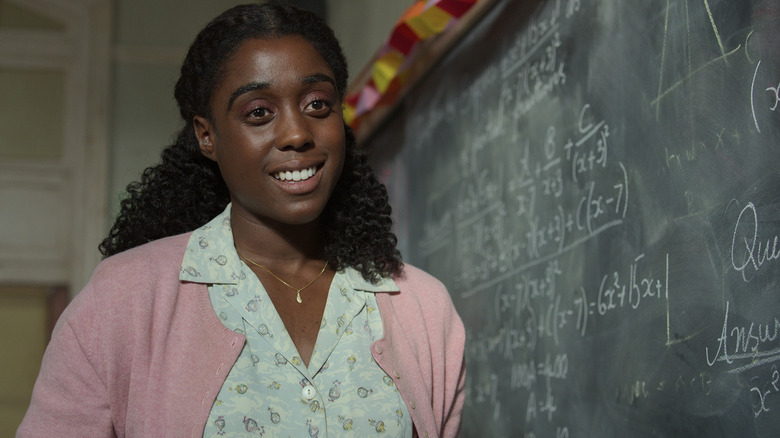 Dan Smith/Netflix
"Matilda the Musical" offers quite the talented ensemble, with relative newcomer Alisha Weir starring as the titular Matilda Wormwood. Miss Trunchbull, the antagonistic principal who is traditionally portrayed by a man in comic drag in the stage rendition, is played Emma Thompson, an actress who's starred in everything from "Saving Mr. Banks" to "Sense and Sensibility." Miss Honey, the kindly yet shy teacher, is Lashana Lynch, who recently starred in "The Woman King" and "Captain Marvel."
Mr. and Mrs. Wormwood, Matilda's abusive parents, are Stephen Graham and Andrea Riseborough, respectively. Graham has appeared in popular projects such as "Pirates of the Caribbean: Dead Men Tell No Tales" and "Tinker Tailor Soldier Spy," and Riseborough has appeared in notable productions such as "Mandy," "Black Mirror," and "Oblivion." The cast is rounded out by the likes of Katherine Kingsley, Nick Owenford, Sindhu Vee, and Matt Henry, among others.
Who directed Matilda the Musical?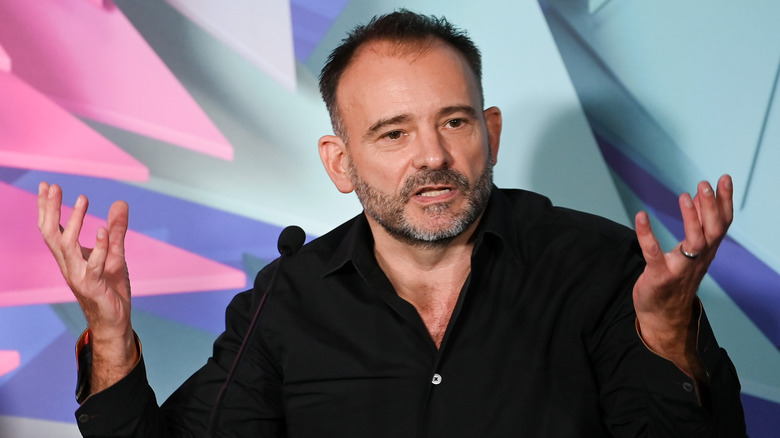 Eamonn M. Mccormack/Getty Images
Fortunately for musical fans, the director behind "Roald Dahl's Matilda the Musical" has a long history with the stage. Matthew Warchus is a Tony- and Olivier-winning theatrical director, with his long list of credits including professional productions of "Hamlet," "Groundhog Day" (a musical based on the Bill Murray film), "Boeing Boeing," "God of Carnage," "The Lord of the Rings" (a musical based on J. R. R. Tolkien's novel in five parts), and as fate would have it, "Matilda." According to Broadway.com, Warchus has been attached to direct "Roald Dahl's Matilda the Musical" since 2013, when he directed the stage production. 
Warchus is also the current artistic director of the Old Vic, a not-for-profit theater in London that, according to its website, is "an independent creative powerhouse for entertainment and education, here to enable anyone to experience, make and benefit from theatre." In other words, he was the perfect person to direct this Netflix musical.
How are critics and audiences responding to Matilda the Musical?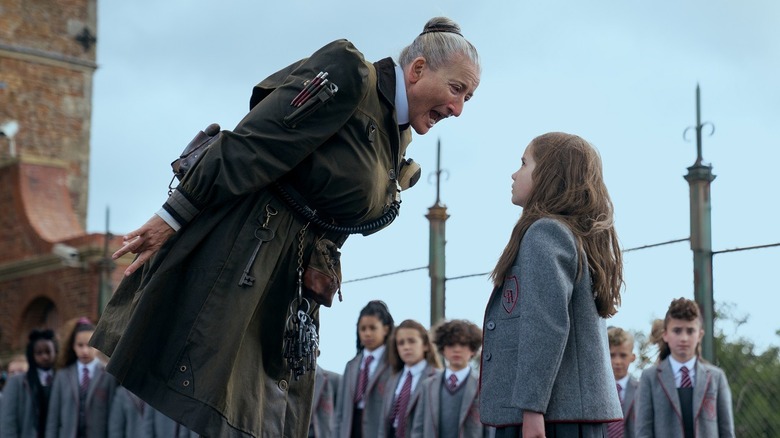 Dan Smith/Netflix
So is "Matilda the Musical" worth your time? Does it hold its own against the original Danny Devito-directed film? Well, our very own Alistair Ryder wasn't a big fan of the movie, writing, "There is nothing as distinctive in this film as there was in DeVito's take, which perfectly matched his directorial sensibility for finding the broad humor within the pitch-black and lightly surreal — it'll remain a childhood staple for generations to come. 'Matilda the Musical,' on the other hand, will likely get lost to the Netflix algorithm within days as families will likely opt to watch that previous adaptation instead."
However, many other critics greatly enjoyed the movie, as it currently boasts a 92% approval rating on Rotten Tomatoes based on 79 reviews. Robert Levin of Newsday wrote, "'Matilda the Musical' serves as a textbook example of how to adapt a stage production adapted from a book to the screen without sacrificing the spirit of its author." Brian Lowry of CNN.com concurred, saying, "A rewarding example of the perilous practice of building such efforts around children. Of course, it helps that the young star, Alisha Weir, is terrific, aided by wonderful turns from Emma Thompson and Lashana Lynch."
For the most part, audience members enjoyed "Matilda the Musical" too, as it boasts a 75% audience approval score on Rotten Tomatoes, based on 250+ reviews.
What is Matilda the Musical rated?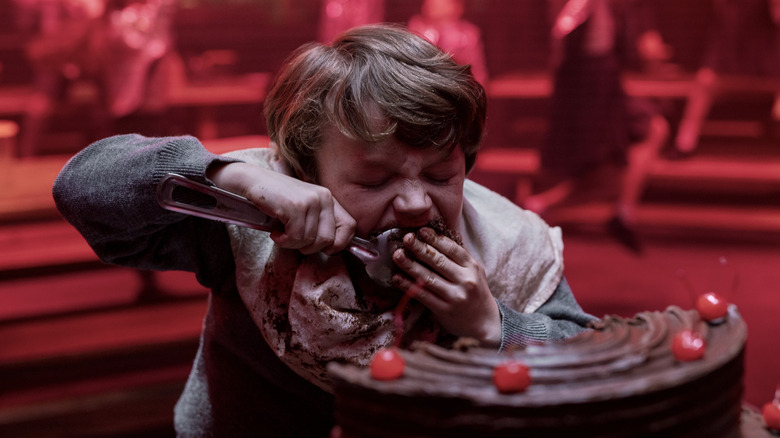 Dan Smith/Netflix
"Roald Dahl's Matilda the Musical" is rated PG for "thematic elements, exaggerated bullying, and some language." 
Considering how this is a story about child abuse, it shouldn't come as a surprise that there's some darker subject matter throughout — although much of that is done in an over-the-top, fantastical way. (For example, a kid is tossed in the air by their pigtails, and another is forced to eat an entire cake during a musical number.) As for that aforementioned language, it's all very silly kid insults or adults tossing around demeaning names for children. In short, it's pretty much on par for a Roald Dahl adaptation.
All that aside, it's a family-friendly musical, folks. It's going to be an easy ride. There's singing and dancing and a happy ending for all who are deserving. The strongest trigger warning we can really offer is that anyone who's afraid of theater kids should steer well clear.