Pierce Brosnan Recalls 'Epic' Moment Of Seeing Dwayne Johnson On Set Of Black Adam For The First Time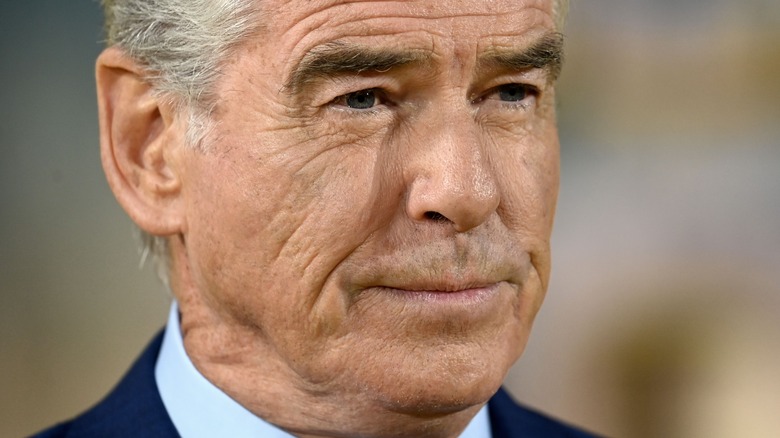 Dave J Hogan/Getty Images
When all eyes aren't on Black Adam (Dwayne Johnson), decimating Intergang goons and trying with minimal effort not to kill anyone, there's an air of cool exuding from the downright debonair hero of the Justice Society, Doctor Fate, played by Pierce Brosnan. A silver-haired fox of the highest order with a wardrobe you'd be happy just to be buried in, Brosnan's addition to "Black Adam" is arguably the best thing in the whole film. As Doctor Fate, aka Kent Nelson, this seasoned master of mystical powers is the voice of reason that speaks to both Adam and his winged rival and leader of the Justice Society, Carter Hall, aka Hawkman (Aldis Hodge), when chaos looms. A tough job for some? Certainly. But for a man that was once James Bond, calling time-out on one hero and another that's not so much is hardly something to get stressed about.
That being said, for Brosnan, there was a moment during the filming of his first superhero outing that even he was taken aback by. It all went down on the first day of the shooting, and it put into perspective just how important Johnson's mission was in bringing the man in black to life.
Brosnan describes Johnson as having a 'monolithic' moment on the set of Black Adam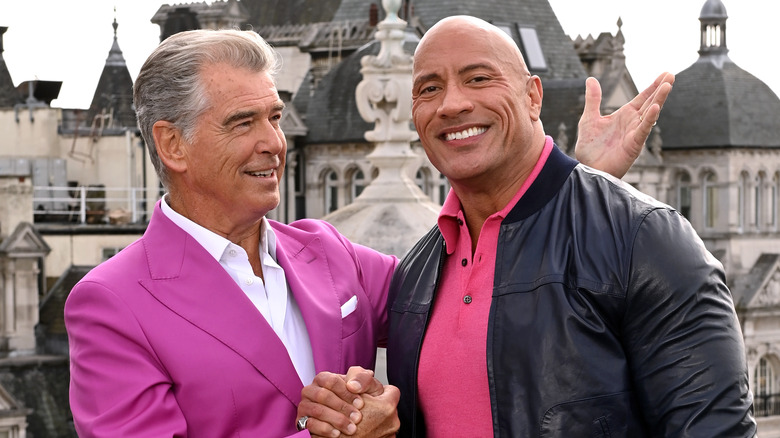 Kate Green/Getty Images
In an interview with Entertainment Weekly and the rest of the cast, attention shifted to Pierce Brosnan and his input into "Black Adam," which Johnson made sure to highlight in his own way. Even after fate had put a plan in place for the former James Bond to don one of DC Comics' most iconic roles, he still couldn't quite believe his luck, describing it as "the last thing I expected at this time in my life." Johnson was quick to interject, though, saying, "There's no one better to play Dr. Fate, truly on this planet or in our industry," he explained, which Brosnan welcomed with equal praise.
"Cheers, mate. I appreciate it," said DC's charming Doctor before praising Johnson's work ethic. "That first day of seeing you on the set was just epic. Monolithic. You came on, you held the space, and you led us all with such charm and dignity and humor and grace." 
The payoff, in this case, was seemingly massive for the production going forward. "We became a family," Brosnan continued, still addressing Johnson. "We became a good unit because of you and your dreams." See, Black Adam isn't such a bad guy after all.