Welcome To Chippendales' Robert Siegel And Murray Bartlett Speak Up On How The Series Breaks Stereotypes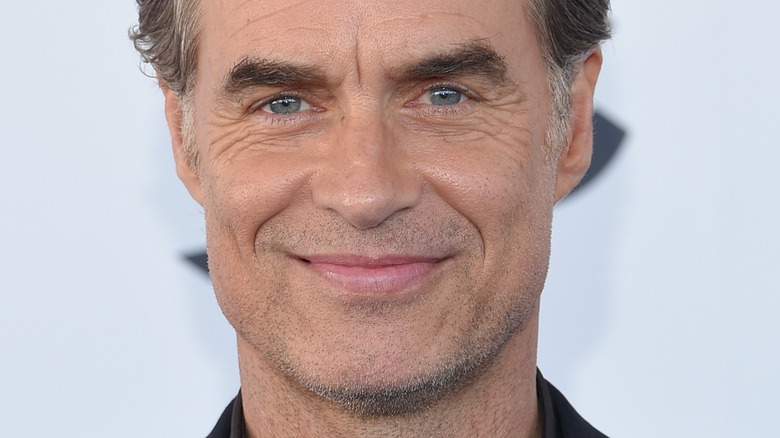 DFree/Shutterstock
Warning: spoilers for "Welcome to the Chippendales" below.
The story of real-life Chippendales founder Somen "Steve" Banerjee is a tricky one to tell, and we know that because it took Hollywood nearly 30 years to do it justice. Yes, there was an ill-received made-for-TV movie called "The Chippendales Murder" that aired in 2000, but with a run time of about 90 minutes, it doesn't delve too deeply into who Steve Banerjee was.
Now, Hulu is about to dedicate an entire miniseries to the man. "Welcome to Chippendales" stars comedian Kumail Nanjiani as the notorious Bengali nightclub owner. Premiering on November 22, it charts Banerjee's origins as an immigrant to the United States and struggling business owner, then his rise to become the country's first male strip club impresario, and finally his downfall.
Given its subject matter, "Welcome to Chippendales" could easily rely on stereotypes. Everyone involved was aware of this possibility. To avoid it, they made the story as specific as possible. For example, Kumail Nanjiani's own body image issues helped him relate to his character. 
Here's how creator Robert Siegel ("The Wrestler") and co-star Murray Bartlett ("White Lotus") avoided cliches in their approaches.
Welcome to Chippendales subverts the model minority trope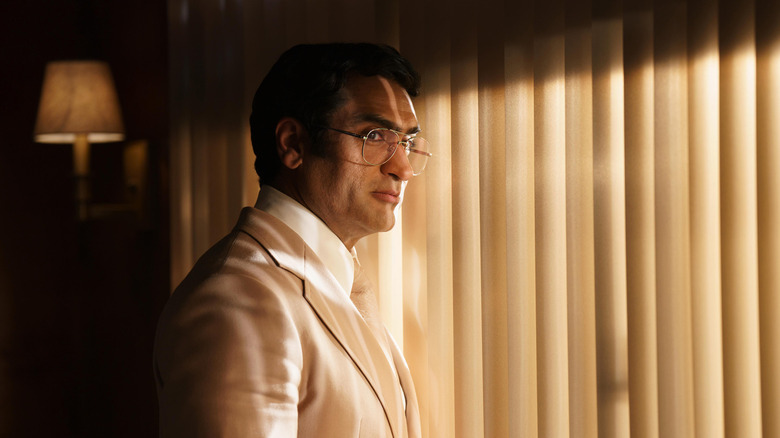 Hulu
When it comes to minority representation, "Welcome to Chippendales" is a game-changer. Along with "Ms. Marvel," it's one of two American shows to debut in 2022 starring someone who was born in Pakistan, (although Banerjee himself was from India). Still, Steve Banerjee's story could easily fall into the "model minority" trap.
The early part of the story follows the familiar "hardworking immigrant" beats. Banerjee moves to the United States with little money. His first attempts at entrepreneurship, a Mobil station and a backgammon club, both fail. But with a singular vision, an unshakeable belief in himself, and tons of hard work, Steve builds Chippendales into a multimillion-dollar business. Viewed a certain way, this could easily feel like an earnest celebration of the American dream. 
The rest of the story undoes all of that. "He does bad things," Siegel explained to Vanity Fair. "You could say, 'Well, this is a negative portrayal of an Indian guy,' but you could also choose to look at it like it subverts the stereotype of the model minority."
Steve Banerjee is certainly a groundbreaking character for American television, but that's also true for Indian media. "[Steve Banerjee] is unlike any other real-life Bengali icon who has inspired biopics or stage productions," Priyanka Dasgupta wrote in the Times of India in 2016, while discussing about a documentary about Banerjee. "He was no hero for the average Bengali viewer fed on a diet of biopics based on lives of freedom fighters, authors, directors, and revolutionary leaders."
It also avoids the tragic gay character trope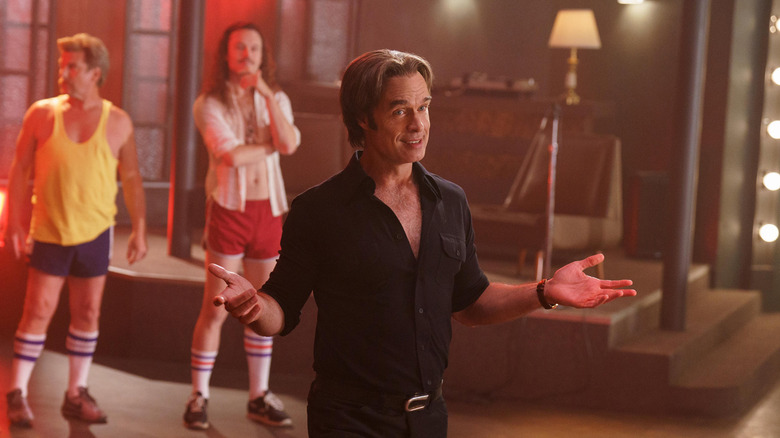 Hulu
"Welcome to Chippendales" is also an important show for LGBTQ+ representation, and here's where the spoilers come in.
Murray Bartlett plays Nick DeNoia, Banerjee's real-life business partner and choreographer. The real DeNoia won two Emmys for his choreography, and he was responsible for the Chippendales' signature dance moves. Eventually, Banerjee became jealous of DeNoia's popularity, and the two had a falling out. When DeNoia tried to start a rival male strip club, Banerjee hired a hitman to kill him. DeNoia was also a gay man. Given the long and troubled history of killing off LGBTQ+ characters in fiction (which you can read more about at The Advocate), DeNoia's storyline could have been regressive. 
Bartlett wanted to avoid that. "There is this trope of the tragic gay character who never finds happiness and dies in the end; I was very aware of not playing into that," Bartlett told Vanity Fair. "We had a chance to explore Nick's sexuality in a way that was interesting and three-dimensional and doesn't make him a tragic figure in that way."
Sometimes you want a show that's just familiar comfort food. But if you're looking for something you haven't quite seen before, "Welcome to Chippendales" is worth a watch.