Here's The Truth About Danny McBride's Crocodile Dundee Movie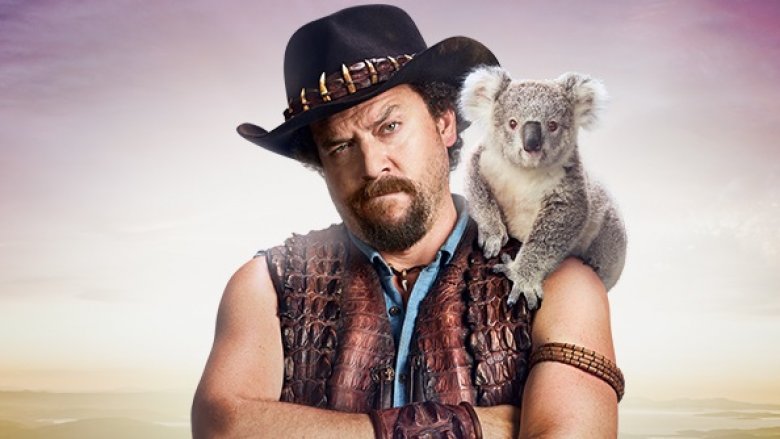 It's true what they say, mate—you don't know what you've got 'til it's gone.
After getting everybody's hopes raised sky-high over the weekend with the release of a Cloverfield-esque surprise teaser, the truth behind the Danny McBride-starring Crocodile Dundee reboot Dundee: The Son of a Legend Returns Home has been discovered. 
An investigation conducted, fittingly, by the Brisbane Times has uncovered that the movie everybody didn't know they needed in their lives is nothing more than a commercial-based ruse.
According to the Brisbane Times report, the Dundee ad campaign is not related to an actual, upcoming movie, but is rather a viral marketing stunt for Tourism Australia.
The "movie" was initially announced on Friday in an exclusive report by People, which featured deceptive quotes from McBride—aka Brian Dundee—and Paul Hogan, the original movies' Mick Dundee.
"Crocodile Dundee is a film that has stood the test of time," Hogan said in the People reveal. "It was a defining moment in my life and one of my proudest accomplishments. Throughout the past few years, I've been thinking about how to bring Dundee to a new generation. I'm excited to introduce the new Crocodile Dundee to the world and look forward to sharing more news about those involved very soon."
Hogan previously served as a Australia tourism pitchman in 1984 with the "G'Day Mate" campaign, which continues to inform just about every stereotypical view Americans hold of the land down under.
The initial Dundee spot was met with skepticism from the jump by many commentators in the entertainment industry, who questioned how a movie with an IMDB-estimated budget of $30 million and the involvement of such busy performers as McBride and Chris Hemsworth could've been made in absolute secrecy. 
While Hemsworth's involvement in the movie's second teaser appeared to add some credibility to the project, others noticed the curious fact that Hemsworth is currently employed as a Tourism Australia ambassador. This, coupled with the timing of the spot's release near the advertising-heavy Super Bowl, was enough to convince many that the movie wasn't quite on the level. Thanks to the Brisbane Times, that theory has now been all-but-proven.
For their part, Tourism Australia has not confirmed their responsibility for the Dundee campaign. The listed director of the movie, Steve Rogers, is an award-winning commercial director with the Sydney-based ad agency Revolver, known for producing ads for Nike, Old Spice, Southern Comfort, and Adobe.
Alas, poor Dundee—we hardly knew ye. Everybody pour out a little Bundaberg for the summer we could've had. 
Danny McBride is currently at work with writer-director David Gordon Green and Jamie Lee Curtis on a sequel to John Carpenter's Halloween, which we're still pretty confident is actually a real thing and not, like, an M&M's ad. We'll keep you posted.