David Dawson Opens Up About His Intimate Scenes With Harry Styles In My Policeman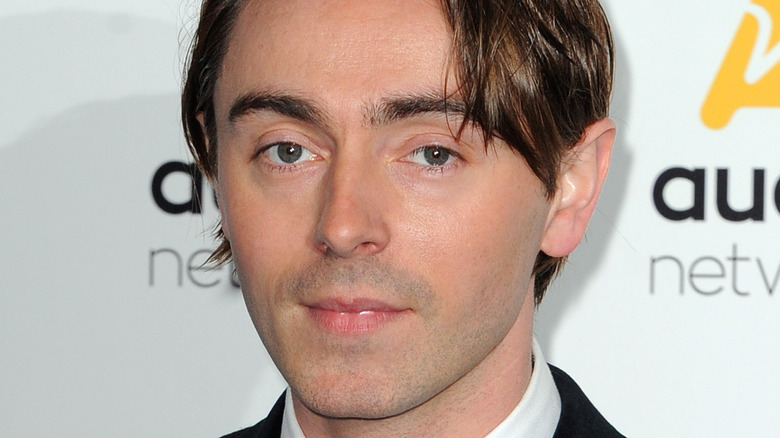 Eamonn M. McCormack/Getty Images
"My Policeman," Harry Styles' second starring role following director Olivia Wilde's much-talked-about "Don't Worry Darling," is set in the 1950s and follows a gay policeman named Tom Burgess (Styles) who marries schoolteacher Marion Taylor (Emma Corrin) despite his feelings for museum curator Patrick Hazlewood (David Dawson). Since homosexuality was illegal in England at that time (via British Library) — and Tom's job requires that he uphold the law — Tom and Patrick's romance faces some of the toughest hurdles.
Despite the hurdles, the film still features plenty of tender moments between the two lovers, as well as some between Tom and Marion. Love scenes can be challenging for actors to film, but they may have been made even more challenging in this case considering the fact that Dawson was paired with mega-popstar Styles. The actor has recently opened up about what it was like to film those intimate scenes with his co-star.
Dawson said they had fun with the intimate scenes
In an October 2022 interview with The Hollywood Reporter, David Dawson discussed what it was like filming "My Policeman" — including the intimate scenes with Harry Styles, aka one of the most famous pop stars out there today. Dawson explained that even though Styles is incredibly famous, he realized right off the bat how down-to-earth he is, so they ended up having a wonderful and collaborative working relationship.
When interviewer Alex Ritman asked if Dawson ever thought it was a bit strange to be shooting a sex scene with one of the most famous men on the planet, Dawson responded, "I suppose less that, and more that when they called 'cut,' the two of us did laugh. That's how odd the situation is. There were only about four other people that needed to be with us in that room, and suddenly when 'cut' is called you notice that, you know, the DP is there. But we all just had a laugh, because that's the best way to deal with it."
On a more serious note about the sex scenes, Dawson told THR that Styles turned out to be the type of scene partner he could trust and communicate with when it comes to the more vulnerable scenes. "That was one of the most special things I took away from this project. ... I got all of that and more in Harry," he said.
Styles has talked about the tenderness in the intimate scenes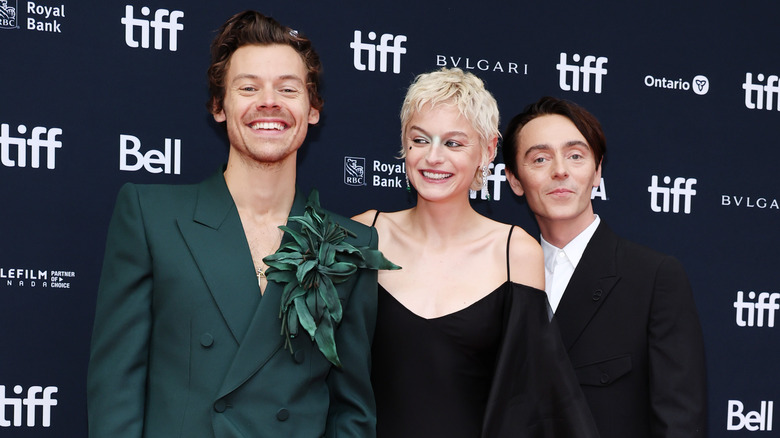 Amy Sussman/Getty Images
Harry Styles discussed "My Policeman" — and its intimate scenes — in his August 2022 cover story with Rolling Stone. During the discussion, Styles explained how director Michael Grandage and the cast went about filming the intimate scenes, including making sure that the scenes focused more on the love between the two characters rather than the sex itself.
Styles thinks that what "My Policeman" accomplishes is rare for films that showcase sex scenes between two men, explaining, "So much of gay sex in film is two guys going at it, and it kind of removes the tenderness from it. There will be, I would imagine, some people who watch it who were very much alive during this time when it was illegal to be gay, and [Grandage] wanted to show that it's tender and loving and sensitive."
The singer-actor revealed that, from his perspective, the film goes beyond being just a gay love story — it presents universal themes within the overarching story that plenty of real people lived through, when it was illegal for many to be able to love freely. Styles said, "It's not like 'This is a gay story about these guys being gay.' It's about love and about wasted time to me."