Friends Star Matthew Perry's Odds Of Survival Were Once Terrifyingly Low Following His Addiction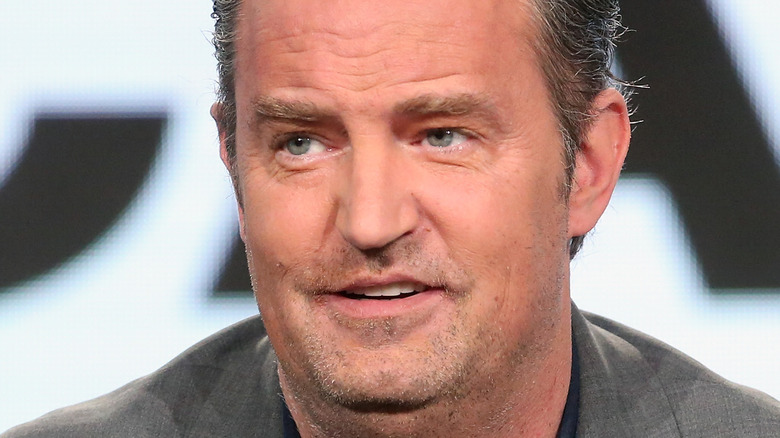 Frederick M. Brown/Getty Images
Actor Matthew Perry was an essential part of "Friends," the famous '90s-early 2000s sitcom that remains just as beloved today as it was when it was on the air. Perry, of course, plays Chandler Bing, the sarcastic one of the group of friends whose friend-to-lovers relationship with Monica Gellar (Courteney Cox) is arguably the heart (or at least one of the hearts) of the show.
As the most ardent "Friends" fans likely know, Perry was going through many personal struggles off camera while spending ten years making audiences laugh, including drug and alcohol addiction. He even went to rehab several times during "Friends" to recover (via Biography). The actor has been open about his struggles with addiction over the years in various interviews.
And with the release of his memoir, Perry has opened up more than ever about what he went through and even revealed the fearful odds of survival during the height of the addiction.
Doctors said Perry had a 2% chance of survival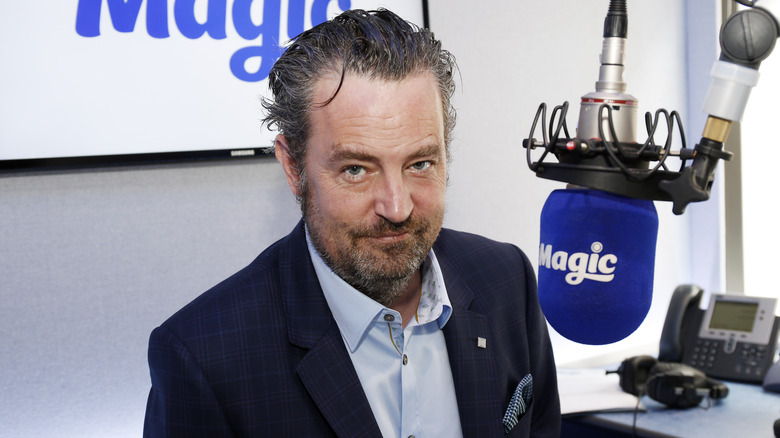 Alex B. Huckle/Getty Images
Matthew Perry spoke with People in October 2022 to promote his memoir, "Friends, Lovers and the Big Terrible Thing" (which releases on November 1, 2022), in which he discussed how he needed to have distance from his addiction to be able to write about it finally. Further, in the memoir, Perry opens about a terrifying incident from which he almost didn't survive: in 2018, Perry was admitted into the hospital for gastrointestinal perforation, as his colon had burst from opioid overuse. He spent two weeks in a coma and five months in the hospital. As if that wasn't scary enough, his odds of survival were even more terrifying.
Perry explained, "The doctors told my family that I had a 2% chance to live [when I was first admitted]. I was put on a thing called an ECMO machine, which does all the breathing for your heart and your lungs. And that's called a Hail Mary. No one survives that."
While Perry has chosen not to disclose how long he has been sober as of the interview, he opened up about the ups and downs of his addiction over the years. At one of his lowest points during the "Friends" run, Perry was taking 55 Vicodin a day. However, during Season 9, he managed to stay sober throughout the whole season. Perry added, "And guess which season I got nominated for best actor? I was like, 'That should tell me something.'"
Still, he struggled even after "Friends" ended and relapsed several times, with the actor telling People that he has been to rehab 15 times over the years.
Perry is hoping that his book helps other people struggling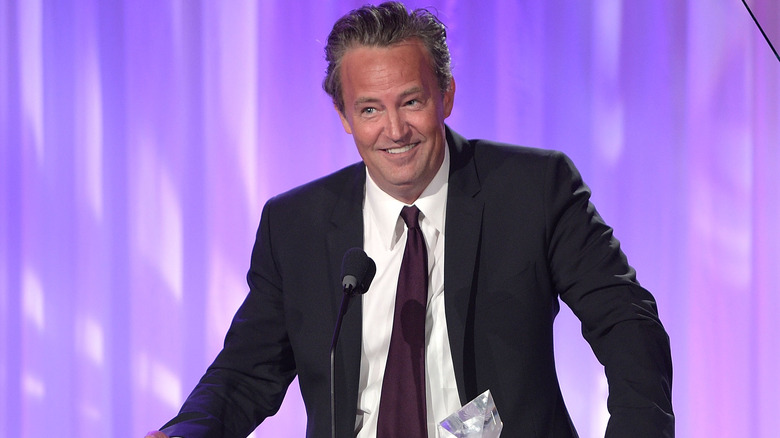 Jason Kempin/Getty Images
In the interview with People, Matthew Perry emphasized how vital sobriety is and that it doesn't lose its importance if you relapse. Perry said, "It's important, but if you lose your sobriety, it doesn't mean you lose all that time and education. Your sober date changes, but that's all that changes. You know everything you knew before; as long as you were able to fight your way back without dying, you learn a lot."
In his case, he's incredibly grateful that he got the chance to gain sobriety again after his near-death scare in 2018. Considering how low his chances of survival were, Perry noted that, out of those put on the ECMO machine, four of five die — and he is one of the few that got to survive. Perry said, "So the big question is why? Why was I the one? There has to be some kind of reason."
The actor hopes that he survived so he can tell his story and help others who might be going through similar struggles. Perry concluded, "So my hope is that people will relate to it and know that this disease attacks everybody. It doesn't matter if you're successful or not successful; the disease doesn't care."
If you or anyone you know is struggling with addiction issues, help is available. Visit the Substance Abuse and Mental Health Services Administration website or contact SAMHSA's National Helpline at 1-800-662-HELP (4357).