Supernatural Fans May Have Unveiled The Winchesters Season 1, Episode 2's Mysterious Hooded Figure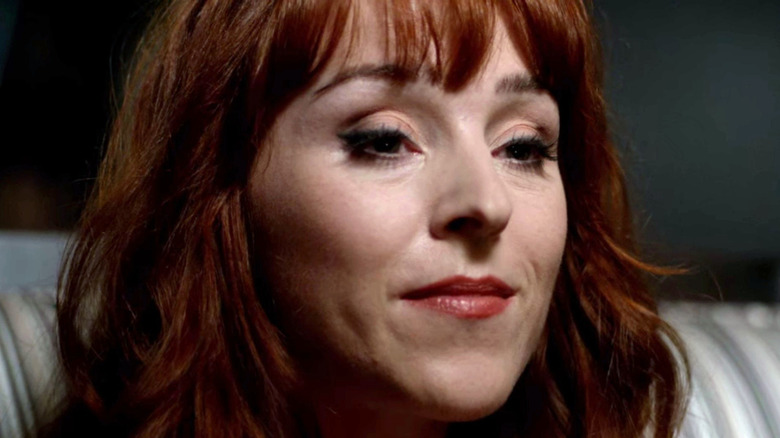 The CW
This article contains spoilers for "The Winchesters" Episode 2.
Episode 2 of "The Winchesters" felt like an old-school episode of "Supernatural" in many ways. From the folklore-inspired monster-of-the-week adventure to Mary (Meg Donnelly) and John (Drake Rodger) using rockstar names as fake aliases, "Teach Your Children Well" made it clear that Sam (Jared Padalecki) and Dean (Jensen Ackles) picked up their habits from their parents. At the same time, the episode also dropped some breadcrumbs that tease some major upcoming events.
In this episode, our heroes continue their search for Mary's dad and delve deeper into their Akrida research. However, their plans get side-tracked when La Tunda, a shape-shifting creature with a penchant for using trees to kidnap her victims, starts causing havoc near a hippie commune. She's a formidable foe throughout the episode, but she isn't the main talking point by the time the end credits roll.
The end of the episode introduces a hooded figure who seems oddly familiar. While the mysterious person's true identity is unknown as of this writing, long-term "Supernatural" fans may have spoiled the surprise already.
Supernatural fans believe that Rowena just showed up on The Winchesters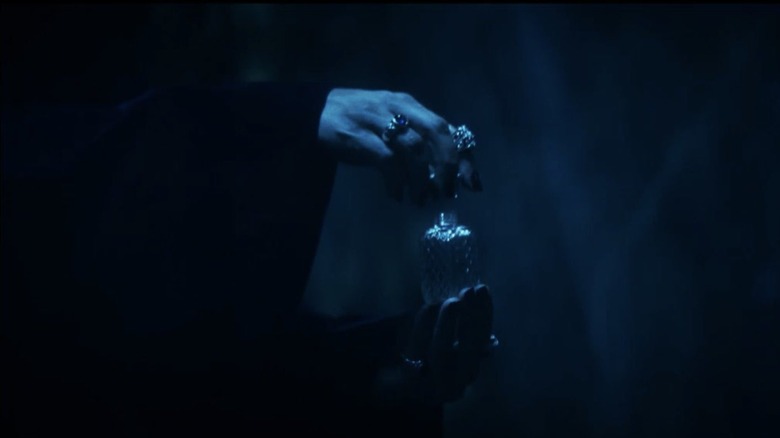 The CW
In the closing moments of "Teach Your Children Well," a hooded witch-like being goes for a walk in the woods and collects the soul of the La Tunda. The dark being is very reminiscent of Rowena (Ruth Connell), and this seems to be the belief of "Supernatural" fans on social media as well.
Following the episode's conclusion, viewers congregated on Twitter and shared their thoughts on the matter. "Everyone is saying it was Rowena at the end of #TheWinchesters omg. Don't let us down, we want to see @RuthieConnell," @jolauriang wrote. This view was echoed by @inpainla67, who speculated that it must be Rowena due to the spell that the witch cast to collect the soul. "I'm so putting money on Rowena. pink and purple magic ?? hello???????"
Elsewhere, some long-term fans believe that it must be Rowena as her appearance on the prequel series seems inevitable. Everyone knows that Rowena (@RuthieConnell ) will at some point appear in The Winchesters and unfortunately she's gonna make me see this show when that happens," @bdssba noted.
Ruth Connell is keen to reprise her Supernatural role on The Winchesters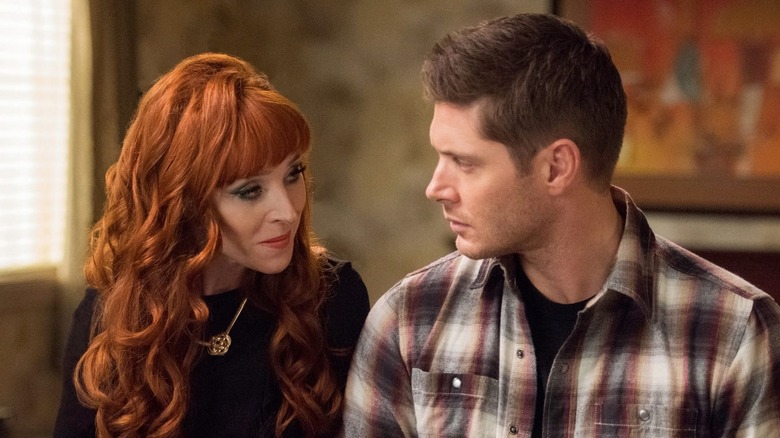 The CW
Introduced in Season 10 as the mother of Crowley (Mark Sheppard), Rowena quickly established herself as one of the most fascinating characters on "Supernatural." The witch and the Winchesters didn't hit it off at first, but they became friendlier over time and developed a mutual respect for each other — in addition to teaming up against some common threats. When Rowena meets Sam and Dean on "Supernatural," she's over 300 years old. With that in mind, she'll be alive and well during the decade in which "The Winchesters" is set.
Ruth Connell is open to reprising the role too, and she believes that bringing the character into "The Winchesters" would make sense from a logical standpoint. "There's no reason why [Rowena can't return]," Connell said in an interview with Looper. "She would've been alive; she just maybe would've wiped [Mary and John's] memories afterwards so they couldn't remember it for future generations."
It remains to be seen if Rowena will be brought back, but the signs are reassuring.