The Unexpected Way C. Thomas Howell And Patrick Swayze Met Years Before The Outsiders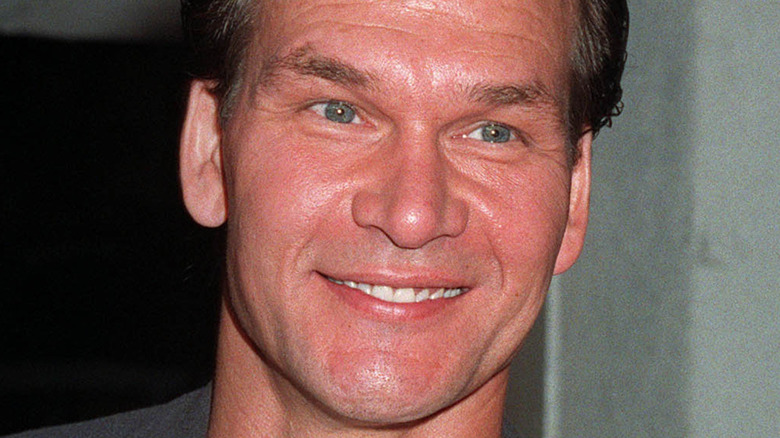 Featureflash Photo Agency/Shutterstock
"The Outsiders" is almost 40 years old and has remained popular with audiences largely on the strength of the lead cast. The list of Hollywood megastars that got their break in the Francis Ford Coppola-directed classic is staggering and includes Matt Dillon, Tom Cruise, Ralph Macchio, Rob Lowe, Leif Garrett, and Emilio Estevez for starters. They were backed by Diane Lane and Tom Waits and joined by two more up-and-comers, Patrick Swayze and C. Thomas Howell.
Swayze and Howell would go on to make two more films together the following year: the original "Red Dawn," which also starred Darren Dalton (Randy in "The Outsiders") and Estevez's brother Charlie Sheen, and the eminently forgettable "Grandview U.S.A." Howell continued acting, taking on roles in several films and TV shows, while Swayze would go on to be one of Hollywood's most prolific and beloved modern stars. But years before they even met on the set of "The Outsiders," Swayze and Howell had a fascinating chance encounter on the set of a classic that predates both of their legendary careers.
Before they were famous, C. Thomas Howell and Patrick Swayze met on the set of Urban Cowboy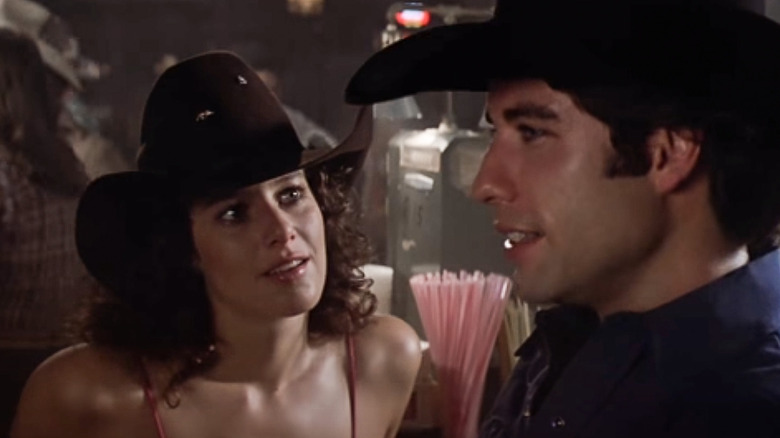 Paramount Pictures
Both C. Thomas Howell and Patrick Swayze had parents who worked on the 1979 John Travolta/Debra Winger fish-out-of-water tale "Urban Cowboy" — Howell's father Chris was the stunt coordinator, and Swayze's mother Patsy did the choreography (via IMDb). At 11 or 12 years old, Howell was good enough at riding the mechanical bull to intimidate Travolta, and the then-27-year-old Swayze was called on to help Travolta be less urban and more cowboy (via The Rich Eisen Show). Patsy Swayze would go on to choreograph some other memorable favorites like "Big Top Pee-Wee" and "Hope Floats" before her death in 2013 (via The Los Angeles Times). The Howell father and son team would work together on "Soul Man" and "Red Dawn," and Chris went on to perform stunts in such action classics as "Speed" and "Independence Day," as well as teaming with Swayze in the making of "Road House" (via IMDb).
C. Thomas Howell told Rich Eisen, "[Patrick] Swayze was a big part of teaching John that two-step with Debra Winger in that movie. Swayze was a classic overachiever and in the most beautiful way." The Renaissance Man would go on to star in such cinematic smash hits as "Dirty Dancing," "Road House," and "Ghost" before dying of pancreatic cancer in 2009 at age 57. 
Swayze's legacy as a great actor and good guy lives on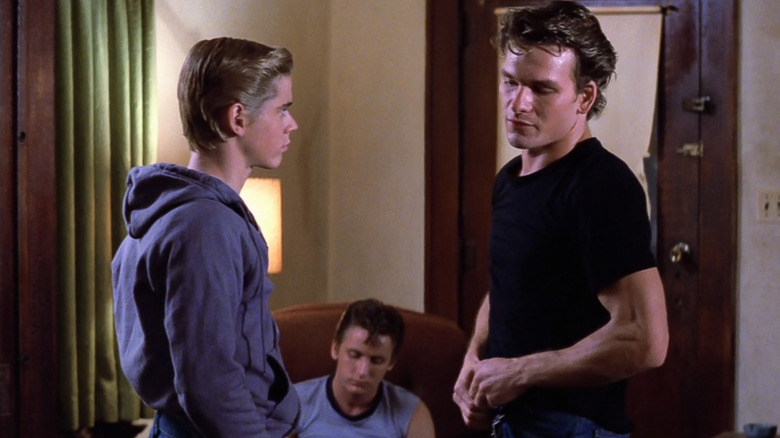 Warner Bros.
Upon Patrick Swayze's death, C. Thomas Howell had effusive praise for his friend. "I have always had a special place in my heart for Patrick," Howell said. "Not only did we lose a fine actor today, I lost my older 'Outsiders' brother" (via WBTV). 
In 2015, John Travolta told Texas Monthly that "Urban Cowboy" was a thoroughly satisfying experience for him. "Some of those Gilley's [nightclub] guys were crying at the end of the premiere, and that was my favorite reaction, period. They were so moved that someone told their story the right way, had kept it to their universe and what mattered to them," he said. More recently, Travolta expressed his fondness for "Urban Cowboy" in an Instagram post of a photo of his character from the film. The caption reads in part, "Urban Cowboy, my favorite experience on a film." 
No doubt Swayze's work with Travolta was critical to his success and enjoyment with "Urban Cowboy," and just adds to the legacy of both legendary actors. While his life was cut short, Swayze left us with an impressive body of film work and his co-stars with a litany of epic stories to tell.